Smokey Pearl: All You Need To Know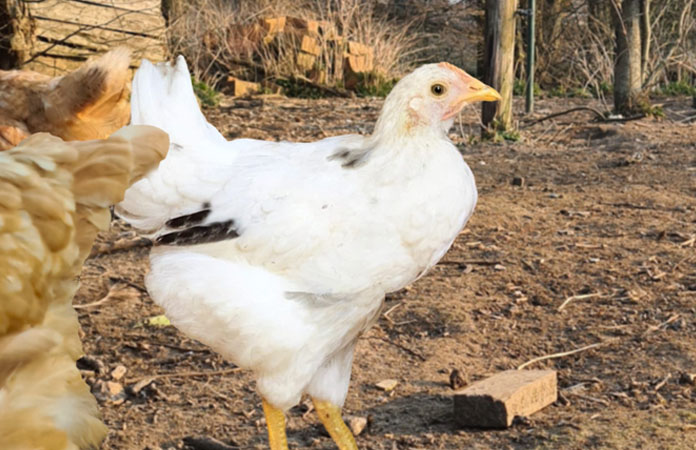 If you have never heard of a Smokey Pearl chicken, don't worry! They're a fairly new breed and not known to the large public. The breed is an excellent egg layer and a great addition to any backyard flock. Let's find out everything there is to know about this grey beauty.
Smokey Pearl hens lay up to 200 eggs per year
Crossbreed with unknown ancestors
They are beginner-friendly and easy to take care of
Great egg layers
Calm and docile breed
| | |
| --- | --- |
| Eggs | 280 eggs per year |
| Egg Color | Brown |
| Egg Size | Large |
| Weight | 4 - 6 lbs |
| Hardiness | Cold and warm |
| Temperament | Calm, docile |
| Beginner-friendly | Yes |
| Color | Barred grey |
Characteristics
The Smokey Pearl chicken is a medium-sized chicken, with roosters weighing up to 6 pounds (2.7 kg) and hens tipping the scale at around 4 pounds (1.8 kg). They're a crossbreed of unknown ancestors, so not an actual chicken breed. Smokey Pearls thank their name to their lovely greyish color, with some having what the hatchery calls 'ghost barring'. We believe that ghost barring is the addition of an Autosomal Red color, making the chance higher of the bird carrying the 'barring gene'. This gives some of these, not all have the ghost barring, chickens a unique color pattern.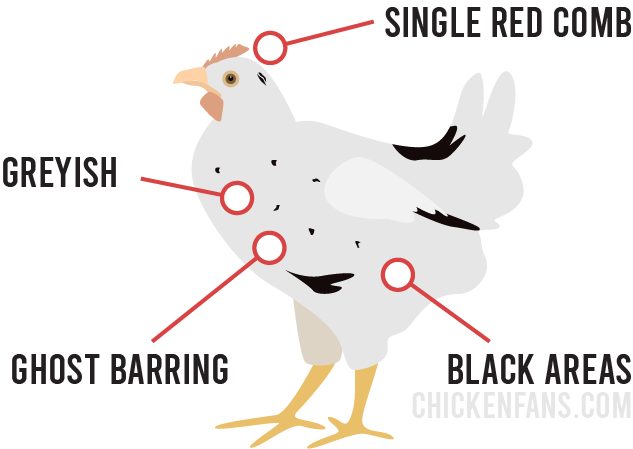 Al Smokey Pearl chickens have a single red comb, red wattles, and earlobes. They're a very hardy breed with excellent egg-laying skills. Due to their hardiness, they're extremely beginner-friendly and easy to care for. This makes them a great addition to any backyard flock.
Smokey Pearl Breed
The Smokey Pearl chicken is not an actual chicken breed, but a hybrid bird, a mix of multiple chicken breeds. The ancestors of the Smokey Pearl are kept secret, so it's hard to tell where the breed gets its looks. Because of its dusty color, it's believable the Smokey Pearl was created by crossbreeding a California Grey and California Tan or by crossing black sex-link males with White Leghorns. This is only guessing, as the hatchery does not state which breeds have been used.
Smokey Pearl is a commercial name registered by Hoover's Hatchery, probably referring to its greyish dusty color. The hatchery included the Smokey Pearl Chicken in their 2023 catalog for the first time and describes the chickens as "unique birds that are still good layers".
Egg Production
The Smokey Pearl was created as an excellent egg layer, not as a dual-purpose breed. They lay up to 280 eggs per year, that's more than 5 eggs per week. All eggs are large in size and brown colored. As the Smokey Pearl is a hardy breed, they keep on laying during winter, although their egg production may slow down.
These chickens are not known to go broody, although broodiness may occur every once in a while. If you're planning to hatch baby chicks, there are better options than the Smokey Pearl, as they are not likely to sit on eggs.
Personality
Smokey Pearls are friendly and docile chickens. They're not aggressive, nor flighty. This makes them an excellent beginner breed, especially when having small children running around. They're fine kept in confinement but do need enough space to stretch their legs and roam around. Check out our 'Coop Size and Run Calculator' to ensure you provide the minimum amount of space.
The breed is very hardy, so it can be kept in many climates. However, most chickens stand cold temperatures better than hot ones, so ensure to take precautions when extreme weather, like heatwaves, is on its way. The Smokey Pearl can be kept in both warm and cold climates.
Summary
If you're looking for a new breed to add to your flock, the Smokey Pearl is your top choice. They're very hardy birds, with excellent egg-laying skills and keep on laying during winter. Their calm and docile nature makes them a great addition to any backyard flock.