Buying Chicks & Chickens Online: Best Hatcheries (2023)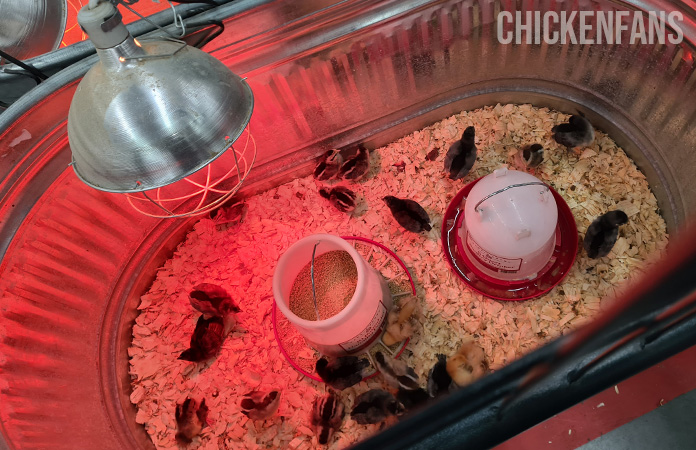 Chicken Fans is reader-supported. When you buy through our links, we may earn a commission. Learn more about our privacy policy and disclaimer.
As more and more people are interested in keeping chickens, more people will purchase their chicks online. Plenty of US-based hatcheries offer the convenience of online purchases or through nearby stores for chicks, fertilized eggs, and adult chickens.
Let's discuss the best hatcheries to buy your chicks online and what to look out for.
The Best Hatcheries
| | | | | |
| --- | --- | --- | --- | --- |
| Hatchery | Specializes in: | Additional shipping fees | Minimum quantity | Other specifics |
| Cackle Hatchery | Laying hens & hardy chicken breeds | Small order fee & shipping & handling fee | 3 chick minimum | Natural breeding process, no artificial light |
| My Pet Chicken | Selling backyard chickens in low quantities | Free shipping applies on some breeds | 3 chick minimum | Free e-book on incubating and hatching |
| Greenfire Farms | Rare breeds | $40 fee for up to 20 chicks, $20 for eggs | 6 chick minimum | Heat packs, feed, and Marek's vaccination are included in shipping |
| McMurray Hatchery | Laying hens and waterfowl | Free shipping when ordering +25 chicks (Feb-Mar) or +15 chicks (Apr-Oct) | 25 chick minimum (Feb-Mar) or 6 (Apr-Oct) | Many vaccinations possible besides Marek's |
| Hoover's Hatchery | Develops own breeds | Free shipping | 15 chick minimum – 20 for bantams | Also available at Tractor Supply |
| Meyer Hatchery | Lisa Steele Eggers Exclusive | $ 50 shipping fee for 3 to 14 chicks | Depending on the breed there is a 6 to 25 minimum quantity | Local brands for poultry accessories |
How to Know Which Hatchery to Choose?
Our list of hatcheries may not be the ideal choice for everyone, depending on various factors such as your location, desired breed, required quantity, and other specific preferences.
Some hatcheries don't ship to all states, or additional fees may apply for orders coming from Alaska or Hawaï. Some hatcheries specialize in rare breeds, while others focus on specially designed laying hens, and the available breeds can differ from one hatchery to another.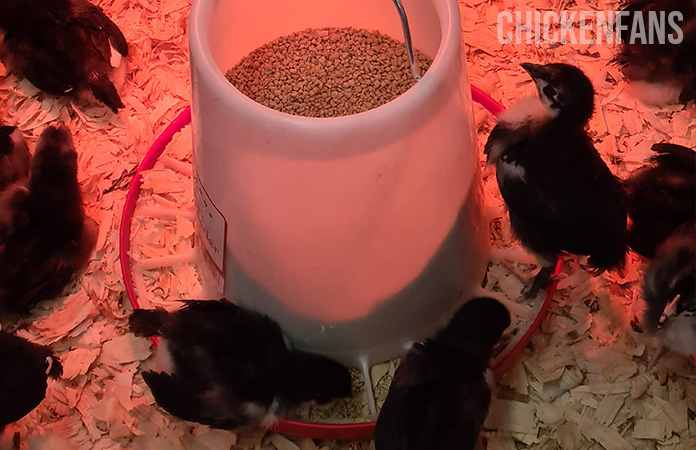 There can also be a significant difference in the minimum order quantity. And lastly, some hatcheries are smaller than others, making their hatching breeding processes different.
We'll discuss all these hatcheries with their specifics so you can decide which one suits you best.
We'll address the following:
Minimum order quantity
Shipping fees
Product range
Vaccination
Other specific features worth mentioning
What About Prices?
It's difficult to address each and every price range between these hatcheries, as some only sell rare breeds, and others have 'bargain specials'.
Very rare and purebred chickens are more expensive than hybrid chickens, with prices going up to $100 and more for unsexed chicks. But most hatcheries on this list only sell custom-bred hybrid chickens and other common chicken breeds, like Orpingtons and Rhode Island Reds.
The prices for the common breeds are more or less the same for all hatcheries. We've compared some of the most popular breeds and their current prices (2023) for female chicks to give you an idea of the price range. As prices can and will vary, always check current prices before completing your purchase.
We didn't include Greenfire Farms on this list as they specialize in extremely rare breeds and don't offer common chicken breeds.
Price per sexed (female) day-old chick:
| | | | | |
| --- | --- | --- | --- | --- |
| | Barred Plymouth Rock | Orpington | Rhode Island Red | Silver Laced Wyandotte |
| Cackle Hatchery | $ 4.55 | $ 4.55 | $ 4.55 | $ 4.55 |
| My Pet Chicken | $ 4.99 | $ 4.99 | $ 4.99 | $ 4.99 |
| Hoover's Hatchery | $ 4.66 | $ 4.66 | $ 4.66 | $ 4.66 |
| Mc Murray Hatchery | $ 4.76 | $ 4.76 | $ 4.76 | $ 5.48 |
| Meyer Hatchery | $ 4.45 | $ 4.45 | $ 4.45 | $ 4.70 |
1. Cackle Hatchery
Cackle Hatchery is a third-generation family business offering more than 200 varieties of poultry. They specialize in raising purebred poultry and also offer meat chickens or hybrid birds. Cackle Hatchery is one of the oldest and largest hatcheries in the US, dating back to 1936.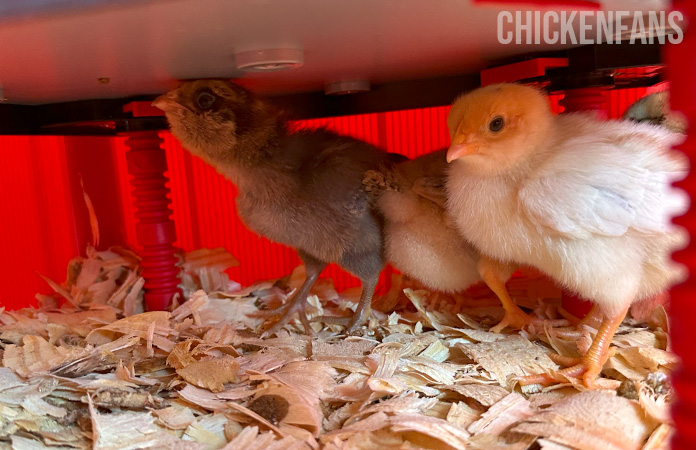 Next to chicken chicks, Cackle Hatchery sells pullets and fertilized chicken eggs, but also turkeys, waterfowl, game birds, and peafowl. This makes their product range one of the largest of the hatcheries on this list.
Next to live poultry and eggs, Cackle Hatchery has a large assortment of chicken-keeping products such as nesting pads, brooders, and feeders.
Cackle Hatchery believes in letting mother nature dictate chick season and, therefore, doesn't use artificial light or other unnatural methods to encourage their hens to lay during darker months.
Pros
Large product range
3-chick order minimum, except State of Rhode Island
Cackle Hatchery doesn't use artificial light, which is animal-friendly
90% accuracy in sexed chicks
Potential Drawbacks
Small order fee of $20 for all orders under 15 birds
Additional shipping and handling fees depending on the number of chickens
Vaccination fee $10 per order
Extra fees apply for shipment to Alaska and Hawaï
Vaccination
Cackle Hatchery offers a vaccination for Marek's disease for day-old chicks. If you want the hatchery to vaccinate your chicks, you should inform them while placing the order, as the vaccine has to be given at 1 day of age.
There is an additional fee for the vaccination, which is $10 per order of 1-66 chicks. Any order over 66 chicks is charged $0.15 per vaccinated chick.
2. My Pet Chicken
My Pet Chicken is a hatchery located in Brooks, GA, and offers baby chicks, bantams, baby ducks, baby geese, hatching eggs, and pullets. The company didn't start by selling chicks; they initially launched their website as an informational source of chicken-keeping info, offering breed guides and chicken-caring books.
As of 2006, My Pet Chicken started selling backyard chicken products and announced the sale of baby chicks. Currently, they sell poultry, chicken coops, flock supplies, and books on chicken keeping.
What differentiates My Pet Chicken from most other hatcheries is that they offer low minimum order quantities, except for shipping to Rhode Island, because of state laws.
They also focus on the backyard chicken keeper that keeps a flock to collect fresh eggs every morning. You won't find meat birds or 'BBQ specials' on their chick inventory.
They also offer chicks sold only on the My Pet Chicken website, like the 'Super Blue Egger' a blue-egg laying chicken bred exclusively for My Pet Chicken.
Pros
Low minimum order quantity (3)
Exclusive breeds
Guaranteed healthy poultry
Very responsive customer service
90% accuracy in sexed chicks
Potential Drawbacks
Additional $3 per Marek's vaccine per chick
Shipping fee of $75 for Alaska and Hawaï
Shipping fee of $10 to $55, depending on the number of chicks
Vaccination
My Pet Chicken offers a Marek's disease vaccination, which is optional when completing your purchase. The vaccine will be given to day-old chicks.
Prices of vaccines are currently $3 per chick you want to be vaccinated.
The hatchery currently offers no other vaccinations, like a Coccidiosis vaccine. Unvaccinated chickens suffering from Cocci can be treated with Corid (Amprolium).
3. Greenfire Farms
One of the outsiders on this list is Greenfire Farms, a farm, not a commercial hatchery, located in northern Florida. Greenfire Farms selects and raises their breeding flocks, providing them with excellent feed and housing.
Greenfire Farms takes pride in giving the breeding parents the best life possible, with lots of sunshine, free-ranging, and plenty of room to stay happy and healthy.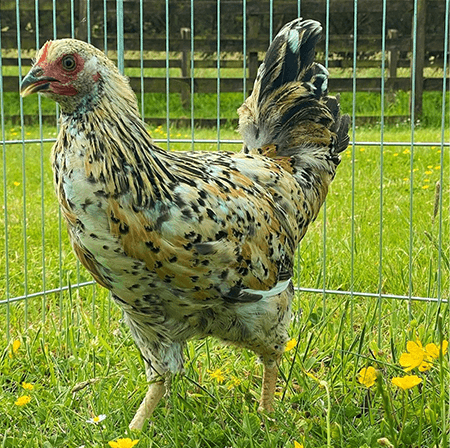 They sell day-old chicks, hatching eggs, and sometimes juvenile chickens. Unlike the commercial hatcheries on this list, the farm sells no chicken-keeping products like brooders or feeders.
The minimum order quantity at Greenfire Farms is 6 day-old chicks. They may agree to ship lower numbers upon request, but the '72-hour live chick guarantee' won't apply in that case.
Pros
Unique, rare and purebred chickens
Raises their own parent flocks
Very committed to being excellent caretakers of the chickens
Chicks are shipped with feed, Gro-gel, and heat packs
72-Hour live chick guarantee
Potential Drawbacks
Less choice in breeds than commercial hatcheries
Small selection of auto-sexing breeds; others are unsexed
Higher price range
Shipping costs of $40 for up to 20 chicks
Vaccination
Greenfire Farms offers a vaccination for Marek's disease, not for Coccidiosis. If you would like your chicks to be vaccinated, please mention this while completing your purchase.
4. McMurray Hatchery
The story of Murray McMurray Hatchery starts in 1917, making it one of the oldest hatcheries in the US. They offer hundreds of diverse breeds, with day-old chicks being the primary focus of their business. They hatch and ship various kinds of chicks, ranging from ducklings to turkey poults and game birds.
In 1991, they upgraded to a new, modern 26,000-square-foot hatchery to ensure the highest levels of hygiene.
McMurray guarantees safe delivery of their chicks with a live delivery and 48-hour additional live delivery guarantee, and your new chicks will arrive in a specially designed reinforced box. Their flock is safe as they guarantee live delivery, and all chickens are vaccinated upon request.
Pros
Large selection of breeds
Sexed chicks with 90% accuracy
Many vaccinations possible including Marek's, Cocci, Laryngotracheitis,…
90% accuracy on sexed poultry
48-hour live arrival and livability guarantee
Free shipping when ordering +25 chicks (Feb-Mar) or +15 chicks (Apr-Oct)
Potential Drawbacks
Minimum order quantity of 25 chicks in February and March
Minimum order quantity of 6 chicks from April to October
Not all birds can be shipped to all states, please double check before purchasing
Vaccination
Unlike other hatcheries on this list, McMurray offers many poultry vaccines. Some are given to day-old chicks when purchased, while others can be purchased separately to vaccinate the birds yourself.
Marek's Disease: McMurray offers a Marek's disease vaccine for all day-old chicks. Vaccines currently cost $0.20 per chick and are given before shipping.
Coccidiosis: The hatchery offers to vaccinate before shipping them to you because it is best to vaccinate at 1 to 3 days old. A vaccination for day-old chicks costs $0.20 per bird.
Laryngotracheitis: Infectious laryngotracheitis (ILT) is a contagious respiratory disease that targets birds, especially chickens. Vaccines are available and recommended for the prevention of the disease. McMurray offers this vaccine in a 1000-dose vial. The vaccine can be given to birds of 4 weeks of age and older. One vial of ILT vaccine costs $11.95.
Avian Encephalomyelitis and Fowl Pox: Fowlpox is a severe skin infection in poultry caused by the avian pox virus. Avian Encephalomyelitis is a neurological disease often called 'Crazy chick disease'. McMurray offers this vaccine in a 1000-dose vial.
5. Meyer Hatchery
Meyer Hatchery, a reputable online hatchery that has been in business for over 50 years, stands out for its minimum order requirement of just three chicks. Unlike other hatcheries, they sell their chicks all year round, even during winter.
With over 160 breeds, ranging from baby chicks to fully grown chickens and even hatching eggs, there's a large selection to choose from. Easter Eggers or other colorful egg layers are also included in their catalog.
Some breeds qualify for free shipping, and Meyer Hatchery strives for 100% gender accuracy. Meyer sells designer chickens by Lisa Steele exclusively on their website. The hatchery also sells some other exclusive chickens, such as the Fibro Easter Egger and Opal Legbar.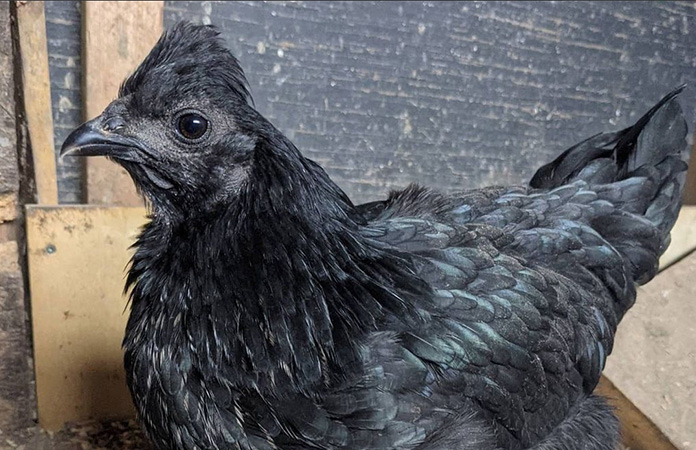 The hatchery also offers subscriptions on common items such as feed, chicken treats, and supplements, so you'll never run out of stock. You can cancel subscriptions at any time.
Pros
Large selection to choose from
Minimum quantity of 3 chicks for common breeds from April to November
Strives for 100% gender accuracy
48-hour livability policy for day-old chicks
Chicks available year-round
Potential Drawbacks
$ 50 shipping fee for 3 to 14 chicks
Order minimum of 8 in winter
Higher shipping costs for Alaska & Hawaï
Vaccination
Meyer Hatchery vaccinates your chicks upon request before shipping for Marek's Disease. The price ranges between $0.25 and $3 per vaccine, depending on how many vaccines you need.
Next to vaccinating young chicks, the hatchery also offers shipping of the following vaccines: Marek's, Newcastle disease, and Fowl Pox/Avian Encephalomyelitis.
The hatchery does not sell Coccidiosis vaccines but offers Corid solutions in various packaging. Corid, also known as Amprolium, is a well-known treatment method for Cocci.
6. Hoover's Hatchery
Hoover's Hatchery is a well-known hatchery established in 1944 in Iowa. They are currently selling over 100 breeds, including many designer breeds created exclusively for them.
Hoover's is currently still located in Rudd, Iowa, where they originally started, and sells live chicks and other poultry like geese, quails, and guineas.
They love to innovate, especially when it comes to offering their customers new exciting breeds of chicks, next to the well-known heritage breeds. Hybrid chickens found exclusively at Hoover's are for example, Mystic Onyx, Sapphire Splash, Prairie Bluebell Egger, Midnight Majesty Marans, and many more.
Many of Hoover's Hatchery breeds and designer chickens can be purchased at Tractor Supply, online, or in stores. Tractor Supply has different minimum quantities for day-old chicks, but availability varies from store to store.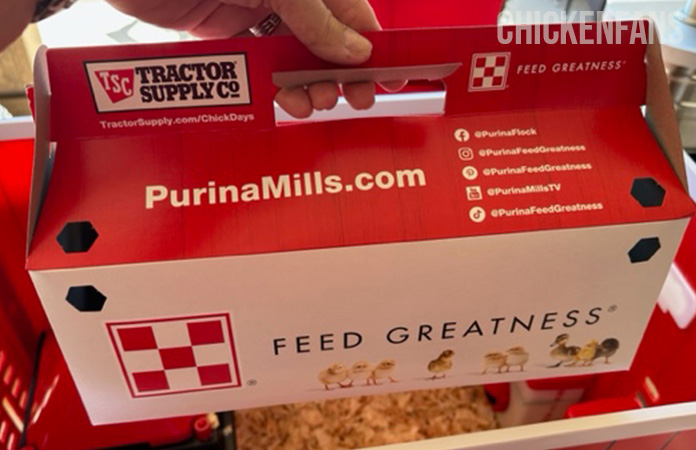 Pros
Large selection of heritage and designer breeds
HH chicks are also sold at Tractor Supply
48-hour livability policy for day-old chicks
Free shipping on all orders
Cons
15 minimum order quantity
5 per sex per breed minimum order quantity
Challenging to order different breeds within the same order
Vaccination
Hoover's Hatchery offers vaccination for both Marek's and Coccidiosis, but only upon request. Vaccines are $ 0.20 per bird.
Important: When purchasing Hoover's chicks from other farm stores like Tractor Supply, these chicks are NOT vaccinated. If your chicks are unvaccinated it's best to provide them medicated feed for Cocci.
Other Hatcheries
While this list is not exhaustive, it is a comprehensive and flexible directory of hatcheries in the US. You can choose from large commercial hatcheries, local hatcheries, or exclusive non-commercial farms, offering a wide selection to suit everyone's preferences.
Whether you're seeking a designer breed, a rare heritage breed, or want to purchase small quantities, many options are available.
If you haven't found what you are looking for, we suggest taking a look at local hatcheries or farms in your neighborhood. They can easily be found through Google or local Facebook groups.
Which Hatchery Should I Pick?
All hatcheries in our list are trustworthy, reliable hatcheries that deliver what they promise. There is no need to fear losing your money or dealing with terrible customer service if anything goes wrong.
That said, keeping chickens is gaining popularity due to high egg prices, so all large hatcheries are incredibly busy, especially during spring. But even in that case, all these hatcheries and farms have excellent customer service and policies to adjust any mistakes that were made.
When looking for a hatchery, it's advisable to look for those that offer what you are looking for, like low minimum orders, specific breeds, or a local eco-friendly business.
All hatcheries ship day-old chicks and hatching eggs, but remember that weather circumstances can significantly impact your chick's survival rate. Ordering chicks while temperatures are still below freezing is not a good idea.
You can expect new flock members to arrive with minimal effort or issues by doing some research before placing your order.
Summary
Numerous credible hatcheries offer a variety of breeds for customers to choose from. These hatcheries may range from large commercial operations to smaller local farms; some even specialize in rare breeds.
Customers look for hatcheries that offer low minimum orders, a wide selection of breeds, and evidence of naturally healthy chickens, such as live arrival and sexing guarantees and vaccination options. The hatcheries in our list have many qualities to choose from, depending on what is important to you.
Extreme weather conditions can significantly impact the survival rate of chicks, so it's important to keep this in mind when ordering chicks online. With proper research and selection, customers can expect their new backyard flock members to arrive at their local post office with minimal issues.