Best Portable & Movable Chicken Coops (+Free Tractor DIY Plan)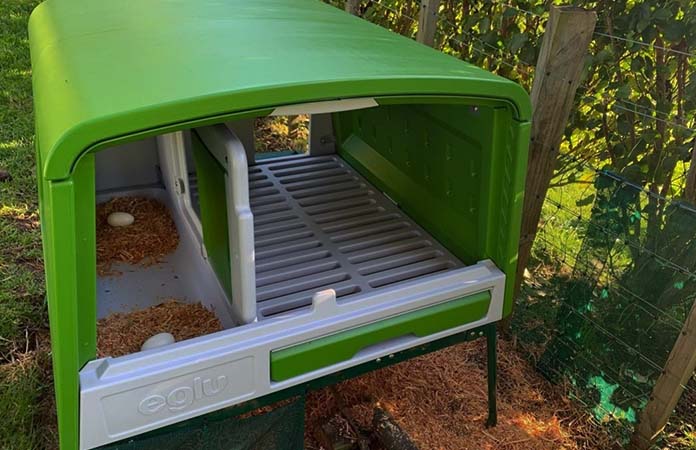 Chicken Fans is reader-supported. When you buy through our links, we may earn a commission. Learn more about our privacy policy and disclaimer.
Raising chickens becomes so much easier with a portable chicken coop. With the added convenience of mobility, you'll be able to take your flock anywhere in the backyard. This article will highlight the top options available, focusing on ease of use, design, and durability. We'll address both pre-made portable chicken coops on the market and a DIY portable coop project.
Whether you're an experienced chicken keeper or just starting out, find the perfect portable coop to make your life easier.
BEST PORTABLE CHICKEN COOP




Best Portable Chicken Coops (2023)
Whether you have a small backyard or simply want to move your chickens around for fresh grass, a portable chicken coop is a perfect solution.
With so many options available, choosing the best one for your needs is difficult. We've listed our Top Portable Chicken Coops on the market to help you find the perfect one for your flock.
Best Overall: Omlet Eglu Cube
Best Budget: Pawhut Portable Coop with Wheels
Best DIY: ChickenFans DIY A-frame Portable Coop
Runner-Up Best Overall: Nestera Eco-Friendly Coop
1. Omlet Eglu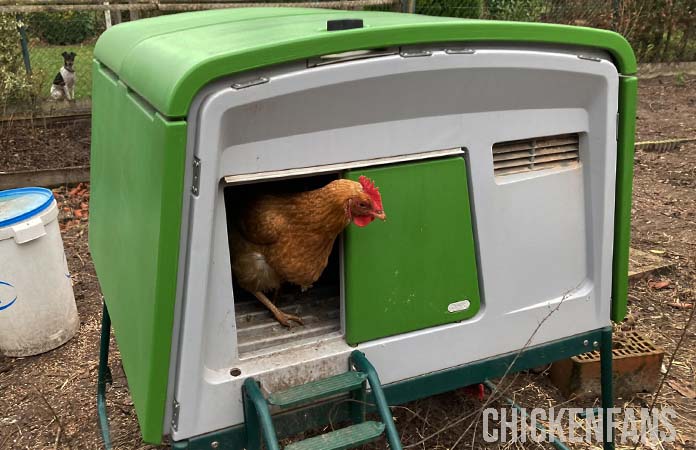 Omlet is a well-known brand in the pet industry. They sell many products for numerous animals, including cats, dogs, rabbits, guinea pigs, and chickens. The company sells two varieties of chicken coops: the Omlet Eglu Cube, the biggest of their coops, suited for up to 10 chickens. And the Eglu Go and Eglu Go Up: a smaller-sized coop suited for housing up to 4 chickens.
You can either buy the Omlet cube, the actual chicken coop, the Omlet Cube + run with an additional covered mesh chicken run, or only the closed run.
OMLET EGLU CUBE AND OPTIONAL RUN

OMLET EGLU CUBE
Easy to clean & durable chicken coop
Available at the Omlet Webshop


Pros:
Easy to Clean
Removable Poop-Tray
Low in Maintenance
Durable
Fewer Chance to Parasites
High in Quality
The Eglu Cube house is made of 100% recyclable UV-stabilized polyethylene and powder-coated steel for the frame and ladder. The coop house had two separate spaces, one area for laying eggs and one sleeping area. Plastic chicken coops, like the Omlet, don't need to be treated or painted with oil, paint, or primer, saving you plenty of time and money over the years. They don't need much extra care besides the occasional scrub and wash.
The Omlet Cube has a dropping plate under the roosting perches you can slide out for emptying. But the poop tray is not the only removable item on the Omlet Eglu Cube. If you want to deep clean your chicken coop, you can remove much more than only the dropping plate: roosting bars, back panel, nesting box, and the dividing plate between the sleeping area and nesting boxes. These features make the Omlet Cube extremely easy to clean.
An additional Omlet run is not included in a standard Omlet Eglu Cube but can be purchased additionally and separately. If you want to relocate the coop to different backyard areas easily, you'll need the Omlet wheels, also sold separately.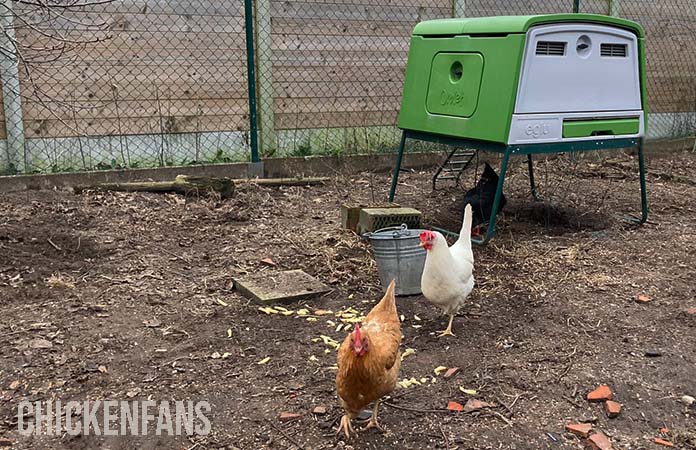 Cons:
Specific Look and Design
Expensive
Wheels and Handles for Mobility are Sold Separately
Most Omlet products, including the Eglu Cube, have a very specific look: eighter you love it or you don't. The colors and style are very remarkable; you'll easily recognize an Omlet coop or an Omlet product once you see one. The Omlet Eglu Cube is not cheap. The basic version, without a run or any optional extensions, will cost around $800, and prices go well over $1000 if you want an auto door or additional chicken run.
Omlet claims in the upper description that the Eglu Cube is big enough to house up to 10 chickens, but this should be taken with a grain of salt, as later in the description it states:
If you want to know everything there is about the Omlet Eglu Cube, especially if it's worth the dollars, check out our in-depth review of the Omlet Eglu.
2. Pawhut Portable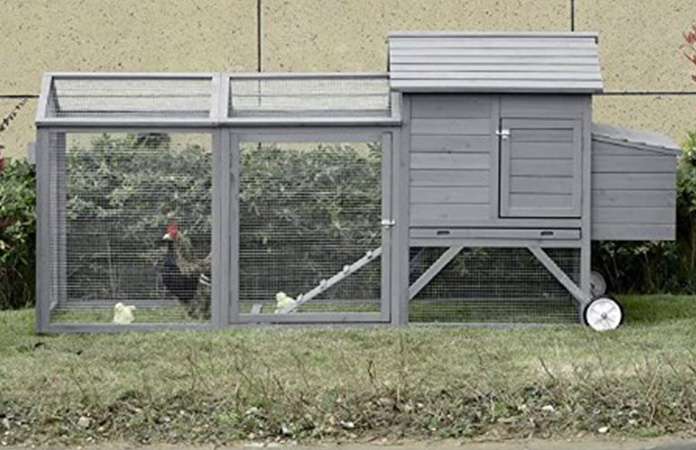 If you don't like the look of the Omlet chicken coop and prefer a more traditional design for your portable chicken coop, there are other options. One of the best buys is the PawHut Portable chicken coop with wheels.
This traditional wooden chicken coop can hold up to 4 medium chicken breeds or up to 6 small chickens. It's much cheaper than the Omlet coop. However, we must admit that the quality of the Omlet coop is higher. But still, you get a sturdy, nice-looking portable chicken coop for a low price.
PAWHUT PORTABLE CHICKEN COOP ON WHEELS

Pros
Traditional Design
Low Price
Wheels included
Galvanized Run also Included
Removable poop-tray
The Pawhut Portable Chicken coop is much cheaper than the Omlet coop, but it's lower in quality. It doesn't have the same sturdy feel, but for the low price you pay, it's definitely worth mentioning. Especially if you don't have a large flock or if you're a beginner in chicken keeping and you don't want to spend $1000 on a coop, the PawHut is an excellent choice.
All accessories to make the coop portable, like wheels, are already included, and so is the galvanized run. You don't have to spend any extra money to have a nice-looking portable chicken coop. Like the Omlet, the PawHut chicken coop has a removable poop-tray so you can easily clean out the chicken litter and use it as compost in the garden.
Cons
Less Quality than the Omlet
Maximum Capacity: 4 chickens
Wooden Coops are Less Easy to Clean
Although the price of the PawHut is much lower than the Omlet coop, there is a difference in quality. The Omlet coop is built to last a lifetime and shows in its design and sturdiness. The PawHut Chicken coop is lower in quality and probably won't last as long as the Omlet, but it's still a beginner-friendly chicken coop if you don't want to spend much money.
As the PawHut isn't a very big chicken coop, it's only suited for four medium-sized chickens, maybe five or six, when having small breeds or bantams. Its dimensions are: 96.5″L x 35.5″W x 44.5″H.
A big difference with the Omlet is that it's a wooden coop instead of plastic, so it looks more traditional but is harder to clean. Wooden coops are less durable if left untreated and are more susceptible to parasites such as red mites.
3. DIY your Portable Chicken Coop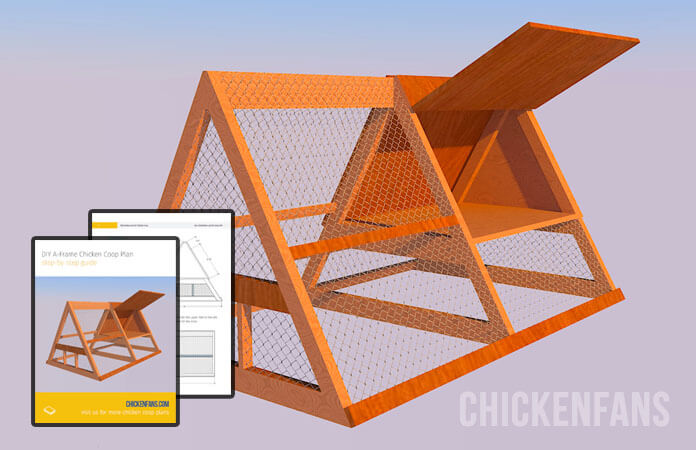 Get creative and build the perfect home for your backyard chickens with a DIY portable chicken coop. If you opt for a DIY portable chicken coop, you'll get a sturdy coop for an affordable price, especially if you use repurposed materials or inexpensive supplies.
Leave your name and e-mail, and you'll be able to open and download our free DIY portable chicken coop plan immediately.
By giving your e-mail address, you'll subscribe to the newsletter. You can unsubscribe at any time.
By building your own chicken coop, you have the ability to design and build a coop that meets your specific needs, such as size, style, and features. You can create a basic model or upgrade it until it meets your standards.
If you're not up to the drawing board, we've created a great portable wooden chicken coop that you can easily build yourself, even without any experience. Here are the features:
| | |
| --- | --- |
| Run Size | 40 square feet |
| Coop Size | 45 x 30 inch |
| Chickens | 3-4 |
| Roof Type | Open Door |
Pros:
Cost Savings
Customization
Skill Building
Sustainability
Building your own chicken coop can be more cost-effective than purchasing one, especially if you want a particular look or features that aren't available on most standard coops. Or otherwise, as many pre-made coops have features or upgrades that you do not need, but you still pay for them. You can also source the materials yourself and take advantage of sales or discounts.
By building your own chicken coop, you have the ability to build a coop that meets your specific needs, such as size, materials, and features. It can also be a rewarding and fulfilling experience that allows you to develop new skills and knowledge.
By building your own chicken coop with repurposed materials or eco-friendly products can help reduce your carbon footprint and promote a more sustainable lifestyle.
Cons:
Time-Consuming
Tools & Skills
Can be Expensive
Building a chicken coop can be time-consuming, especially if you are new to woodworking or have not done this before. Keep in mind that this process can be challenging and frustrating if you are new to building or lack the necessary skills.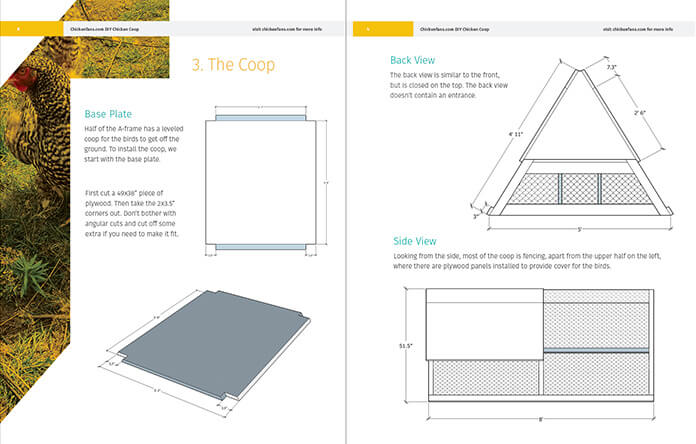 While building a chicken coop can save you money compared to purchasing one, the cost of supplies and materials can still add up quickly. You'll need plenty of tools and equipment, such as saws, drills, and hammers. If you do not have these tools, you may need to rent or purchase them.
4. Runner-Up: Nestera Eco-Friendly Chicken Coops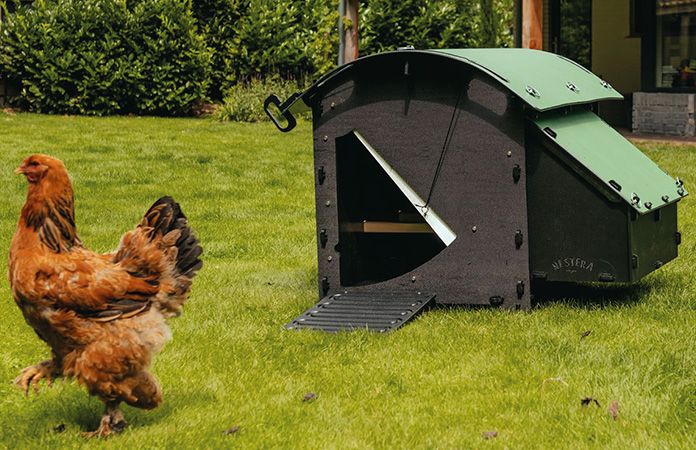 Nestera is a UK company founded in 2020. Their main objective is to create plastic chicken coops made from 100% recyclable plastic without creating waste during manufacturing. As a result, developing a Nestera chicken coop is an almost zero-waste production process. That is why we couldn't leave these chicken coops from this list!
According to the manufacturer, these Nestera chicken coops are built to last and won't degrade over time. To prove that, they offer an astonishing 25-years warranty for all their chicken coops.
Nestera has ten chicken coops on the market; three different coop styles, each with three different sizes, and one large chicken wagon.
Ground Model: Available in Small, Medium, and Large
Lodge Model: Available in Small, Medium, and Large
Raised Model: Available in Small, Medium, and Large
Chicken Wagon: Their largest chicken coop.
To make you decide which chicken coop suits you best, Nestera created a convenient 'Chicken Coop Comparison Chart'. This will help you decide which coop is best to satisfy your needs.
BEST ECO-FRIENDLY: NESTERA




NESTERA Wagon
Large movable chicken coop
Houses up to 8 large chickens
Why Choose a Portable Chicken Coop?
A portable chicken coop is a great investment for those who are looking for a convenient, versatile, and mobile solution for keeping backyard chickens. Whether you're just starting out with keeping chickens or you're a seasoned chicken keeper, there are many advantages to a portable chicken coop.
Here are some of the top advantages of choosing a portable coop:
Mobility
Convenience
Fresh Forage
Space-Saving
Predator Protection
Easy Cleaning
1. Mobility
The biggest advantage of a portable chicken coop is its mobility. You can place it anywhere you want, depending on the season or the preference of your chickens. Look for a shady spot in the summertime and go for a nice sunny and drought-free environment in harsh winters. You have total flexibility to change the coop's location depending on the season, weather, or other needs.
Portable chicken coops are mostly smaller in size than regular chicken coops, making them very interesting when having a smaller flock. When keeping up to 10 chickens, a portable chicken coop can be a great addition. You don't have to worry about building an entire run or coop for them; just set the portable coop anywhere you want, as it takes up less space than a regular coop.
2. Convenience
A portable chicken coop is a great option for those who want to keep a couple of chickens but lack the space in their backyard for a permanent and traditional chicken coop. Portable coops are easier to put up and take down after use without having to reserve an enormous amount of space in the backyard.
The mobility of the portable chicken coop makes it easier to clean and maintain, helping to keep the living conditions of your chickens clean, hygienic, and disease-free.
3. Fresh Forage
Moving the coop provides your chickens with fresh grass and insects to forage on, promoting their health and well-being. Although portable chicken coops and runs are mostly smaller in size, because they are portable, you can give your chickens more free-ranging space and more access to fresh grass than traditional coops do.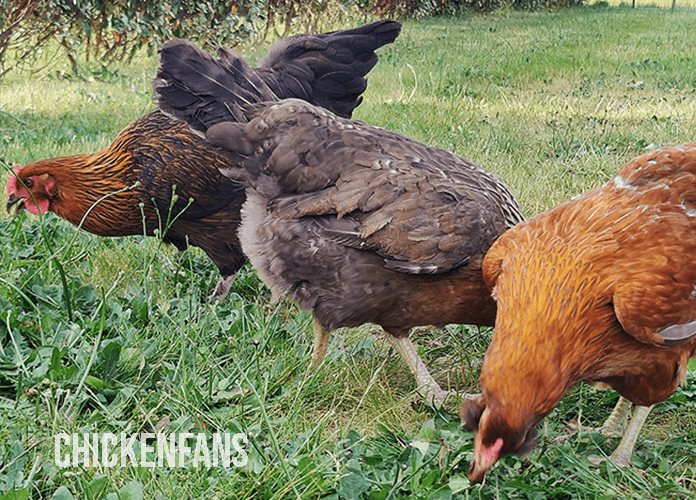 Providing access to fresh grass and insects helps to stimulate their natural instincts, providing them with mental stimulation and reducing the risk of boredom and behavioral problems. Fresh forage provides chickens with essential nutrients that they wouldn't be able to get from their feed alone.
4. Space-Saving
Portable chicken coops are designed to be compact and space-saving, making them an ideal option for those with limited backyard space. They can be easily moved to different locations in the backyard, freeing up space when they are not in use.
Portable chicken coops are perfect for those who have small yards or limited outdoor space, as they allow you to keep chickens without sacrificing valuable space.
5. Predator-Protection
Portable chicken coops can be predator-proof in many ways. Most have a covered and enclosed run area, making it almost impossible for a predator, even a flying predator, to gain access. Many portable chicken coops have secure doors that can be locked and an elevated design, providing an added layer of protection.
By moving the coop, you can locate it to any place in the backyard, away from potential predators, providing added protection for your chickens.
6. Easy Cleaning
Portable chicken coops are designed to be accessible, making them easier to clean and maintain. Most also have removable parts, such as trays or doors, that can be easily cleaned or replaced. Some portable chicken coo
Summary
A portable chicken coop offers considerable benefits for chicken owners. The most significant advantage is its mobility, allowing you to easily move your coop around the garden and provide your chickens with fresh grass.
Regardless of whether you choose to purchase or build, it is important to consider the coop's size, durability, and overall quality to ensure it provides a safe and comfortable environment for your chickens.
If you're more interested in plastic chicken coops, please check out our 'Coops' page, our 'Best Plastic Chicken Coops' article or our review on the 'Omlet Eglu Cube'.
Credits Featured Image: @pukewarou (IG)