Chicken Egg Colors Chart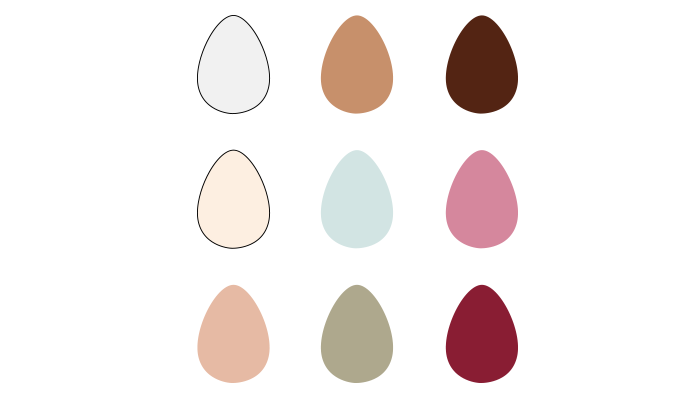 Chickens can lay white, brown, blue, green, and even pink eggs. The eggshell color is controlled by genetics and varies per breed. A chicken egg colors chart provides an overview of the egg color per breed.
You can consult the charts on this page or download the chicken egg colors charts as free printables.
Free Printable Chicken Egg Color Charts
Here are two free printable Chicken Egg Color charts you can download as PDF files:
Chicken Egg Color Overview
The chicken egg color chart shows which color eggs a chicken breed is laying:
| Egg Color | Description |
| --- | --- |
| White | No pigment in the shell |
| Cream, Tinted | Little brown pigmentation on top of the shell makes it off-white |
| Brown, Light or Dark | Brown pigmentation on the shell |
| Blue | Blue pigmentation throughout the shell |
| Green, Olive | Blue pigmentation covered with a layer of brown pigmentation |
| Pink | Bloom giving a white egg a pink shine |
| Purple, Plum | Bloom giving a brown or green egg a purple color |
A basic chicken egg is made of white calcium. The color of an egg comes from brown and blue pigments. Blue pigments color the entire shell. Brown pigments are spread as a top layer on the shell, and brown shells are white on the inside.
An egg with both brown and blue pigments gets an olive-green hue. Eggs with a pink shine get their color from the bloom that covers the shell. The pink shine can turn purple or plum if the egg's base color is brown or green.
Chicken Egg Colors Chart by Breed
The following table gives an overview of chicken egg colors per breed. The chart is also available as a printable pdf:
| Chicken Breed | Egg Color | Egg Size | Eggs per Year |
| --- | --- | --- | --- |
| Altsteirer | White, Ivory | Large | 180 – 200 |
| Ameraucana | Light blue | Medium | 150 – 180 |
| Amrock | Light Brown | Large | 200 – 250 |
| Ancona | White | Large | 240 – 260 |
| Andalusian | White | Large | 220 – 240 |
| American Game | Brown, Cream | Medium | 80 – 100 |
| Appenzeller Spitzhauben | White | Large | 180 – 200 |
| Araucana | Blue, Blue-green | Large | 150 – 180 |
| Australorp | Brown | Medium | 220 – 280 |
| Assendelfter | White, Cream | Medium | 160 – 200 |
| Asil, Aseel | Tinted, Cream, Light Brown | Medium | 40 – 70 |
| Augsburger | White | Large | 150 – 180 |
| Ayam Cemani | White | Small | 70 – 90 |
| Barbu d'Anvers | White, Cream | Small | 90 – 120 |
| Barbu de Watermael | White, Cream | Small | 90 – 120 |
| Barbu de Grubbe | White, Cream | Small | 90 – 120 |
| Barnevelder | Dark Brown | Large | 180 – 200 |
| Bergische Kräher | White | Large | 140 – 160 |
| Black Rock | Brown | Large | 260 – 260 |
| Booted Bantam | White, Tinted | Small | 100 – 120 |
| Bovans Hybrids | Brown | Large | 260 – 290 |
| Brabanter | White | Large | 140 – 160 |
| Brahma | Tinted, Brown | Large | 140 – 160 |
| Brakel | White | Small | 150 – 180 |
| Breda | Cream, White | Medium | 160 – 180 |
| Bresse | White | Large | 160 – 180 |
| Burford Brown | Brown | Large | 160 – 180 |
| Campine | White | Medium | 150 – 170 |
| Chantecler | Brown | Large | 180 – 220 |
| Cinnamon Queens | Brown | Large | 260 – 280 |
| Cochin | Cream, Light Brown | Medium | 150 – 180 |
| Cream Legbar | Blue-green | Large | 160 – 180 |
| Crevecoeur | White | Medium | 120 – 150 |
| Croad Lansghan | Brown, Pink, Plum | Large | 140 – 160 |
| Cubalaya | Light Brown | Small | 150 – 200 |
| Delaware | Brown | Large | 250 – 300 |
| Derbyshire Redcap | White | Large | 150 – 200 |
| Dominique | Brown | Large | 220 – 240 |
| Dorking | White, Tinted | Medium | 140 -150 |
| Dutch Bantam | White, Cream | Small | 140 – 160 |
| Easter Egger | Green, Blue, Various | Large | 180 – 200 |
| Faverolles | Light Brown, Pink | Medium | 220 – 240 |
| Favaucana | Sage Green | Medium | 200 – 250 |
| Fayoumi | Cream, Tinted | Medium | 150 – 200 |
| Friesian | White | Small | 200 – 230 |
| Frizzle | White, Tinted | Small | 120 – 140 |
| German bush fowl | Green | Medium | 160 – 180 |
| German Langshan | Brown | Large | 150 – 200 |
| Golden comets | Brown | Large | 250 – 300 |
| Gold tops | White, Cream | Small | 120 – 140 |
| Hamburg | White | Small | 150 – 220 |
| Houdan | White | Medium | 150 – 200 |
| Hy-Line | Brown | Large | 240 – 260 |
| Indian Game (Cornish) | Brown, Light Brown | Small | 160 – 180 |
| ISA Brown | Brown | Large | 240 – 260 |
| Ixworth | Cream, Tinted | Medium | 240 – 260 |
| Japanese Bantam (Chabo) | Cream, Tinted | Small | 100 – 140 |
| Java Chicken | Brown | Large | 150 – 180 |
| Jersey Giant | Brown, Light Brown | Large | 240 – 260 |
| Ko-Shamo | Light Brown | Small | 140 – 160 |
| Kraienkoppe | Cream, Tinted | Medium | 150 – 200 |
| Lakenvelder | White | Medium | 150 – 170 |
| Leghorn | White | Large | 260 – 280 |
| La Fleche | White | Large | 150 – 160 |
| Lohmann Brown | Brown | Large | 260 – 280 |
| Malay | Tinted, light brown | Medium | 70 – 120 |
| Malines | Tinted | Large | 140 – 160 |
| Marans | Very Dark Brown | Large | 140 – 160 |
| Marsh Daisy | Tinted, Cream | Small | 220 – 250 |
| Mille Fleur d'Uccle | White, Cream | Small | 150 – 180 |
| Minorca | White | Large | 120 – 160 |
| Modern Game | White | Medium | 50 – 70 |
| Modern Langshan | Brown | Medium | 150 – 200 |
| Nankin | White, Tinted | Small | 80 – 100 |
| New Hampshire Red | Brown, Light Brown | Large | 200 – 260 |
| Norfolk Grey | Tinted, Cream | Medium | 200 – 220 |
| North Holland Blue | Light Brown | Large | 150 – 170 |
| Old English Game | Tinted, Cream | Medium | 150 – 170 |
| Old English Pheasant Fowl | White | Large | 160 – 200 |
| Olive eggers | Olive Green | Large | 160 – 180 |
| Orpington | Light Brown | Large | 180 – 200 |
| Pekin | Light Brown | Small | 100 – 140 |
| Penedesenca | Dark Brown | Medium | 150 – 200 |
| Phoenix | Cream, Tinted | Medium | 40 – 120 |
| Plymouth Rock | Light Brown, Brown | Large | 260 – 280 |
| Poule de Bresse | White | Large | 200 – 250 |
| Polish Chicken | White | Medium | 150 – 200 |
| Red Star | Brown | Large | 250 – 300 |
| Rhode Island Red | Brown | Large | 220 – 240 |
| Rhodebar | Tinted, Cream | Large | 180 – 250 |
| Rosecomb | White, Tinted | Small | 100 – 120 |
| Rumpless Araucana | Blue | Medium | 160 – 180 |
| Rumpless Game | Cream, Tinted | Medium | 160 – 180 |
| Russian Orloff | Light Brown | Medium | 100 – 120 |
| Scots Dumpy | Cream, Tinted | Large | 160 – 200 |
| Scots Grey | Cream | Large | 140 – 160 |
| Sebright | White | Small | 50 – 70 |
| Serama | White, Light Brown | Small | 50 – 70 |
| Shamo | Brown Light Brown | Medium | 60 – 90 |
| Sicilian Buttercup | White | Small | 160 – 180 |
| Silkie | Tinted, Cream | Small | 80 – 120 |
| White-faced Black Spanish | White | Large | 160 – 180 |
| Siciliana | White, Light Brown | Small | 150 – 180 |
| Speckledy | Brown | Large | 180 – 200 |
| Sulmtaler | Cream, Light Brown | Medium | 120 – 140 |
| Sultan | White | Small | 50 – 70 |
| Sumatra | White | Medium | 100 – 120 |
| Sussex | White, Cream | Large | 220 – 240 |
| Transylvanian Naked Neck | Cream, Light Brown | Medium | 100 – 120 |
| Vorwerk | White | Large | 200 – 220 |
| Welbar | Brown | Large | 180 – 200 |
| Welsummer | Dark Brown | Large | 140 – 160 |
| White Star | White | Large | 260 – 280 |
| Wyandotte | Cream, Brown | Large | 180 – 200 |
| Wybar | Tinted | Large | 180 – 200 |
| Yokohama | White, Tinted | Medium | 80 – 120 |
Chicken Egg Colors Chart by Color
The following table summarizes chicken egg breeds grouped per egg color. The chart is also available a printable pdf:
| Egg Color | Chicken Breed | Egg Size | Eggs per Year |
| --- | --- | --- | --- |
| Blue | Rumpless Araucana | Medium | 160 – 180 |
| Blue, Blue-green | Cream Legbar | Large | 160 – 180 |
| Blue, Blue-green | Araucana | Large | 150 – 180 |
| Blue, Light Blue | Ameraucana | Medium | 150 – 180 |
| Brown | Australorp | Medium | 220 – 280 |
| Brown | Black Rock | Large | 260 – 260 |
| Brown | Bovans Hybrids | Large | 260 – 290 |
| Brown | Burford Brown | Large | 160 – 180 |
| Brown | Chantecler | Large | 180 – 220 |
| Brown | Cinnamon Queens | Large | 260 – 280 |
| Brown | Delaware | Large | 250 – 300 |
| Brown | Dominique | Large | 220 – 240 |
| Brown | German Langshan | Large | 150 – 200 |
| Brown | Golden comets | Large | 250 – 300 |
| Brown | Hy-Line | Large | 240 – 260 |
| Brown | ISA Brown | Large | 240 – 260 |
| Brown | Java Chicken | Large | 150 – 180 |
| Brown | Lohmann Brown | Large | 260 – 280 |
| Brown | Modern Langshan | Medium | 150 – 200 |
| Brown | Red Star | Large | 250 – 300 |
| Brown | Rhode Island Red | Large | 220 – 240 |
| Brown | Speckledy | Large | 180 – 200 |
| Brown | Welbar | Large | 180 – 200 |
| Brown, Cream | American Game | Medium | 80 – 100 |
| Brown, Light Brown | Shamo | Medium | 60 – 90 |
| Brown, Light Brown | Indian Game (Cornish) | Small | 160 – 180 |
| Brown, Light Brown | Jersey Giant | Large | 240 – 260 |
| Brown, Light Brown | New Hampshire Red | Large | 200 – 260 |
| Cream | Scots Grey | Large | 140 – 160 |
| Cream, Brown | Wyandotte | Large | 180 – 200 |
| Cream, Light Brown | Cochin | Medium | 150 – 180 |
| Cream, Light Brown | Sulmtaler | Medium | 120 – 140 |
| Cream, Light Brown | Transylvanian Naked Neck | Medium | 100 – 120 |
| Cream, Tinted | Fayoumi | Medium | 150 – 200 |
| Cream, Tinted | Ixworth | Medium | 240 – 260 |
| Cream, Tinted | Japanese Bantam (Chabo) | Small | 100 – 140 |
| Cream, Tinted | Kraienkoppe | Medium | 150 – 200 |
| Cream, Tinted | Phoenix | Medium | 40 – 120 |
| Cream, Tinted | Rumpless Game | Medium | 160 – 180 |
| Cream, Tinted | Scots Dumpy | Large | 160 – 200 |
| Cream, White | Breda | Medium | 160 – 180 |
| Dark Brown | Marans | Large | 140 – 160 |
| Dark Brown | Barnevelder | Large | 180 – 200 |
| Dark Brown | Penedesenca | Medium | 150 – 200 |
| Dark Brown | Welsummer | Large | 140 – 160 |
| Green | German bush fowl | Medium | 160 – 180 |
| Green – Olive | Olive eggers | Large | 160 – 180 |
| Green – Sage | Favaucana | Medium | 200 – 250 |
| Green, Blue, Various | Easter Egger | Large | 180 – 200 |
| Light Brown | Malay | Medium | 70 – 120 |
| Light Brown | Amrock | Large | 200 – 250 |
| Light Brown | Cubalaya | Small | 150 – 200 |
| Light Brown | Ko-Shamo | Small | 140 – 160 |
| Light Brown | North Holland Blue | Large | 150 – 170 |
| Light Brown | Orpington | Large | 180 – 200 |
| Light Brown | Pekin | Small | 100 – 140 |
| Light Brown | Russian Orloff | Medium | 100 – 120 |
| Light Brown, Brown | Plymouth Rock | Large | 260 – 280 |
| Pink, Light Brown | Faverolle | Medium | 220 – 240 |
| Pink, Brown, Plum | Croad Lansghan | Large | 140 – 160 |
| Tinted | Malines | Large | 140 – 160 |
| Tinted | Wybar | Large | 180 – 200 |
| Tinted, Brown | Brahma | Large | 140 – 160 |
| Tinted, Cream | Marsh Daisy | Small | 220 – 250 |
| Tinted, Cream | Norfolk Grey | Medium | 200 – 220 |
| Tinted, Cream | Old English Game | Medium | 150 – 170 |
| Tinted, Cream | Rhodebar | Large | 180 – 250 |
| Tinted, Cream | Silkie | Small | 80 – 120 |
| Tinted, Cream, Light Brown | Asil, Aseel | Medium | 40 – 70 |
| White | Altsteirer | Large | 180 – 200 |
| White | Ancona | Large | 240 – 260 |
| White | Andalusian | Large | 220 – 240 |
| White | Appenzeller Spitzhauben | Large | 180 – 200 |
| White | Augsburger | Large | 150 – 180 |
| White | Ayam Cemani | Small | 70 – 90 |
| White | Bergische Kräher | Large | 140 – 160 |
| White | Brabanter | Large | 140 – 160 |
| White | Brakel | Small | 150 – 180 |
| White | Bresse | Large | 160 – 180 |
| White | Campine | Medium | 150 – 170 |
| White | Crevecoeur | Medium | 120 – 150 |
| White | Derbyshire Redcap | Large | 150 – 200 |
| White | Friesian | Small | 200 – 230 |
| White | Hamburg | Small | 150 – 220 |
| White | Houdan | Medium | 150 – 200 |
| White | Lakenvelder | Medium | 150 – 170 |
| White | Leghorn | Large | 260 – 280 |
| White | La Fleche | Large | 150 – 160 |
| White | Minorca | Large | 120 – 160 |
| White | Modern Game | Medium | 50 – 70 |
| White | Old English Pheasant Fowl | Large | 160 – 200 |
| White | Poule de Bresse | Large | 200 – 250 |
| White | Polish Chicken | Medium | 150 – 200 |
| White | Sebright | Small | 50 – 70 |
| White | Sicilian Buttercup | Small | 160 – 180 |
| White | White-faced Black Spanish | Large | 160 – 180 |
| White | Sultan | Small | 50 – 70 |
| White | Sumatra | Medium | 100 – 120 |
| White | Vorwerk | Large | 200 – 220 |
| White | White Star | Large | 260 – 280 |
| White, Cream | Assendelfter | Medium | 160 – 200 |
| White, Cream | Barbu d'Anvers | Small | 90 – 120 |
| White, Cream | Barbu de Watermael | Small | 90 – 120 |
| White, Cream | Barbu de Grubbe | Small | 90 – 120 |
| White, Cream | Dutch Bantam | Small | 140 – 160 |
| White, Cream | Gold tops | Small | 120 – 140 |
| White, Cream | Mille Fleur d'Uccle | Small | 150 – 180 |
| White, Cream | Sussex | Large | 220 – 240 |
| White, Light Brown | Serama | Small | 50 – 70 |
| White, Light Brown | Siciliana | Small | 150 – 180 |
| White, Tinted | Booted Bantam | Small | 100 – 120 |
| White, Tinted | Dorking | Medium | 140 -150 |
| White, Tinted | Frizzle | Small | 120 – 140 |
| White, Tinted | Nankin | Small | 80 – 100 |
| White, Tinted | Rosecomb | Small | 100 – 120 |
| White, Tinted | Yokohama | Medium | 80 – 120 |
Further Reads