15 Chickens & Designer Breeds That Lay Blue Eggs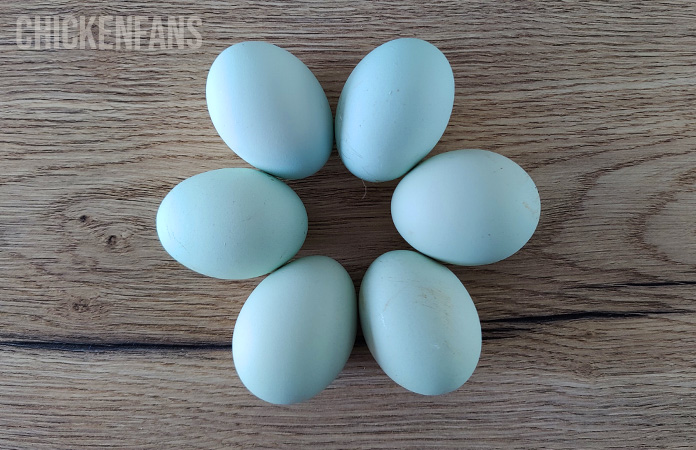 Chicken Fans is reader-supported. When you buy through our links, we may earn a commission. Learn more about our privacy policy and disclaimer.
If you're looking for an egg-ceptional addition to your breakfast table, blue chicken eggs are just what you need. These pastel-colored beauties are becoming increasingly popular with chicken enthusiasts. It's no surprise that a growing number of hatcheries invest in specially developed blue egg layers.
Let's crack open the shell on this topic, explore which breeds to choose from, and discover some of the newest blue egg designer chickens on the block!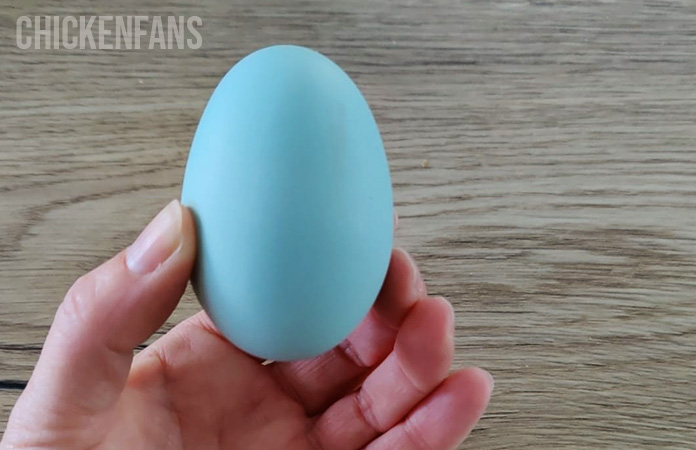 1. Araucana
The Araucana chicken is one of the most known chicken breeds that lay blue eggs. They have striking looks, with their lack of tail and distinctive ear tufts. An Araucana is a purebred chicken breed that naturally carries the blue egg gene, resulting in eggs with blue eggshells both inside and out.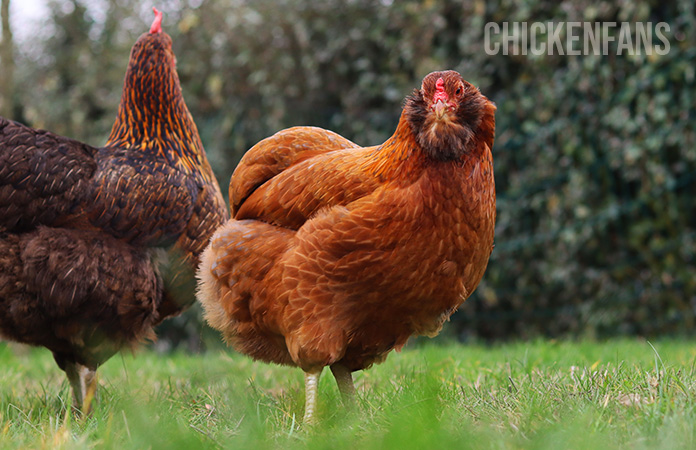 Araucana eggs are light blue to sky blue colored, and some even have a white appearance with a blueish sheen.
Araucana chickens are fairly good egg layers, bringing up to 3 eggs per week to the table. That's approximately 150 eggs per year. All eggs are medium-sized and light blue or green in color.
Where to Buy?
Because the breeding process of a purebred Araucana is very challenging (the Araucana breed has a successful hatching rate of 25-50%, while other breeds have success rates of 90%), it can be challenging to find a hatchery selling purebred Araucana pullets or day-old chicks.
Cackle Hatchery is one of the only large hatcheries selling Araucana chicks early in the season, but most other commercial hatcheries don't sell this breed. It's best to contact a local Araucana breeder if you're interested in purchasing this lovely breed.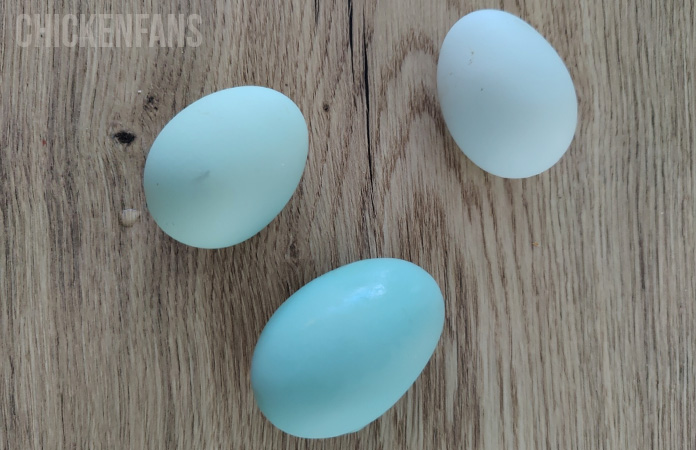 2. Ameraucana
Another true breed that lays blue eggs is the Ameraucana. These chickens are often confused with Araucana, Americana, or Easter Eggers, but they are a purebred, APA-recognized breed.
They derive from the Araucana, only without some of the breeding difficulties of the Araucana, like the lack of a tail.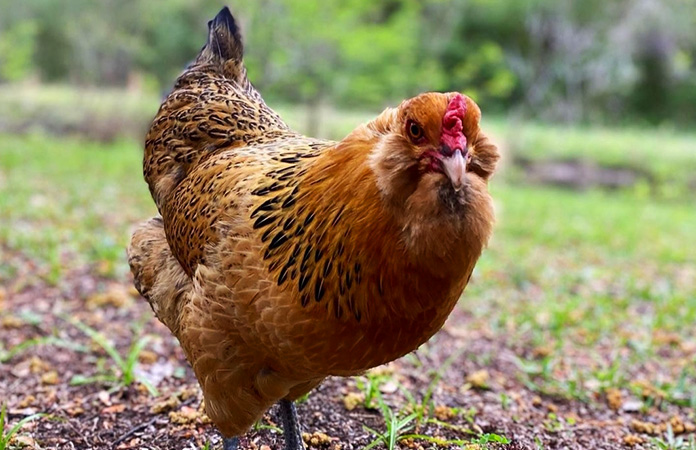 It's an extremely popular chicken breed, but not all hatcheries sell APA-recognized Ameraucana chickens. Be careful only to buy purebred Ameraucana chickens with pea combs, beards, muffs, and blue egg gene.
Ameraucanas have a docile and friendly temperament and lay blue to green-colored eggs. They are also good egg layers, with an average egg quantity of 3 eggs weekly.
Where to Buy?
Be careful only to buy Ameraucana chickens from trustworthy hatcheries and breeders. Some companies sell Easter Eggers as Ameraucanas, which is misleading.
Most large and commercial hatcheries sell Ameraucana pullets or day-old chicks. A reliable hatchery selling purebred, APA-recognized Ameraucana chicks in Blue, Black, and Splash is My Pet Chicken.
3. Cream Legbar
The Cream Legbar is a unique auto-sexing breed that lays pastel-colored blue to green eggs. The Legbar chicken comes in three color varieties: gold, silver, and cream, but only the cream variant has a crest on its head and lays blue eggs.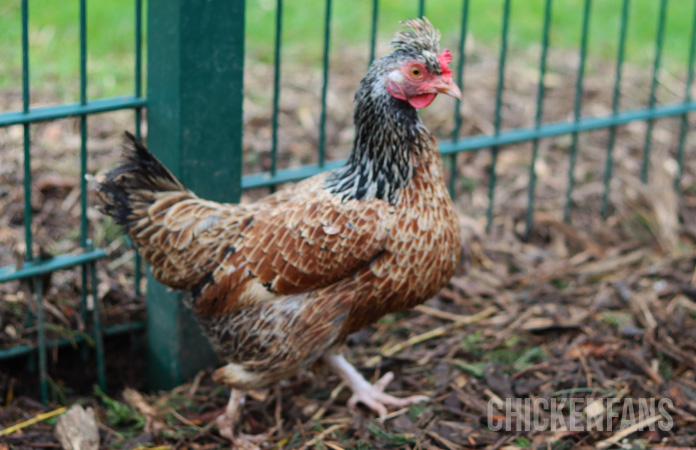 Cream Legbars are very good egg layers, laying up to 250 eggs yearly, that's around five eggs per week. The color of their eggs lies somewhere between light blue and light green.
A Cream Legbar is a purebred chicken, not a hybrid. Their excellent egg-laying skills, wonderful colored eggs, and sweet personality make them one of the highly sought-after breeds in the US.
Where to Buy?
Most large hatcheries sell Cream Legbar pullets or day-old chicks, but you must be fast as they sell out quickly. It's best to reserve by hatch date to ensure yourself from this lovely addition to your flock.
Currently, Cream Legbar day-old sexed chicks are available at Tractor Supply.
4. Easter Egger
Easter Eggers are known to be one of the best chickens for beginners. They are easygoing, low in maintenance, friendly, and lay large eggs in shades of blue or green. An Easter Egger is not a purebred chicken but a mixed breed. It's a cross of a blue egg layer with a brown egg layer.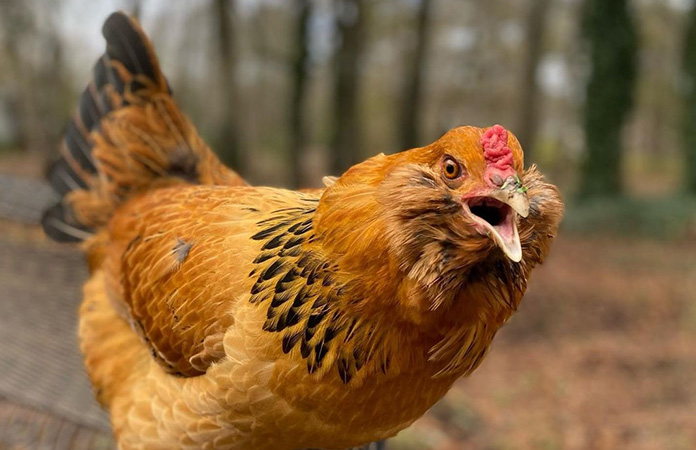 Easter Eggers come in many varieties and colors, which also adds to their popularity. They are very good egg layers, with an average of 4 eggs weekly.
Their smaller body and small pea comb make them cold-hardy. Most Easter Eggers will keep on laying during winter, although egg production can slow down.
Where to Buy?
Good luck finding a commercial hatchery that doesn't sell an Easter Egger variety. All large hatcheries, including Hoover's, Cackle Hatchery, and Meyer, sell Easter Egger pullets, day-old chicks, or hatching eggs.
5. Prairie Bluebell Egger
Bred by crossing an Araucana rooster and a White Leghorn hen, the Prairie Bluebell Egger is an amazing, fairly new, designer chicken that produces blue eggs.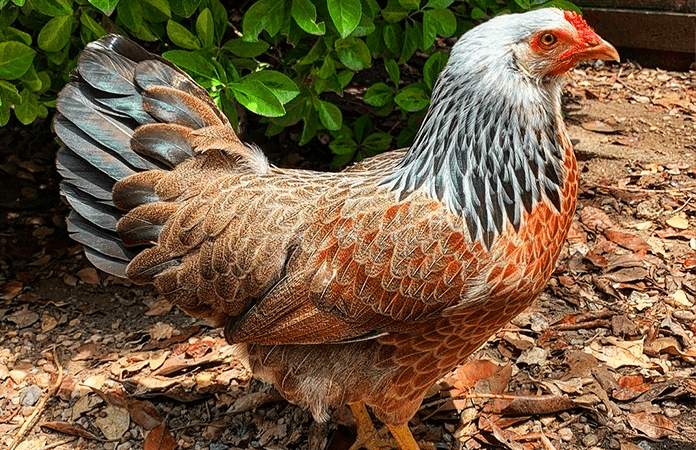 Mixing the genes of the Araucana with a White Leghorn resulted in a hardy and active bird that lays blue eggs and lays up to 5 eggs per week. Plumage color varies from bird to bird; not all Prairie Bluebell Eggers look the same.
They are both cold and heat-hardy, making them suited for any environment. However, they are active and flighty, making them good foragers, but they need more space than other breeds.
Where to Buy?
Hoover's Hatchery introduced the Prairie Bluebell Egger in its catalog in 2019. They registered the name 'Prairie Bluebell Egger' as a trademark in 2021.
A Prairie Bluebell Egger is exclusively found at Hoover's Hatchery, sold by Tractor Supply.
6. Bluebar Blue Egger
A Bluebar Blue Egger is a designer breed custom created for My Pet Chicken. This Cuckoo colored blue egg layer is hardy in winter and an excellent egg layer. A Bluebar will give you up to 5 eggs per week.
The eggs are blue-colored, but 1 out of 16 chickens will lay brown eggs. This is not only the case in Bluebar chickens but in most hybrid colored-egg layers. You'll never know the egg color until your pullet has started laying.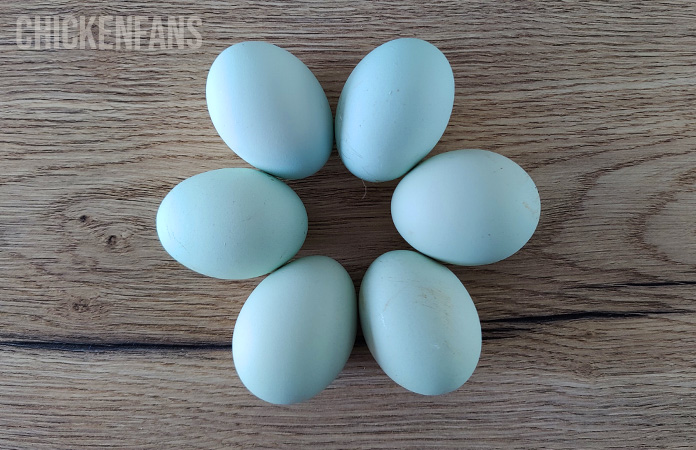 Bluebar Blue Eggers are friendly and smart. They love foraging but can be kept in confinement.
Where to Buy?
A Bluebar Blue Egger is sold exclusively on the My Pet Chicken website, as it is a custom-created designer breed.
7. Super Blue Egger
Another designer breed created for My Pet Chicken is the Super Blue Egger. You can't go wrong with a chicken named like this! The mix of this designer breed remains secret, but the hatchery states it was created by crossing 'our favorite egg-laying breed with our most vibrant blue egg layers'.
Super Blues are amazing egg layers bringing 5 to 6 eggs weekly. Their eggs are blue, although 1 out of 16 chickens will not lay blue eggs. The blue color can vary anywhere from pale blue to intense blue.
This designer breed has a sweet and curious nature. Keep in mind that these chickens tend to go broody occasionally, which can be annoying if you're not planning to hatch eggs.
Where to Buy?
Like the Bluebar Blue Egger, the Super Blue Egger is exclusively sold on the My Pet Chicken Website.
8. Opal Legbar
The Opal Legbar is a beautiful lavender-colored variety of the Cream Legbar. They are recently developed by crossing the Cream Legbar with other Legbar varieties. They are an auto-sexing chicken, with the males barred with gold and the females grey with silver barring or yellow accents.
At this moment, Opal Legbars are not considered to be purebred chicken, unlike the Cream Legbar. They were specifically bred to create Cream Legbars carrying the Lavender gene. This way, you'll get a crested, auto-sexing, blue egg-laying, lavender-colored chicken.
They are great egg layers, laying between 3 to 5 eggs weekly. All eggs are sky-blue colored.
Opal Legbar chickens love to free range, and are excellent foragers, but can be kept in confinement.
Where to Buy?
There aren't many hatcheries selling the Opal Legbar at the moment. It's a fairly recent designer breed and wasn't custom created by a large commercial hatchery.
The Opal Legbar can be purchased on the Meyer Hatchery website, but you'll need to be fast because they sell out soon.
9. Fibro Easter Egger
One of the most fascinating designer breeds on this list is the Fibro Easter Egger, a completely black chicken breed that lays colored eggs.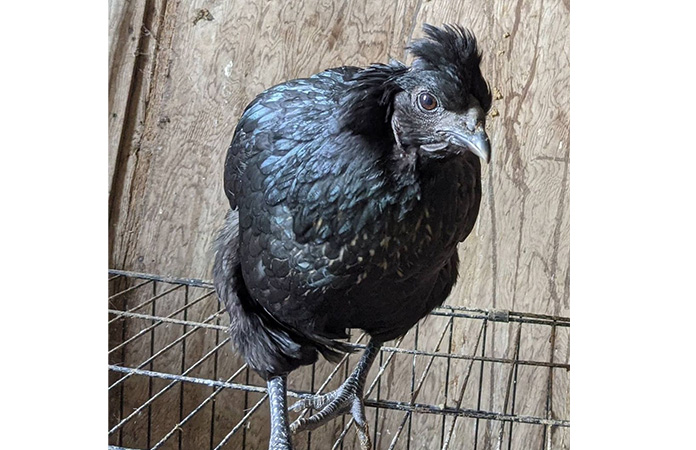 It is part of a group of chickens carrying the Fibromelanosis gene, which causes hyper melanin or hyperpigmentation. As a result, these chickens are completely black, including feathering, skin, and lobes. Other known breeds carrying this gene are the Ayam Cemani and Silkie Chicken.
To create a Fibro Easter Egger, a chicken must carry both the blue egg gene and the gene for fibromelanosis, making the breeding process a bit tricky.
Fibro Easter Eggers are, like all Easter Eggers, good egg layers. They produce between 4 to 5 eggs weekly. All eggs are blue or green colored.
Where to Buy?
There aren't many hatcheries currently selling the Fibro Easter Egger. Next to local breeders of fibro chickens, the Fibro Easter Egger can be purchased on the Meyer Hatchery website.
10. Schijndelaar
Schijndelaar chickens are a Dutch breed of purebred chickens that lay blue to olive green eggs. They are a cross of Araucanas with Sumatra chickens, but also Polish chickens, Brabant, and Leghorns are involved in creating this unique breed.
They are not the best egg layers on this list, but hens still produce up to 3 eggs per week. The eggs are mostly blue but can have a greenish color as well.
Where to Buy?
Schijndelaar chickens are not that commonly found in the US, as they are a relatively new Dutch breed. To purchase unsexed day-old chicks or hatching eggs, visit Greenfire Farms—a non-commercial hatchery selling rare breeds.
11. Lakeside Egger
Lakeside Eggers are a designer breed created exclusively for Meyer Hatchery. Their lovely name references the blue water of Lake Erie. Lakeside Eggers are crested, bearded, and have barred plumage.
They typically lay around 4 to 5 eggs weekly. All eggs are blue-colored and medium to large in size. Meyer Hatchery does not reveal the parents of the Lakeside Egger.
These chickens are hardy in all climates and have a friendly and calm personality. They reach sexual maturity at 5 months and start laying around that time.
Where to Buy?
As Lakeside Eggers are bred exclusively for Meyer Hatchery, you can only buy sexed day-old chicks on the Meyer Hatchery website.
12. Frost White Legbar
Next to Opal Legbars, chicken enthusiasts now have another color variety of Cream Legbars to choose from: the Frost White Legbar. They are a rare color variation of Cream Legbars, and lay gorgeous blue-tinted eggs.
As the name suggests, Frost White Legbars have white plumage. This color is not yet recognized in the US.
Frost White Legbars are rare and uncommon and, therefore, highly desirable among chicken keepers. They are cold and heat-hardy and have pleasant personalities.
They lay around 4 blue-colored eggs weekly, making them a great addition to any flock.
Where to Buy?
As the color variety of the Frost White Legbar remains rare, few large hatcheries are selling this chicken. You can either turn to a local breeder of Legbars, or go to one of the few hatcheries selling this breed online.
The Frost White Legbar can be purchased on the My Pet Chicken Website (maximum 3 chicks, due to the rareness of the breed) or at the Meyer Hatchery website.
13. Sapphire Jewel
A Sapphire Jewel is a unique designer breed, created exclusively for Meyer Hatchery. They were designed to lay a large amount of blue-colored eggs. Sapphire Jewels will lay an astonishing 6 to 7 eggs weekly. All eggs are blue-colored.
As the Sapphire Jewel is a hybrid chicken, their appearance will vary. They all have white feathers with gray or black flecks, but the leg color, earlobe color, and comb type can vary.
This hybrid is not to be mistaken with other sapphire-colored chickens, such as the Sapphire Gem, Sapphire Olive Egger, or Sapphire Splash.
Where to Buy?
Sapphire Jewel day-old sexed chicks are exclusively sold on the Meyer Hatchery website.
14. Steel Eggers
Meyer Hatchery partnered up with Lisa Steele from Fresh Eggs Daily to create a unique hybrid chicken with a stunning splash, or blue plumage. All chickens feature a beard and crest, adding to their unusual appearance. These chickens are also available in a bantam variety.
Steel Eggers are good egg layers producing between 3 to 5 eggs weekly. All eggs are blue or green colored, although there is a small chance of 1 to 64 that hens lay tan eggs.
Where to Buy?
Steel Eggers and Steel Eggers Bantams are exclusively sold on the Meyer Hatchery website.
15. Whiting True Blue
The last one on the list is another specially created chicken breed, called Whiting True Blue. Although the Whiting True Blue is not a recognized chicken breed, it is also not a hybrid chicken.
Whiting True Blue chickens are developed by selective breeding and will breed true for egg color, although their feather pattern can vary.
Whiting True Blue hens are excellent egg layers, laying up to 6 eggs weekly. All eggs are blue-colored and large in size.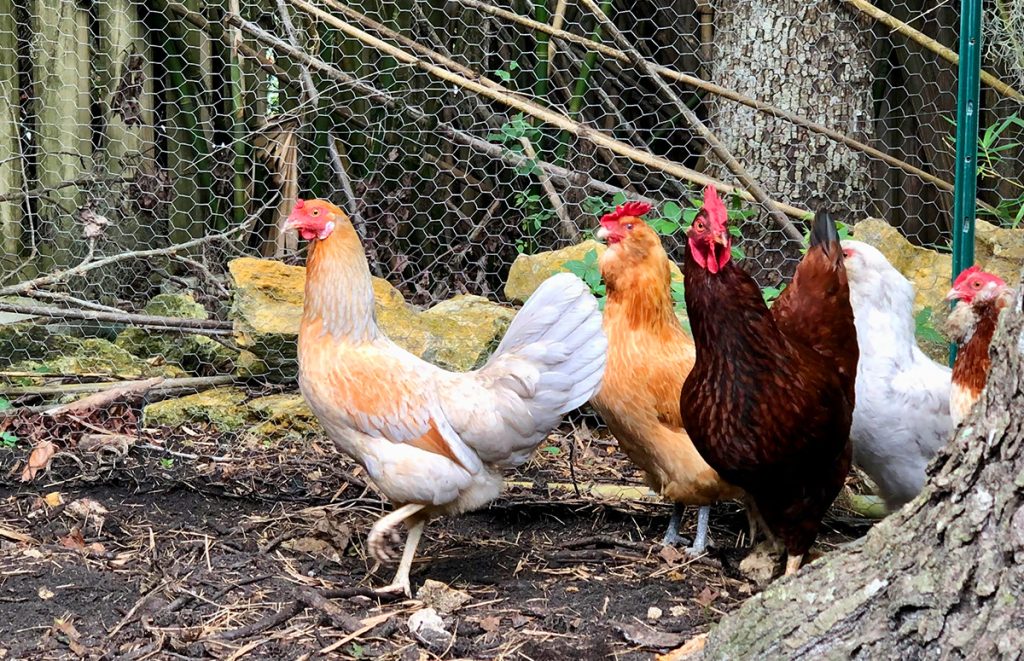 This is a relatively new breed; each chicken will have a varying feather pattern and leg color. They were developed by a poultry geneticist, Dr. Tom Whiting, owner of Whiting Farms.
Where to Buy?
Whiting True Blue chickens are not that common and are currently sold on the Murray McMurray website or Whiting Farms' Facebook page/ website.
Why do Chickens Lay Blue Eggs?
To explain what makes an egg blue, green or brown, we need to dive into some interesting genetics.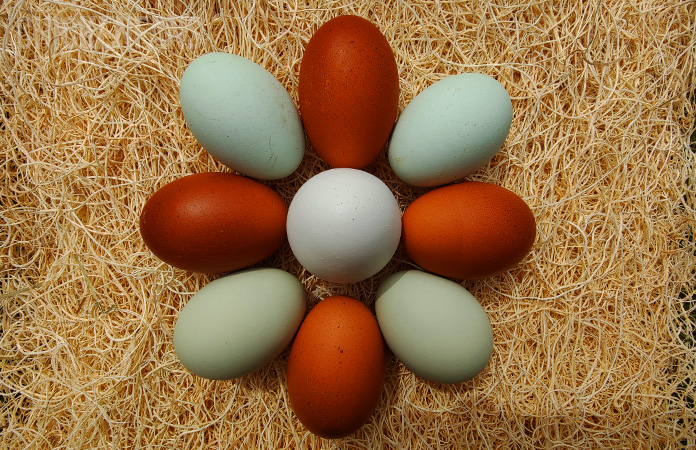 A Dominant O-gene on chromosome 1, called Oocyan, determines the blue-egg laying gene. Unlike the BI gene, which controls the color of the feathers, the OOcyan gene affects eggshell color.
Determining why a chicken lays a specific egg color can be complicated, but it can be simplified by understanding that genetics play a crucial role. Certain chicken breeds are genetically predisposed to lay blue eggs, while hybrid chickens are often intentionally bred to carry the blue egg gene by crossing them with breeds that carry that gene.
To learn more about egg color genetics, please consult our in-depth 'Egg Color Genetics' article.
Summary
Why settle for white or brown eggs when you can add some color to your egg basket? The demand for colorful egg layers is rising, and hatcheries are meeting that demand with various hardy breeds that lay beautiful blue eggs.
With this full list of current available blue egg layers, you can choose which breed suits you best and make the best choice.
If you want to learn more about chicken breeds that lay colored eggs, check out our article '10 Popular Chickens With Colored Eggs' or 'Top Egg Layers That Lay Green Eggs'. Or go to our listicle breed summary on 'The Classroom', or, if you're unsure where to start, take a look at our 'Chicken Breeds: Ultimate Beginners Guide'.
Credits Featured Image: @arm_the_animals_ (IG)