RentACoop Little Red Barn Brooder: Review (2023)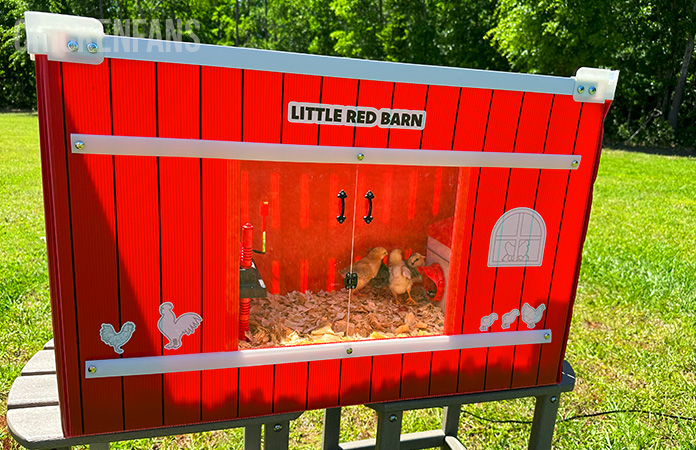 Chicken Fans is reader-supported. When you buy through our links, we may earn a commission. Learn more about our privacy policy and disclaimer.
One of the key factors in chick raising is providing them with a safe, warm, and nurturing environment during the early stages of their lives. Let's take a closer look at the RentACoop Little Red Barn chick brooder, a new innovative brooder that combines convenience with fun!
RentACoop Little Red Barn Review
The RentACoop Little Red Barn is a new brooder set that is available on the market since March 2023. Its practical design, even if you're not using it, is refreshing.
WHY BUY?
Sliding plexiglass door
Easy installment
Foldable after use
Carrying handles
WHY AVOID?
Not for large chick flocks
Multiple folding and unfolding can affect lifespan

Overview
Raising chicks is a fulfilling and fun experience, especially when you have kids. These little birds are so much fun to watch, running around in their brooder, and falling asleep in their feed.
They also require much attention these first few weeks and must be kept warm and safe. A trustable chick brooder is an essential tool for any chick enthusiast looking to raise their own flock.
Take a look how the chicks tried out their new home:
Design
You can choose to purchase either the folding chick brooder or the entire brooder set, including the brooder, heat plate, waterer, and feeder. In this review, we'll be focusing on the brooder set.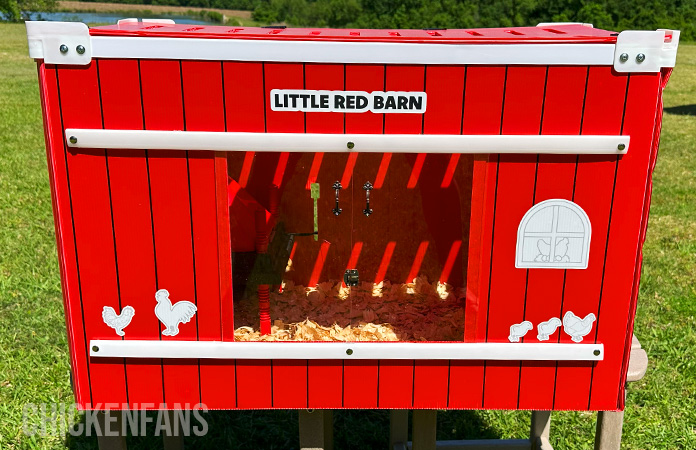 The RentACoop Little Red Barn chick brooder measures 31" x 20.5" x 17" and can hold up to 10 chicks, depending on their age (and size).
One of the best features of this brooder is its great view of the chicks. The sliding plexiglass doors provide easy access to observe your chicks, while the movable top makes it convenient to refill the feeder and waterer.
The brooder is made from durable plastic, making it easy to clean. It is also foldable. So, when your chicks have grown up, simply hose the brooder with some water, let it dry, and store it until the next chicks arrive. It will store nicely and flat on a shelf.
Best Features
The RentACoop Little Red Barn is a great example of a high-quality chick brooder for an affordable price. It provides all the necessary equipment to start your chick-raising journey.
There are many specifics about this brooder that should be addressed.
Sliding Doors
The sliding plexiglass doors are one of the standout features of this brooder. Made from plexiglass and designed to provide excellent visibility of the chicks while keeping them safe and warm in the brooder.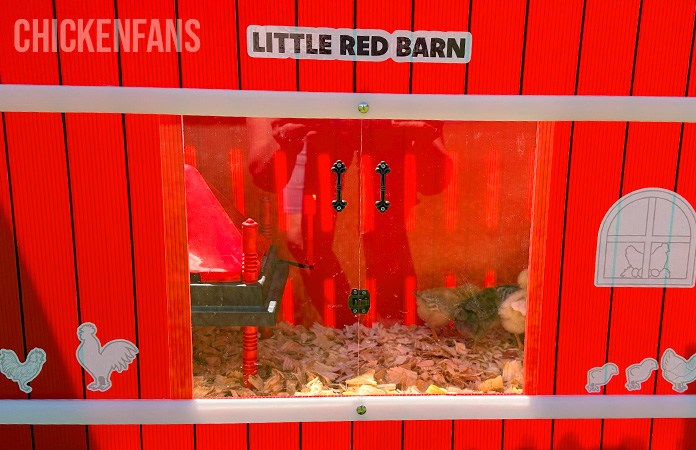 One of the benefits of the sliding doors is they provide a clear view of the chicks without the need to remove them from the brooder. This can be useful to monitor their behavior and health, particularly during the first days after hatching.
Next to monitoring, watching the chicks running around is a fun activity to do with kids; it's better than watching tv!
The doors are easy to open and close with the convenient handles, which makes accessing the feeder and waterer convenient. However, to clean out the bedding material or refill the feed, it's easier to use the movable top instead of the sliding plexiglass doors.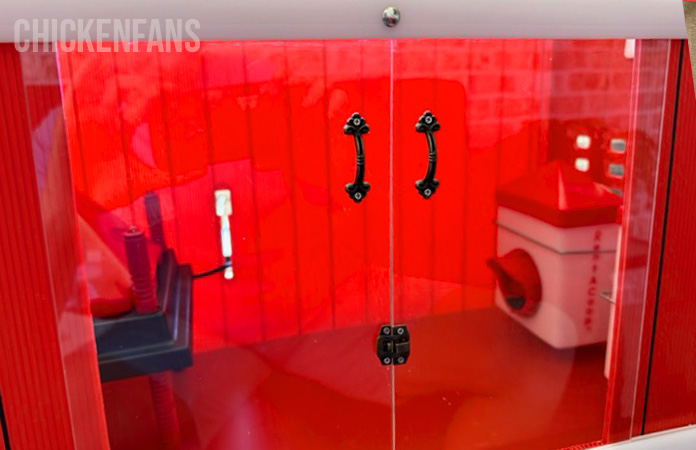 Furthermore, the doors can be locked from the outside, which ensures all chicks remain safe and secure in the brooder at all times. This is an important feature if you have small children, as it prevents them from accidentally opening the doors and harming the chicks.
The sliding doors are well-constructed, with smooth sliding panels that are easy to clean.
Foldable Design
The RentACoop Little Red Barn chick brooder has a foldable design that makes it easy to store when not in use. This is particularly helpful for those lacking the space to store a large brooder setup.
The brooder can be folded flat, so you can easily store it under the bed, in a closet, or on a shelf. If you are ready to use the brooder again, simply unfold it and set it up as needed.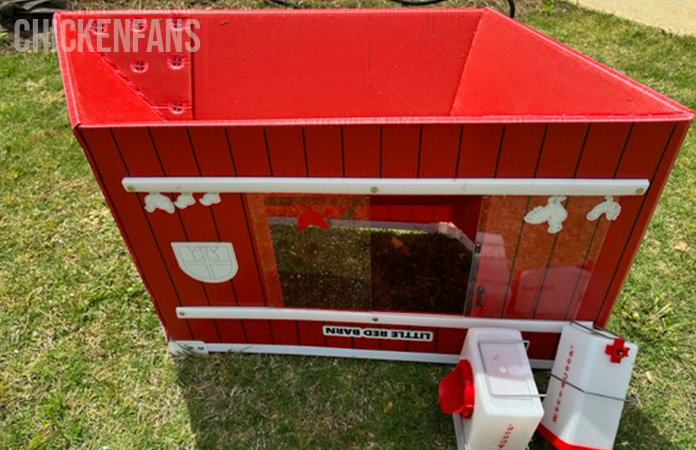 This also means that if you want to raise more chicks, you can easily add additional brooders without them taking up too much space when not in use.
Stackable
The stackable design of the RentACoop brooder is a great feature for those planning to raise more chicks. The brooder can hold up to four 8-week-old chicks or ten 2-week-olds. If you plan on keeping more chicks, you can purchase another brooder and place it on top.
That way, you'll create a vertical brooder system that can house many chicks in a relatively small space. It allows you to maximize the use of available space.
The sturdy corners of the brooder keep it from shifting when stacked, making it safe and stable.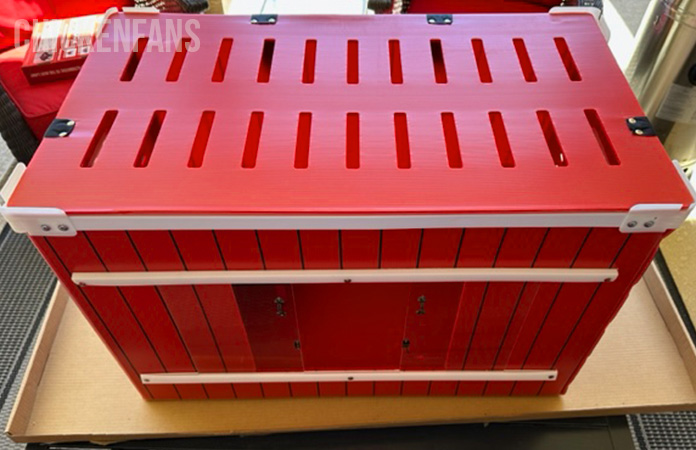 Carrying Handles
The RentACoop chick brooder comes with sturdy handles on both sides for easy transport from one location to another. This can be useful if you need to move the chicks to a different area.
The handles are designed to provide a comfortable grip, even when the brooder is fully loaded with chicks and equipment. This ensures you can lift and carry the brooder without fearing you may drop it or it slips from your hands.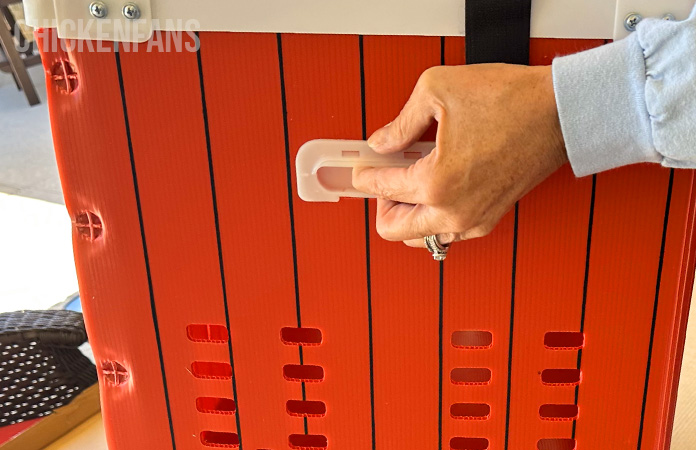 They are strategically placed so the weight of the brooder is evenly distributed, reducing the risk of accidents. You don't need two people to carry the brooder, although, for safety reasons, it's always a good idea to have a helping hand when carrying a brooder with chicks.
Fun Stickers Included
One of the fun features of the RentACoop Little Red Barn brooder is that it comes with a sheet of removable stickers. You can make it a fun activity with the kids to customize and decorate the brooder.
Raising chicks is a great activity to do with kids, as it gives them a chance to learn about animal care and responsibility.
Making them responsible for decorating the brooder can add to their enjoyment of watching the chicks grow up.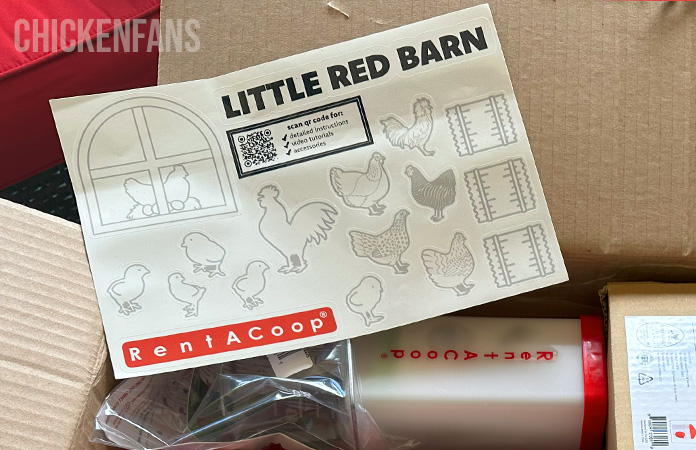 All Accessories Included
If you purchase the RentACoop Little Red Barn brooder set, you'll have all the necessary accessories to start raising chicks. This purchase includes a 10x 10″ heat plate, a 32oz waterer with a drinker water bracket, and 2.5lbs feeder with a wire holder.
The heat plate is essential to keep the chicks warm during these first weeks. Even if you live in warm areas, you'll notice the chicks getting under the heat plate for extra warmth. The brooder has a cord hole to set up and plug in the heat plate easily.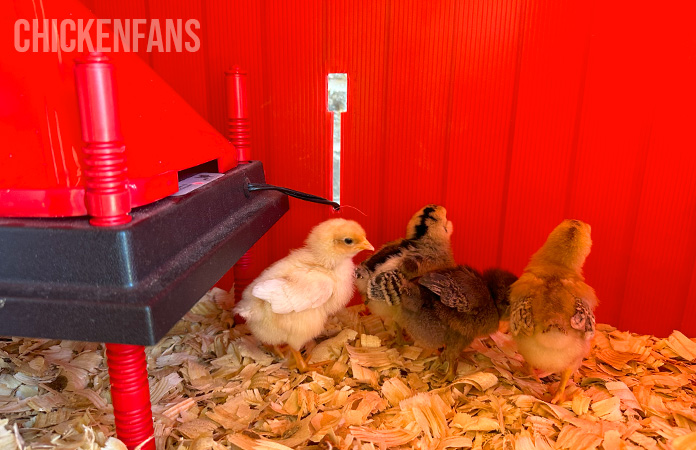 You can choose to place the included anti-roost cap on the heat plate so your chicks don't jump on it or sleep on it.
The waterer and feeder can be mounted to the brooder in various ways, allowing flexibility to place them in the brooder. Once your chicks grow bigger, you can mount the feeder and waterer higher so they won't have to bend down.
Potential Drawbacks
While the RentACoop brooder is a great option, it's important to address its limitations and potential drawbacks. These may not apply to every chick owner, but it's critical to ensure that it meets your specific needs before making a purchase.
Not Suited for Large Number of Chicks
The RentACoop chick brooder has a limited capacity and is not suitable for those looking to raise large numbers of chicks. According to the manufacturer, the brooder can hold a maximum of 10 chicks of 2 weeks old or less.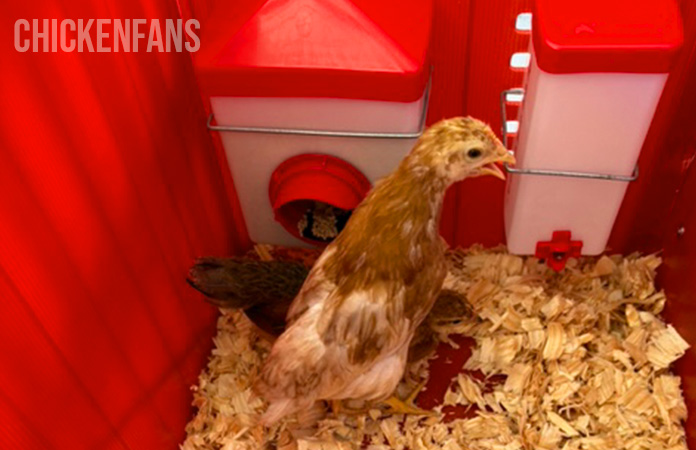 As the chicks grow, the number of chicks that can be housed in the brooder decreases, with a maximum of 4 chicks at 8 weeks old.
If you plan on keeping more than 4 to 5 chicks inside the brooder until they are ready to go outside, you'll need multiple brooders or have another space available for them.
Folding and Unfolding Can Affect Brooder Lifespan
While the folding design of the brooder is a big plus in saving room, it can also affect the lifespan of the brooder. It does not seem to be made to be folded and unfolded frequently, and heavy use of this feature may cause damage to the brooder, especially if it's not folded correctly.
However, with proper care and attention, the folding design can be a great advantage in storing the brooder easily.
Advantages over Competitors?
Compared to its competitors, RentACoop has several advantages. Firstly, it is designed to be stackable and foldable, making it easy to store and transport.
Secondly, the brooding set includes everything you need to get started on raising your chicks. You don't need to purchase all items separately, but you still have the option only to buy the brooder.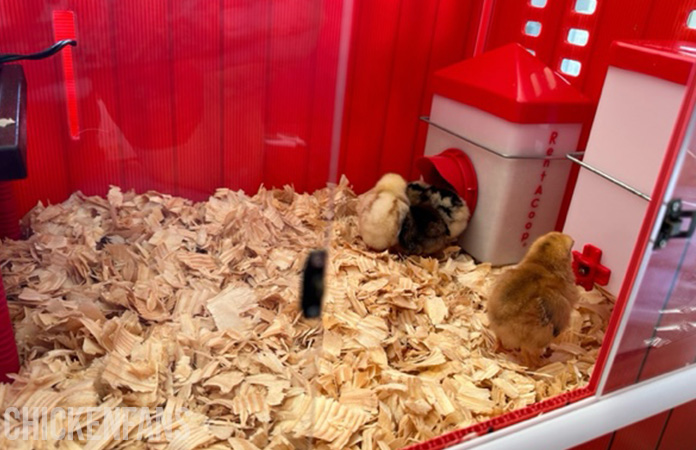 Thirdly, you always have a great view of your chicks through the sliding plexiglass doors that come with handles and can be locked from the outside.
Lastly, the additional stickers make the brooder extra fun to decorate the brooder.
Maintenance and Durability
The RentACoop brooder is made to be easy to clean and maintain as it is made from corrugated plastic. The smooth plastic surface can be easily wiped with a damp cloth or hosed down after using before storage.
The brooder is designed to last for years, so you can use it for multiple chick-raising seasons. The RentACoop team also offers lifelong support in case of a problem with your product.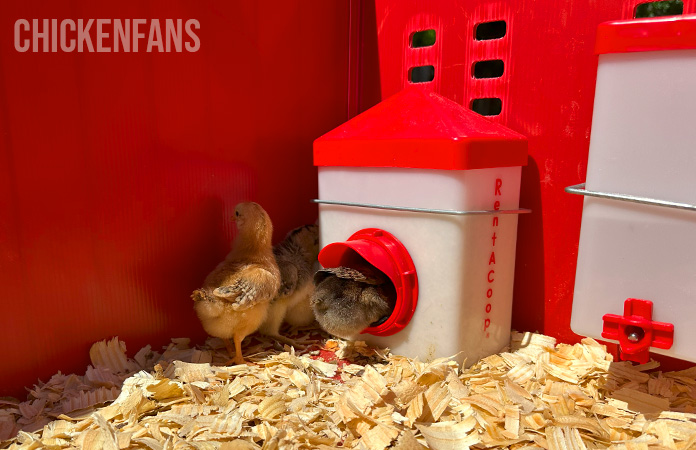 The only thing you need to remember is that we don't believe it is constructed to be folded and unfolded numerous times. This can damage the brooder. So only use this feature when needed.
What's Inside the Box?
The brooder set comes in two separate boxes. One box contained the flat-packed brooder. Another box contained all separate accessories carefully arranged in another separate box.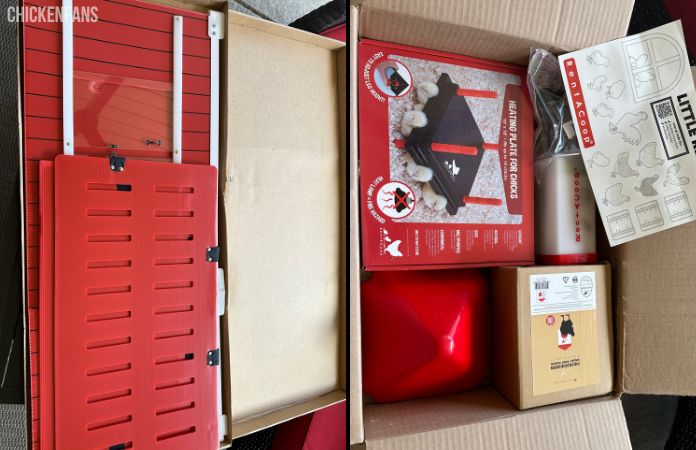 What we received:
Little Red Barn Brooder, including brooder, floor, windows and lid
Feeder
Waterer
Mounting bracket for waterer
Heat plate with anti-roost cap
Stickers
Installation manual
Ease of Assembly
The process of assembling the brooder and installing the separate accessories was simple and straightforward that can be completed in just a few simple steps. It took us around 5 to 10 minutes to assemble the brooder and another 10 minutes to install the feeder, waterer, and heat plate.
We didn't even have to use the instruction manual, it's quite clear how the assembly needs to be done, but a manual is included for those unfamiliar with the process.
It is easy to use and to assemble. You only need to fill it with your favorite bedding material, like wood shavings or nest box pads, and your chicks are ready to enjoy their new, temporary home.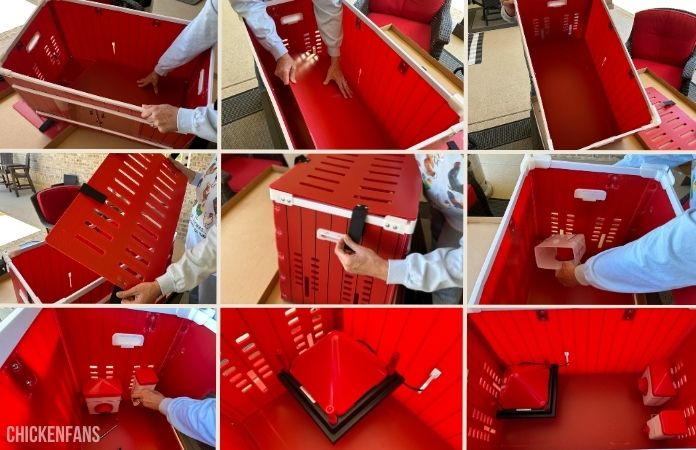 Steps to follow to assemble the RentACoop Little Red Barn chick brooder:
Unpack the brooder and accessories: ensure all components are present and the boxes are empty.
Assemble the brooder: start by unfolding the brooder and secure the corner with the provided clips and push the bottom flap down. Make sure everything fits snugly. Lay the floor panel inside the brooder, carefully lining up its grooves with the seams.
Install bedding and accessories: Use the designed cutout for the heat plate plug and mount the feeder and waterer to the preferred location. Add bedding.
Place the lid: make sure to line up the 4 velcro straps with the corresponding velcro panels and press to secure.
At this moment, you can choose to use the stickers to add some decoration to the brooder, although this is a matter of preference.
If you don't like using the instruction manual, RentACoop offers a great installation video on their website.
How Did We Test?
Over the course of several weeks, we tested the RentACoop Little Red Barn chick brooder with a variety of chicks, including 5-week-olds and day-old chicks.
During this time, we found that the brooder provided a safe and warm place for the chicks to grow and develop. The heat plate kept the babies warm, and the waterer and feeder were easily accessible.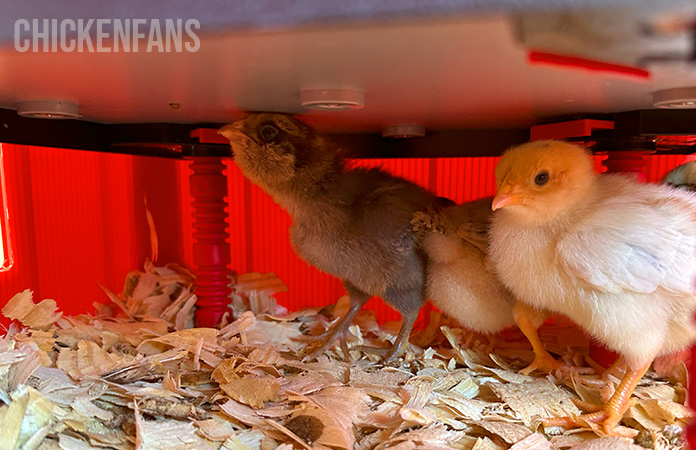 The day-old chicks didn't take long to learn how to use the feeder and waterer; they learned it in seconds.
The sliding doors are a great feature for looking at the chicks and checking up on them, but the removable top has proven to be the key feature for refilling the feeder and waterer.
But, as we mentioned, the brooder's size can be a limiting factor for those looking to raise more than a few chicks. We suggest not keeping more than 5 to 6 chicks up to two weeks old and not more than 3 to 4 older ones.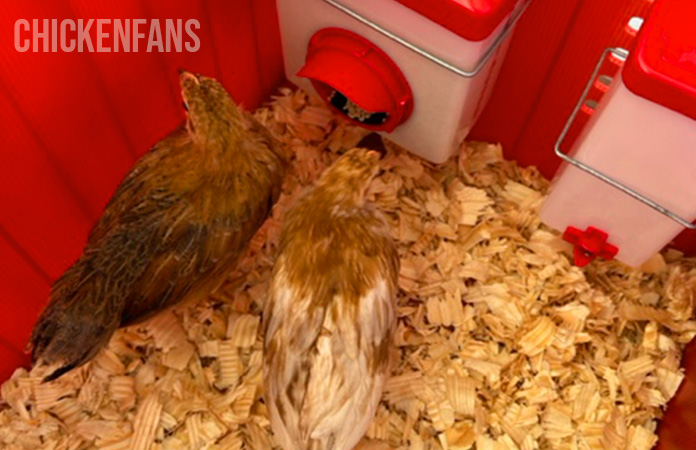 Cleaning and storing the brooder again was a breeze. We took it outside, hosed it, and let it dry in the open air. After drying, it's very easy to fold the brooder for storage, and it doesn't take up much space.
About RentACoop
RentACoop originally started as a chicken coop rental business. The founders aimed to share their passion for chicken keeping and create solutions for common product design issues.
The Little Red Barn chick brooder is their latest product. They released it to the public in March 2023. The company also sells other chicken-keeping products like feeders, waterers, electric fencing and heat plates.
RentACoop provides a 30-day return policy for all their products as long as they remain unopened and unused, but the shipping costs are not included. Contact the RentACoop team to initiate the process if you need to return a product.
RentACoop Little Red Barn Review

In addition to their return policy, RentACoop offers lifelong support for their products, and their customer support team is highly regarded for their helpfulness. If you encounter any issues with your RentACoop product, don't hesitate to contact their support team.
Summary
The RentACoop Little Red Barn chick brooder is a high-quality, durable product for raising chicks. It has a foldable and stackable design with handles, making it easy to store and transport.
The sliding plexiglass windows make it easy to observe your chicks at all times, while the removable top is essential for cleaning or refilling the feeder.
The brooder has all the necessary accessories, including a heat plate, waterer, and feeder. While it may not be suitable for raising multiple chicks for an extended period, the brooder is an excellent option for those who want to raise a small number of them.
Further Reads
OverEz Chicken Coop: Value for Money?
How to Build an Easy and Affordable Coop for 4 to 6 Chickens (+ Chicken Coop Plan)
Best Automatic Chicken Coop Door – Real Life Testing (2023)
Best Bedding For A Chicken Coop