OverEZ Chicken Coop: Value for Money?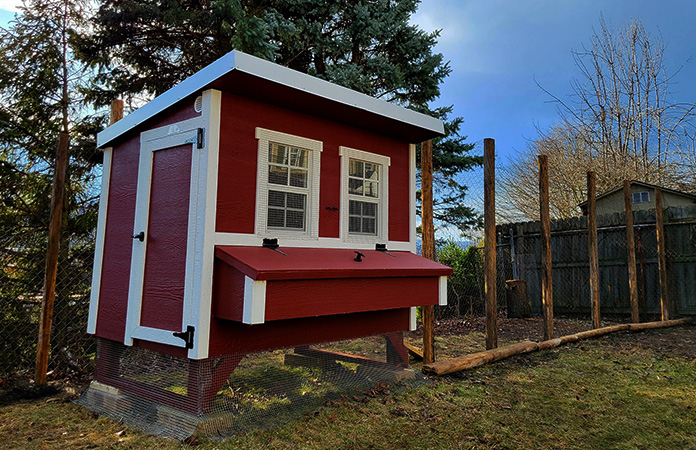 Chicken Fans is reader-supported. When you buy through our links, we may earn a commission. Learn more about our privacy policy and disclaimer.
Whether you're considering raising chickens for the first time or already have a few running around, you likely know the importance of a low-maintenance chicken coop, easy to clean to install. The OverEZ Chicken Coop promises to give you a high-quality, easy-to-install chicken coop.
However, any quality chicken coop is quite an investment; it's important to think before buying and consider the pros and cons.
OverEZ has become a well-known brand in the chicken-keeping industry, selling many products for chicken lovers. Their chicken coops are available in multiple sizes, holding only a small 4 to 5-chicken flock or jumbo chicken houses for up to 30 birds and everything in between. All coops are crafted by Amish carpenters and meet high-quality standards.
WHY BUY?
High in quality
Sturdy full-wooden coop
Traditional design
WHY AVOID?
Needs more ventilation
Wooden coops are harder to clean
Fairly expensive
Overview
The OverEZ chicken coop is constructed using high-quality solid wood materials that are manufactured in the United States by Amish carpenters. The coop's walls are made of sturdy wood paneling, and the exterior is painted in a classic barn red with white accents.
Next to the red and white coops, OverEZ designed 'Farmhouses' for a limited time. The OverEZ Farmhouse is the exact same chicken coop as the normal coops, only in a different color: White with black accents.
While OverEZ chicken coops can vary in size and design, they all share a similar appearance, making them easy to recognize.
OverEZ has multiple chicken coops on the market:
Coop In A Box for up to 5 chickens
Small Chicken Coop for up to 5 chickens
Medium Chicken Coop for up to 10 chickens
Large Chicken Coop for up to 15 chickens
XL Chicken Coop for up to 20 chickens
Jumbo Chicken Coop for up to 30 chickens
They also have a limited 'Farmhouse' edition, which is the exact same chicken coop, only in a black and white color instead of red and white. Their farmhouses include:
Farmhouse Medium Chicken Coop for up to 10 chickens
Farmhouse Large Chicken Coop for up to 15 chickens
Farmhouse XL Chicken Coop for up to 20 chickens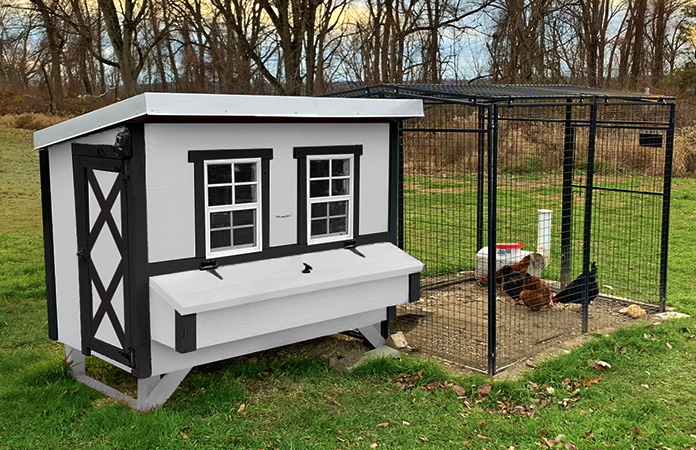 An additional run can be purchased separately or together with an OverEZ chicken coop.
Design
An OverEZ chicken coop looks exactly how you expect a chicken coop would look. They all have a classic and traditional design and look aesthetically pleasing. These wooden coops have a metal roof that allows rainwater to run off the back of the coop so rainwater does not drip on the nesting boxes.
The solid wooden construction adds durability to the coop, ensuring that it will withstand harsh weather conditions and the wear and tear of daily use.
The coop features screened windows (or one window for the smaller coops) that can be opened and closed to provide ventilation and fresh air for your chickens.
Materials
The OverEZ wooden chicken coops are made from natural pine wood and LP Smartside and are built to last. All materials, including floor, walls, roof, nesting boxes, roosts, and assembly materials such as screws, are rust, corrosion, moisture, and rot-proof.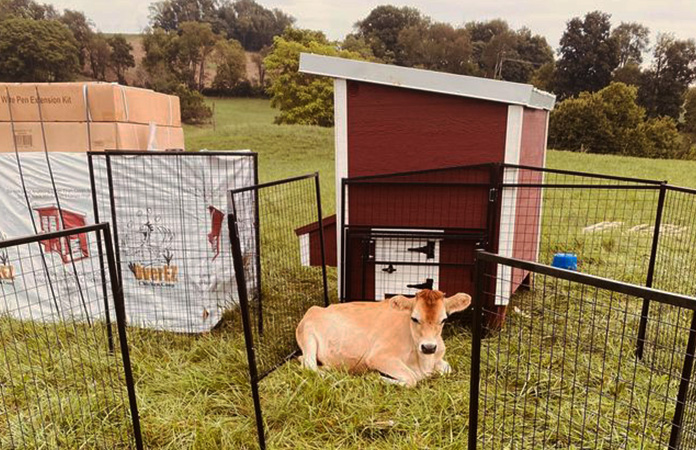 The coop's ceiling is equipped with radiant barrier sheathing, which helps to maintain a cooler temperature inside the coop during the hot summer months. This feature is crucial for maintaining the health and well-being of your chickens, as excessive heat can cause a range of problems.
Depending on the type of chicken coop you choose, they will not only differ in size but require more or less assembly. However, OverEZ promises their coops are assembled in 60 minutes, but we must add you need at least two to three persons to get the job done safely.
The larger OverEZ coops, such as the Large Coop, are walk-in coops with a height of 72 1/2 inches, providing ample space for you to clean the coop comfortably. Smaller coops, like the Small and Medium, are less high, measuring 54 1/2 to 62 1/2 inches in height
Housing Area
Even for smaller flocks, the OverEZ chicken coops are rather big. Your chickens will have plenty of space to roost, lay eggs, and brood. Always remember that your chickens need plenty of inside and outside space to stay happy and healthy.
All OverEZ chicken coops, big or small, provide roosts for your chickens to sleep on. The roosts are positioned on different heights, so your hens can choose their preferred sleeping height. The roosting bars are made from solid wood and are wide enough to allow your chickens to rest their feet comfortably. Chickens don't grip the perch but sleep with their feet flat, balancing on their sticky legs.
While chickens are relatively easygoing animals that require minimal additional care besides food, water, and shelter, they require plenty of space. Make sure you choose the right chicken coop for your flock.
If you're considering expanding your flock in the future (remember chicken math?), it's better to opt for a coop that's one size larger.
Run Area
An optional covered chicken run in not included when purchasing an OverEZ chicken coop but can be bought separately.
The OverEZ runs are available in four different set-ups: Regular 8 feet and 16 feet large, with a height of 4 feet. Or a higher walk-in run over 6 feet high, with a ground surface of 8 and 15 feet.
The OverEZ runs are predator-proof, featuring a prepainted steel frame and wire mesh surrounding the frame. You can cover the run with the OverEZ run tarp to provide extra shelter or shade for your birds.
Predator-Proof
Relying solely on a chicken coop to keep predators out, especially during the daytime, is insufficient. It's similar to leaving the front door to your house open and hoping no one will come in. To protect your flock from daytime and nighttime predators, both flying and crawling, you must have a secure run and a locked coop at night, ensuring that your chickens are safe.
We recommend setting up a wired and covered run that's predator-proof to prevent daytime predator attacks. The OverEZ chicken coops have door handles that turn to latch the door shut (except for the Coop in a Box). To simplify your life, you can install an automatic chicken coop door, so you don't have to remember to close it each night or get up early to open it.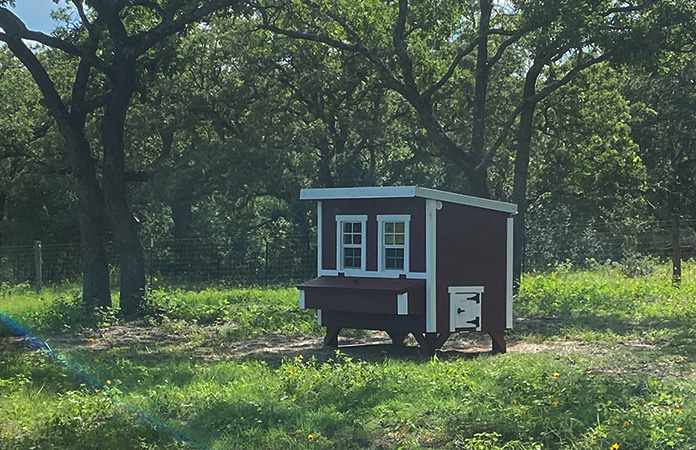 OverEZ has its own OverEZ automatic chicken coop door that can be purchased separately. The door will easily fit any OverEZ chicken coop and other coops. The OverEZ door works both on timer and manual settings.
However, if you remember to close the coop every night and your chickens are safely tucked in, there is no way for predators to enter during the nighttime. The OverEZ coop is built with durable materials and is a robust chicken coop. To ensure the coop remains safe from any predators, we recommend regularly checking that all doors and latches are still secure and working properly.
Specific Features
A chicken coop can have many features, but its main goal is to provide a safe and secure area for your chickens to sleep and lay eggs. Your hens won't use the coop to spend time in during the day, only when laying eggs.
A quality chicken coop should always include the following features:
A safe living space
Ventilation
Nesting boxes
Plenty of space for your flock
OverEZ chicken coop effortlessly meets these requirements but has one potential drawback, depending on your climate and the size of your flock. Let's address the specific features and potential drawbacks of their chicken coops.
Easy to Assemble
The OverEZ Chicken coops are all easy to assemble, and the manufacturer promises claims it can be completed in an hour or less. But the task does require some assembly skills and a bit of handwork. Remember that you'll need at least one or two people assisting you to get the job done correctly and safely.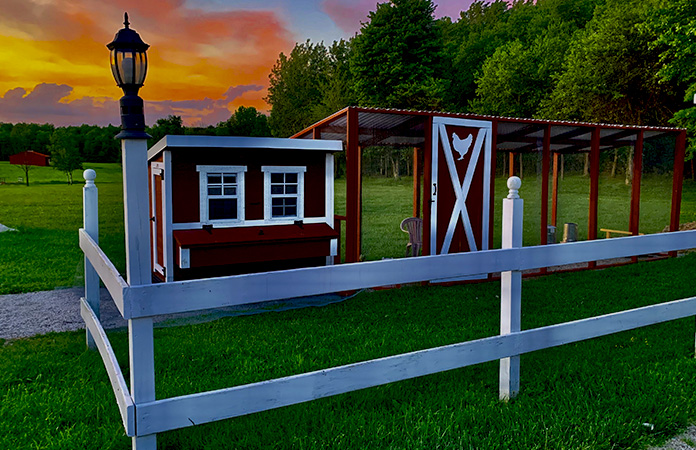 You'll start the assembly by working from the bottom and progress upwards. If you don't like to follow the instruction manual and prefer visual instructions, each coop comes with instructional videos you can easily follow in real time.
The package includes all essential installation parts and screws; however, a power screwdriver is recommended to ensure quick assembly. If the coop's paint is damaged during shipping, a small amount of additional paint is provided for touch-ups.
Eco-Friendly Non-Toxic Paint
It's important to use non-toxic, preferably VOC-free paint when painting animal houses, including chicken coops. If you're not sure about the leftovers in your basement, it's not recommended to use it for animal houses.
OverEZ coops come with eco-friendly and non-toxic paint already applied to the exterior. Not only will this paint be safe for your chickens, but it also protects the coop from water penetration and ensures a long lifespan for the coop.
The barn red color is a popular choice for chicken coops, giving the coop a charming look. Additionally, OverEZ offers a limited edition of farmhouses in white color.
The interior of the OverEZ chicken coop does not come with any paint or primer applied. If you want to use animal-safe paint or primer for your chicken coop, inside or outside, check out our article on 'Best Paint for a Chicken Coop'.
Double Roosts
Roosting perches are essential for chickens to have a place to sleep during the night. Chickens sleep by standing upright on the perches, which makes them a crucial part of any chicken coop setup. The height of the roosting perch is an important factor to consider. It should be placed at least higher than the nesting boxes, so your chickens won't sleep in the nesting boxes instead.
All OverEZ chicken coops are equipped with two full wooden roosts located at different heights. While most chickens will prefer the higher roost, smaller or heavier breeds, and bantams may find it difficult to access. As the OverEZ coop delivers both high and lower roosts, you won't need to adjust the roosts depending on your breeds. They will all find their place in the coop.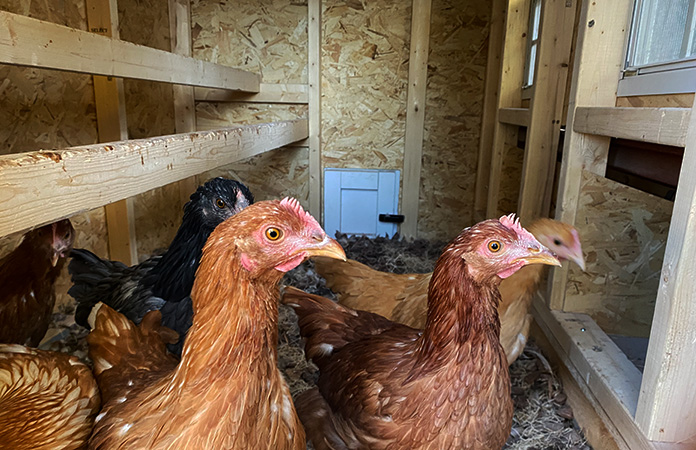 Direct Access to the Nesting Boxes
The OverEZ chicken coop is designed to simplify your life when it comes to collecting fresh eggs. Each coop has a separate nesting box area where your chickens can lay their eggs privately. The top wall of the nesting box can be easily opened from the outside, allowing you to easily collect your daily batch of fresh eggs.
OverEZ offers 2 to 10 nesting boxes in their chicken coops, depending on the size of the coop you choose. All you need to do is provide their preferred bedding to encourage them to use the designated nesting box area.
Built by Amish (Trained) Craftsmen
OverEZ partners with Amish craftsmen and Amish-trained carpenters from two locations in the USA, including Lancaster County, PA, and Georgia. These skilled workers produce high-quality chicken coops to ensure that each coop is well-built and durable. OverEZ Chicken Coops are all USA-made and promise precise craftsmanship that will last for many years.
With an OverEZ coop, you can provide your backyard chickens with a safe and comfortable home without breaking the bank; however, a chicken coop is always an investment. The OverEZ coop differs from other pre-built chicken coops with its quality materials, quick assembly, and easy shipment. While still a significant investment, it's more affordable than many other models or custom-built coops.
Potential Drawback: Ventilation
Ventilation is a crucial aspect of chicken coops, yet, and is often overlooked. Chickens are breathing and pooping, causing the air to become damp and increasing the levels of carbon dioxide and ammonia fumes. Although chickens can tolerate low temperatures, they can still suffer from poor air quality.
The OverEZ chicken coop's ventilation system is well-designed, with vents at the top of each gable end allowing airflow. Ventilation goes on the top of the coop, so the ammonia fumes and carbon dioxide can be replaced by fresh air. No airflow should be on the bottom of the coop, so your chickens won't sit in the draft.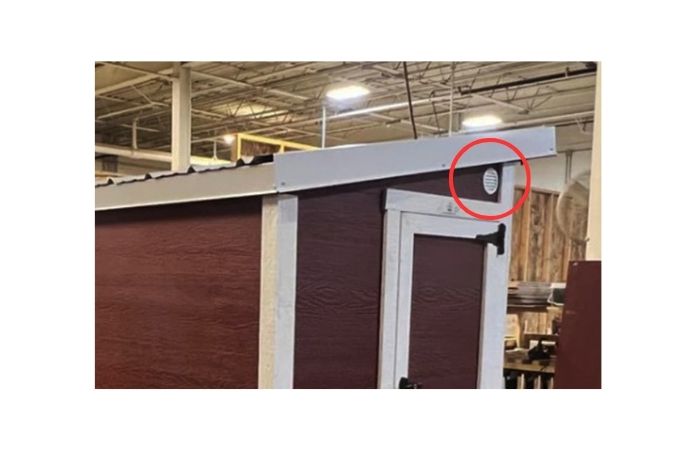 However, the vents are somewhat small for the larger chicken coops, holding up to thirty chickens. Especially if you're living in a tropical and hot climate with little airflow, providing extra ventilation by leaving the door open or opening windows can be necessary. When you open the coop in the morning and smell ammonia, you need more ventilation.
By providing bigger vents in the bigger coops, OverEZ can easily address this problem.
Optional Features
In addition to the standard features of OverEZ chicken coops, several optional features can be added to enhance the comfort of your hens or yourself. These features are not included in the standard purchase but can be easily added to your order. Let's address some of the most important optional features.
OverEZ Chicken Run
Chickens need plenty of inside and outside space to stay happy and healthy. While some chicken owners choose to let their chickens roam freely without any boundaries, this may not be safe in areas with many predators. Keeping them in a covered and secured run is recommended in such cases. It also keeps them from wandering into your neighbors' yards or keeps them out of the vegetable garden.
OverEZ provides covered chicken runs in four different set-ups:
Regular 8 ft surface, 4 ft in height
Regular 16 ft surface, 4 ft in height
Walk-in run 8 ft surface, 6.3 ft in height
Walk-in run 15 ft surface, 6.3 ft in height
The OverEZ chicken runs can be used with the OverEZ coops and any other chicken coop you have. But if you already own an OverEZ coop, you can fit the run to the coop with the included adapter. The steel-built outdoor chicken pen keeps your flock inside and safe as it's made from sturdy materials such as prepainted steel square tubing for the frame and wire mesh.
All OverEZ Run models have a walk-in door for easy access. The chicken pen is pre-painted and therefore is easy to clean and maintain. Simply wipe down the cage with a wet cloth or rinse it with water.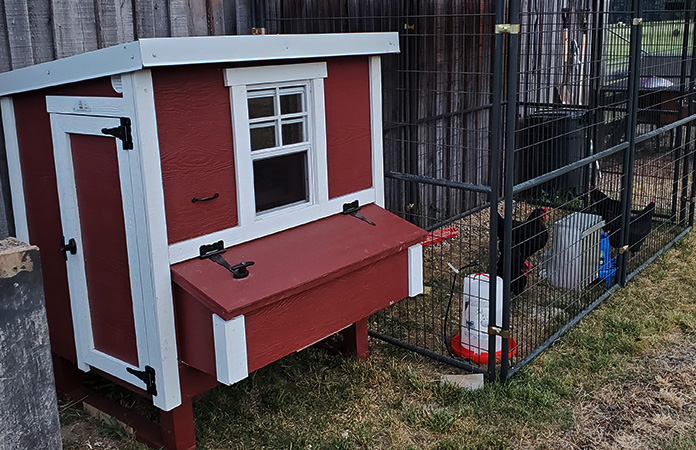 OverEZ Automatic Door
Automatic chicken coop doors can make your life so much easier, so why not add an autodoor to your purchase? All OverEZ chicken coops (except the Coop in a Box) come with lockable doors, so your chickens are safely tucked in every night. But an automatic door gives you peace of mind, not remembering to open or close the coop doors each night and morning.
The OverEZ chicken coop door will easily fit into your OverEZ coop, as well as any other chicken coop. You will need main power supply or a 12-volt battery to run it. Batteries or power cords are not included but can be purchased separately.
The door is made from heavy-duty aluminum that's also water-resistant. It comes with both manual and timer settings. The control panel has internal memory to store settings, so it doesn't reset on power blips.
OVEREZ AUTOMATIC COOP DOOR

OverEZ Waterer and Feeder
To save time and effort, a reliable feeder that can hold up to 50 pounds of feed or a sturdy waterer holding up to 12 gallons is crucial when raising chickens. The OverEZ chicken feeder and waterer promise to meet this need and help you save time and money.
The OverEZ chicken feeder and waterer are pre-assembled and require no additional assembly. You don't need to do anything more than take it out of the box, place it inside the chicken run and fill it with feed or water. You can immediately start using them with no complicated assembly or installation.
OverEZ Feeder

The OverEZ Chicken Feeder is a high-quality feeder made of UV-protected, food-safe, BPA-free, recyclable plastic. It can hold up to 50 lbs of feed and has three smart feeding ports to prevent spilling or soiling. It's rainproof and can be used indoors or outdoors.
The OverEZ feeder has an intelligent feeding port design that contributes to feeding your flock efficiently. These ports are specifically designed to reduce waste and spillage and prevent your chickens from spilling or soiling the feed.
If you want to buy the OverEZ Feeder, check out our in-depth review of the 'OverEZ Chicken Feeder' or click on the link below for more product information and price info.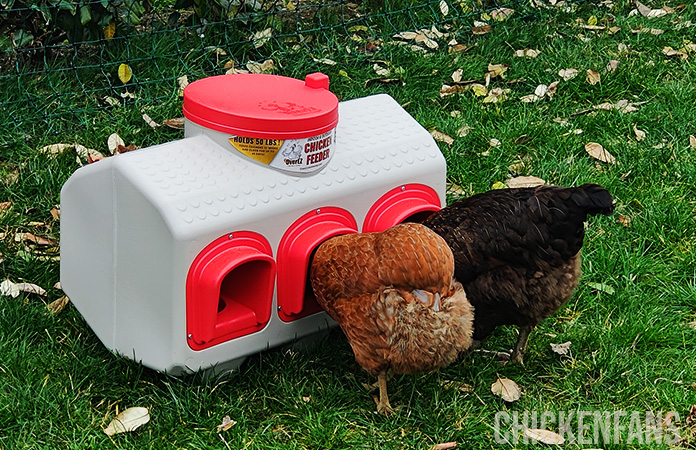 OverEZ Waterer
The OverEZ chicken waterer is designed to hold up to 12 gallons of water, eliminating the need for daily maintenance. With this waterer, your chickens will have clean water for up to a month, promoting their health and happiness. However, replacing the water inside a waterer to prevent algae and keep the water clean is always recommended every week. OverEZ also sells a water-protective additive made for chicken waterers.
The waterer has a power cord access point so the OverEZ de-icer or circulation pumps can be attached. This prevents your chickens' water from freezing during cold winters and saves you a lot of time in the morning and during the day.
The OverEZ waterer comes with three drinking stations, all drip-free drinking nipples. It's also equipped with a fully sealed, stay-clean design that prevents hens from soiling water, which saves time and water.

Price and Availability
The OverEZ coops have prices ranging between $1300 for the smaller coops and $ 4400 for the giant coops. A sturdy full wooden chicken coop is an investment. Still, for this price, you'll receive a high-quality, Amish-made, full wooden chicken coop, including one mandoor and a chicken door, treaded wood ramp for easy chicken access, floor, radiant barrier sheeted roof, nesting boxes, ventilation units, windows, and roosts.
Investing in a quality chicken coop is important, and OverEZ is a reliable choice. Additionally, OverEZ provides excellent customer service and can be easily reached via phone, text, or email in case you encounter any questions along the way.
All products of OverEz are available at many local dealerships all over the US, on their website, and most major webshops.
About OverEZ
OverEZ is a small business based in Manheim, PA, selling handmade chicken coops. The coops are constructed by Amish craftsmen in Pennsylvania and Amish-trained craftsmen in Georgia. Working with these craftsmen guarantees that OverEZ coops meet high-quality standards.
In addition to chicken coops, OverEZ offers a range of chicken-keeping accessories, like feeders, waterers, electrical heat packages, and automatic coop doors. OverEZ has been awarded the 2020 Retailers' Choice Award by the North American Retail Hardware Association (NRHA).
Summary
The OverEZ chicken coop is a high-quality, Amish-made full wooden chicken coop designed to create a comfortable environment for your flock. It is available in different sizes and includes various features such as nesting boxes, ventilation units, windows, roosts, and more.
OverEZ offers various optional features and accessories to enhance your chickens' comfort. The pre-painted chicken coops are easy to clean, making maintenance a breeze. Many extensions, like an automatic chicken coop door and a mesh-wired chicken run, can be purchased separately.
If you're more interested in plastic chicken coops, please check out our 'Coops' page, our 'Best Plastic Chicken Coops' article or our review on the 'Omlet Eglu Cube'.