RentACoop Solar-Powered Electric Poultry Netting: Review (2023)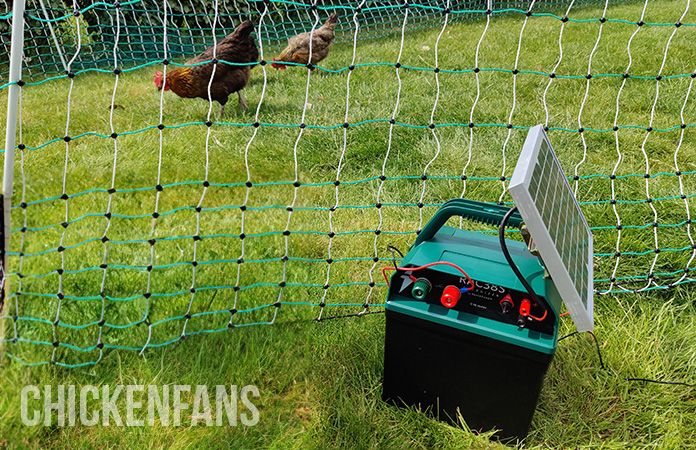 Chicken Fans is reader-supported. When you buy through our links, we may earn a commission. Learn more about our privacy policy and disclaimer.
Nothing more devastating than walking into your coop early in the morning only to find your cherished flock mercilessly decimated. Electric poultry netting can prevent this, forming an impenetrable barrier that repels predators. You can rest assured your flock is safe, even with a fox wandering around the coop all day.
We reviewed the RentACoop Electric Poultry Netting with Solar Energizer. It's a well-balanced solution, perfect for eco-conscious chicken enthusiasts, homesteaders, and farmers.
Since the RentACoop netting is solar-powered you benefit from cost savings and environmental sustainability, and you never risk your fence to let your chickens down in case of blackouts. As an added benefit, you can use it in remote areas without access to electrical infrastructure.
RentACoop Electric Poultry Netting All-in-One Set
The RentACoop Fencing Set comes with 42″x168′ Electric Poultry Netting, 0.38J Solar Energizer, 3′ Grounding Rod, Gate Handle Kit, and Voltmeter Fence Tester. It's a great solution for those who don't want to rely on traditional power sources.
WHY BUY?
All-in-one-set
Does not sag
Well-documented manual
Portable solution
WHY AVOID?
Assembly takes some time
12V Sealed Lead Acid battery not included

All-In-One Solution
The RentACoop Electric Poultry Netting set is a great all-in-one solution for poultry owners seeking a comprehensive fencing system. This all-in-one package includes everything you need to create a secure enclosure for your chickens and other poultry.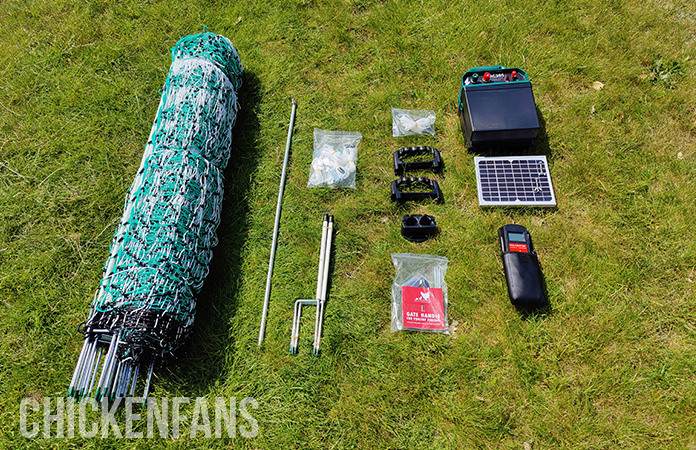 The set includes a 42″x168′ Electric Poultry Netting, a 0.38J Solar Energizer, a 3′ Grounding Rod, a Gate Handle Kit, and a Voltmeter Fence Tester. With stakes placed every 12 feet, four reliable guy lines, and double spiked posts, the necessary support is provided to prevent any sagging.
The powerful RAC38S 0.38 joule Solar Energizer is a solar-powered energizer that charges up to 504 feet of poultry netting. The added solar panel is a standout feature, offering great advantages for homesteaders who aim to live completely off the grid.
If you don't need the entire set, don't worry, all items can be purchased separately.
Ease Of Installation
As poultry enthusiasts ourselves, we had the pleasure of installing the RentACoop Electric Poultry Netting, and we must admit, the installation process took us some time.
The package came with pre-fastened posts, eliminating the need for confusing assembly steps, but the netting itself got a bit tangled while unrolling it. It took a gentle touch and patience to achieve a neatly unrolled fence.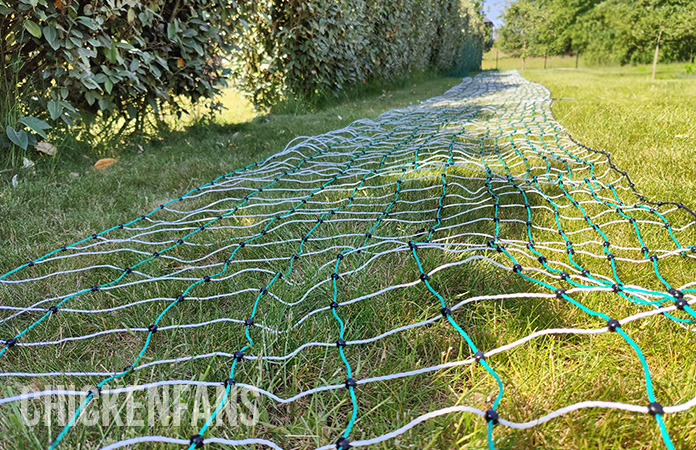 The installation video you can find online says you can easily set up the netting in 15 minutes, so it's almost embarrassing to admit it took us nearly an hour for one person to complete this task. If you're unfamiliar with the process, make sure there is an extra person to assist you.
After the netting was in place it was time for the solar energizer and ground rod. Since it's not just an electric fence but also comes with a solar panel, there are quite some cables to assemble. The instructions are very clear, though, and easy to follow.
No Sagging Fence
Say goodbye to the frustrations of sagging movable fences. The RentACoop poultry fencing addresses the common problem of sagging, ensuring a reliable enclosure for all poultry.
The fence is kept taut and free from unsightly sagging thanks to careful engineering and design. The inclusion of stakes at regular intervals, with posts pre-fastened to the fence, provides essential support and stability. This strategic placement prevents any compromising drooping.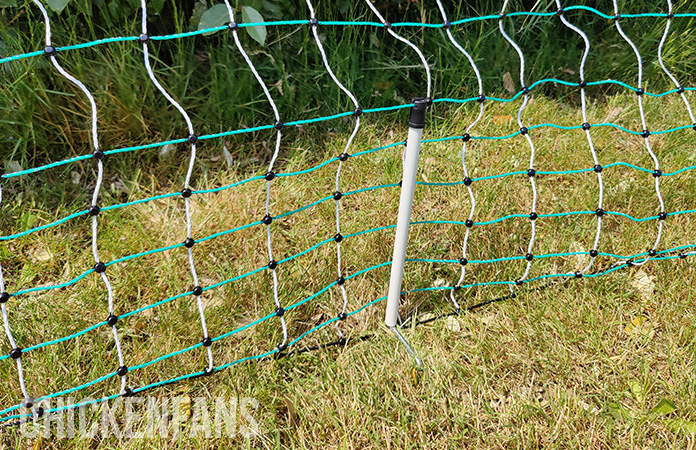 To further enhance the stability, the set also includes four guy lines, adding tension and reinforcing the fence. This additional anchoring system effectively minimizes any potential sagging.
The double-spiked posts offer an added layer of durability and strength. These robust posts penetrate the ground deeply, providing reliable support and preventing any significant movement or shifting of the fence. This ensures that the netting remains firm and upright, offering maximum protection for your poultry.
Powerful Solar Energizer
The solar energizer, with a capacity of 0.38 joules, is designed to provide an optimal charge for up to 504 feet of poultry netting. This impressive range allows you to create a spacious area for your chickens, offering ample room to roam while maintaining the run secured.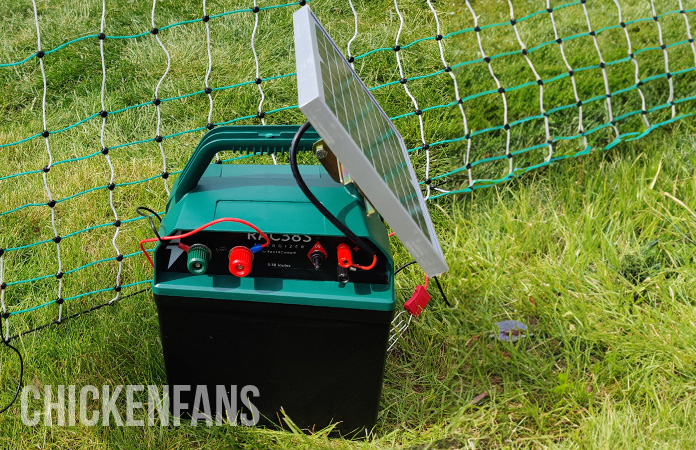 Mounting the solar panel on the energizer and preparing the energizer for use took us a bit longer than expected, but the instructions were clear and comprehensive. The solar panel in the instruction leaflet was mounted sideways compared to ours, but there is really no way to go wrong as it only fits in one direction.
It's important to add that the 12V Sealed Lead Acid (SLA) Battery needed to operate the energizer is not included in the purchase. These batteries cost around $40 and can be purchased online.
Voltage
After installation, the energizer emits a current about every second because it's a low-impedance energizer (not a continuous current). Every time a pulse goes through the wires, the energizer's light blinks.
To prevent foxes, raccoons, dogs, and cats from entering, you need a minimum of 3,000 volts. Wolves and bears need a higher voltage of 5,000 volts. We used our own multimeter to verify, but RentACoop includes a basic multimeter to test your setup if you don't have one.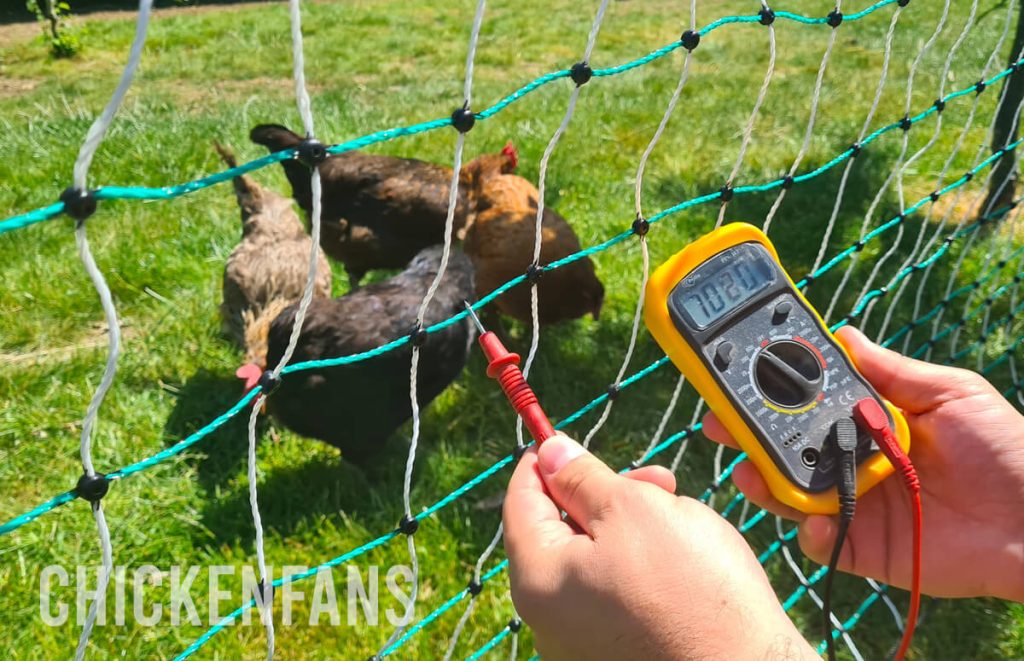 With our single fence set up, barely touching grass or weeds, this energizer generated a little over 7000 volts. As you can see in the picture, we measured 7020 volts. This is a high voltage, but it won't kill you as the energizer output very low amps. That said, we argued for quite some time about who should be the brave soul to give it a try and touch it. But we all chickened out.
According to the documentation, the energizer should maintain a 3000 volts or higher voltage across multiple 164′ electric poultry fences, effectively deterring shorthaired predators.
Ground Rods
The set contains a galvanized steel ground rod. Steel is less conductive than copper but has the advantage that it will remain rust-free for a very long time and won't interrupt the energized circuit. The rod sticks out 4 to 6 inches above the ground and is best installed in moist, conductive soil.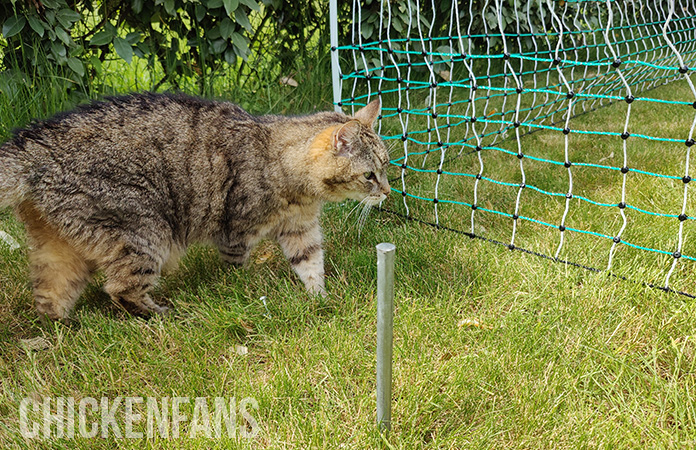 In our case, the ground rod was installed less than 40″ away from the energizer, so we could use the black grounding cable. If you need to install the rod more than 40″ away, you need the measure the appropriate length of the insulated lead-out wire that goes from the energizer to your rod.
Comparing With Competitors
When comparing the RentACoop Electric Poultry Netting All-in-One Set with other competitors in the market, several key factors stand out. Although we must admit that most sellers don't offer all-in-one sets as RentACoop does.
In most cases, you buy electric fencing with a separate energizer and add a solar panel to it, or you buy the netting and solar-powered energizer separately. One major brand on the market, Premier 1, also sells an entire set. Let's address some differences.
Firstly, the RentACoop set offers a longer fence length, with 168 feet of electric netting included. This provides ample coverage for creating a secure enclosure. In contrast, the Premier 1 poultry netting comes in a 100-foot roll.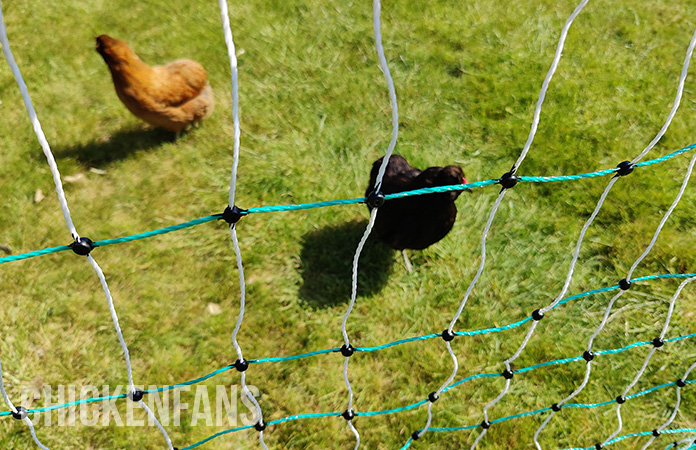 However, the height of the Premium 1 netting is higher than RentACoop, with 42 inches compared to 48 inches. Considering the height difference, the Premier 1 poultry netting is more suitable for those who require a taller fence. In contrast, the RentACoop set offers a height generally sufficient for most chicken needs.
The RentACoop set also includes a volt meter fence tester, which is not included in the Premium 1 fencing.
In terms of pricing, the RentACoop Electric Poultry Netting set costs around $400. On the other hand, Premier poultry netting is listed at around $590, making it a higher-priced option. This makes the RentACoop a more affordable option.
Potential Drawbacks
While the RentACoop Electric Poultry Netting set offers numerous benefits, it's important to consider a few drawbacks.
We struggled a bit with the net and assembly process. It was challenging to straighten the net until we discovered it's easier if you push the posts of the net into the ground at a slight angle. It took us roughly 2 to 3 hours to install the netting and the energizer system.
That said, everybody can do it if you have time and perhaps an extra set of helping hands. The manual is also very instructive and well-documented.
Another thing to be aware of is that the 12V Sealed Lead Acid (SLA) Battery for the solar energizer is not included in the purchase. This means you must acquire the battery separately to power the energizer. These types of batteries cost between $40 and $80, depending on the type.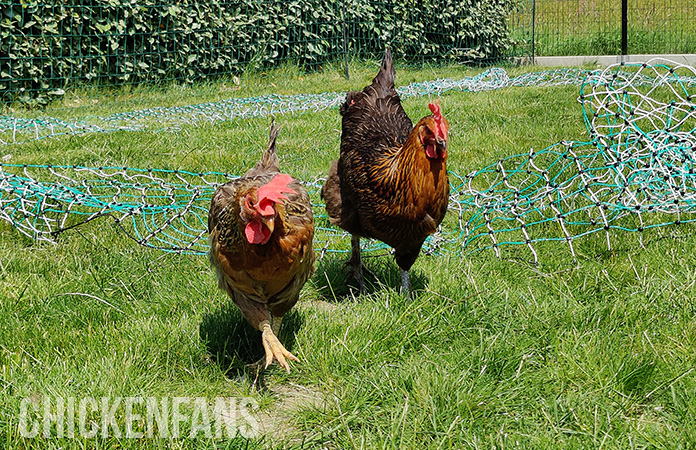 It's also important to note that your purchase does not include batteries for the voltmeter fence tester.
Despite these potential drawbacks, RentACoop still offers a fairly affordable way to keep predators away from your chickens. With its comprehensive package, sturdy construction, and the advantage of solar power, it remains a valuable option for farmers seeking reliable protection.
Why Choose Solar-Powered Products?
Using solar-powered products on your homestead or farm offers several significant benefits.
Energy Independence: Solar power allows you to generate your own electricity, reducing reliance on traditional power sources. This independence is particularly advantageous for remote or off-grid locations.
Cost Savings: By harnessing solar energy, you can significantly reduce your electric bill. Once installed, these systems will operate without ongoing costs like fuel.
Environmental Sustainability: Solar power is a clean and renewable energy source, producing no gas emissions or air pollution when in use.
Reliability: Solar power can operate during power outages, ensuring continuous systems operation on your farm.
Low Maintenance: Solar-powered products generally require less maintenance than traditional energy systems, as they have fewer moving parts.
Versatility: Solar power can be used in various applications on a farm. From powering electric fencing to running water pumps or lighting barns, solar energy can meet various energy needs. You can even install a solar-powered automatic chicken coop door.
Overall, embracing solar power offers the advantage of energy independence as it enables you to operate efficiently. If you're interested in other solar-powered chicken-keeping products, take a look at our review of the Run Chicken automatic coop door with solar panel.
RentACoop Electric Poultry Netting All-in-One Set

Summary
The RentACoop Electric Poultry Netting All-in-One Set with Solar Energizer offers a convenient solution for keeping your chickens safe. With its 168 feet of electric netting, pre-fastened posts, and anti-sagging feature, this fence will provide reliable support.
Powered by a 0.38 joule Solar Energizer, which can charge up to 504 feet of poultry netting, this system harnesses solar energy, making it an excellent choice for homesteaders or farmers aiming to go off the grid.