A-Frame Chicken Coop Plan – Free Plan & DIY Instructions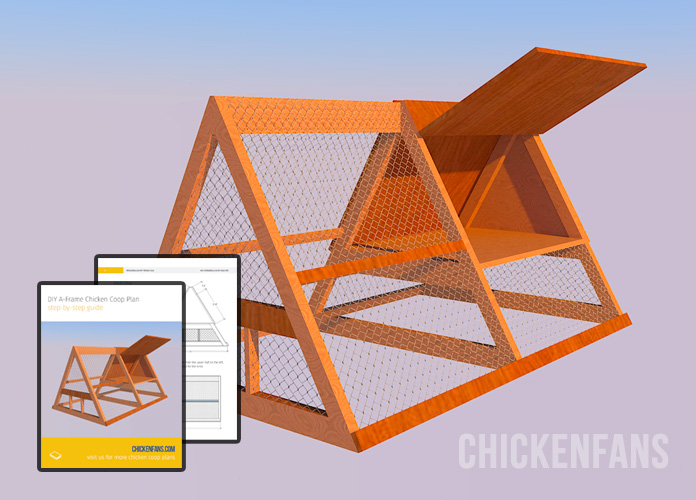 We created an A-Frame chicken coop plan with step-by-step instructions. The A-frame coop is an affordable solution that's easy to build, even if you lack woodworking skills. It's an ideal DIY project for the weekend.
The chicken coop provides space for 3 to 4 chickens. The plan is flexible enough to make the coop bigger or smaller, depending on your needs. You can also easily transform it into a tractor.
| | |
| --- | --- |
| Run Size | 40 square feet |
| Coop Size | 45 x 30 inch |
| Chickens | 3-4 |
| Roof Type | Open Door |
Features of the Coop
Here are the features of the coop we're building in the plan.
the total chicken run is 40 square feet the A-frame is 8×5 feet
provides room for 3 to 4 chickens
it has an elevated 45 x 30 inch coop compartment
you can open the roof for easy maintenance
the hens can shelter from the rain
We use the A-Frame if we want to separate some chickens for a while. There is not too much room for roosting bars and food inside the closed coop compartment. If you are looking for a permanent, easy-to-build solution that is a little bit bigger, check out our chicken coop plan for 4 to 6 chickens.
The A-frame chicken coop's size is flexible; most steps follow each other, so you won't have to calculate too much if you adjust the initial base layer size in the plan. Use our chicken coop calculator if you are unsure how much space your chickens need in the coop and run.
About the A-Frame Chicken Coop Plan
The pdf with the free plan contains 12 pages with:
An overview of the materials you need
Detailed technical plans of the front, top, and sides
Detailed plans of the individual pieces
Visual step-by-step instructions on how to build the A-frame Chicken Coop
Tips and recommendations to build the coop
Recommendations on how to use and finish the coop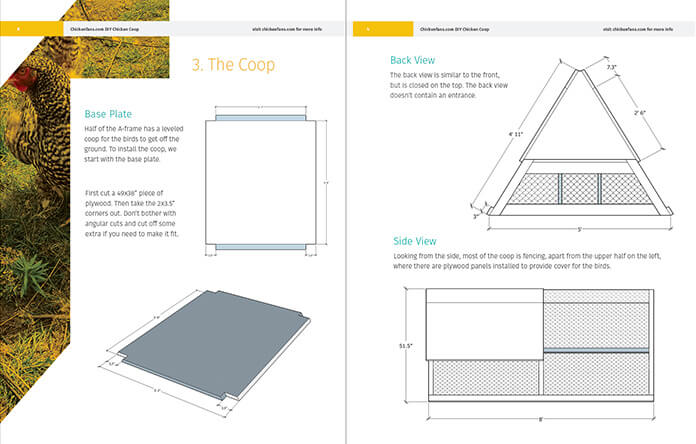 DIY A-Frame Chicken Coop Plan Download
Our A-Frame plan is free to download and share. It contains the material list, many technical drawings, and all the steps you need to build the coop from start to finish.
Leave your name and e-mail, and you can open and download the free PDF immediately.
By giving your e-mail address, you'll subscribe to the newsletter. You can unsubscribe at any time.
We love to hear from you. If you use the chicken coop plan, tag us on Instagram or Twitter!
Material List
| Item | Material | Amount / Length |
| --- | --- | --- |
| Base | 2×4″ ground contact wood pressured lumber | 3 x 53 inch |
| A-Bars | 2×4″ ground contact wood pressured lumber | 3 x 36 inch |
| Base Plate | 3/4″ plywood | 49 x 38 inch |
| Legs | 3×4″ ground contact wood pressured lumber | 6 x 5 ft |
| Ridge Board | 1 x 6″ ridge board, standard lumber | 8 ft |
| Furring Strips | 1 x 3″ furring strips to hold the wire | 2 x 4 ft |
| Horizontal connectors | 2 x 3″ studs, standard lumber | 2 x 8ft |
| Hinges | 2 standard hinges for both sides | 4 |
| Doors and Sides | 3/4″ plywood, 50 x 40″ | 3 |
Possible Adjustments
Here are some adjustments you can make to the A-Frame coop plan:
to make the run larger: you can easily add extra triangles to make the run longer
to make it predator-proof: install hardware cloth on the sides and bottom if you need to protect against predators
to cut costs: re-use wood to close the sides. You also only need a door on one side.
to make it warmer: you can add a layer of isolation between the 2x3s in the coop, but make sure to add extra plywood on the inside, so your hens won't start eating the material
to make the coop higher: you could adjust the angle to get a higher triangle, but it's easier to lift the complete coop and put it on a rectangular frame to create a walk-in A-frame chicken coop
to make it windproof: put a lock on the doors to prevent the wind from lifting the sides
You can also add nesting boxes to the closed side of the coop with some extra plywood. There is plenty of space left at the back of the coop to attach nesting boxes for easy egg collection.
If you're looking for an automatic chicken coop door and give your DIY project an upgrade, check out our Best 5 Automatic Chicken Coop Doors.
Once you've built the perfect chicken coop, why not give your coop a fun name?
We've compiled a HUGE list of chicken coop name ideas, from clever wordplay to pop culture references and thematic inspirations. Ideal for adding character and a sense of identity to your backyard oasis!
Other Free Online Plans
Here are some other free A-Frame Chicken Coop plans you can find online.
Anna White Chicken Coop Plan
Anna White has published thousands of DIY wood projects, and one of them is this A-Frame Coop. It has about the same dimensions as our plan but is fully roofed and has an entrance on both sides.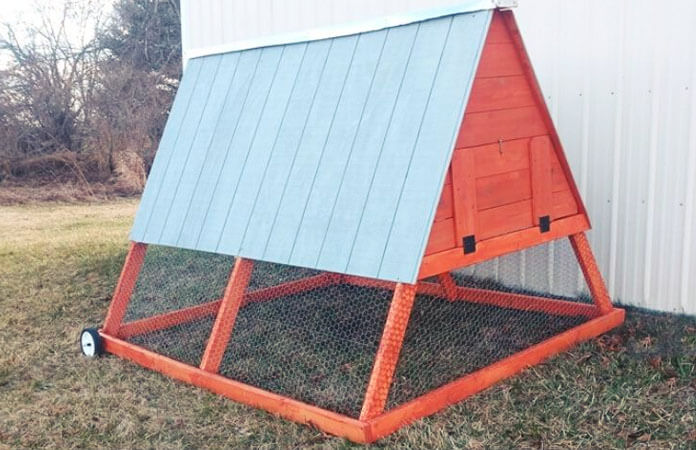 On the downside, this coop design might be more difficult to clean as you can't fully open the side. It provides shelter but doesn't let in much natural light.
Chicken Coop Sled
The Chicken Coop Sled design is completely covered and does not include a chicken run. It's 7′ 8″ long, 5′ 4″ wide, and about 55″ high. It doesn't have a run, so it's rather to give the birds some shelter. To clean the coop, move the coop around.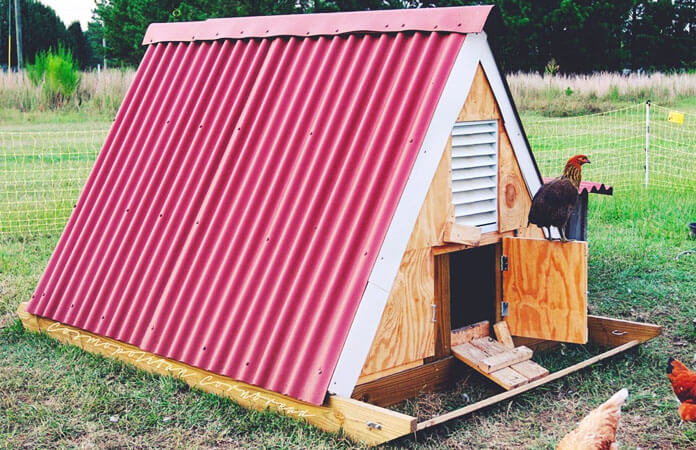 A-Frame Chicken Coop With Nesting Boxes
If you're in for a building challenge, Easycoops has an A-Frame Chicken Coop plan that provides up to 42 square feet of free space for chickens. It's 7 x 6 and can house up to 6 chickens.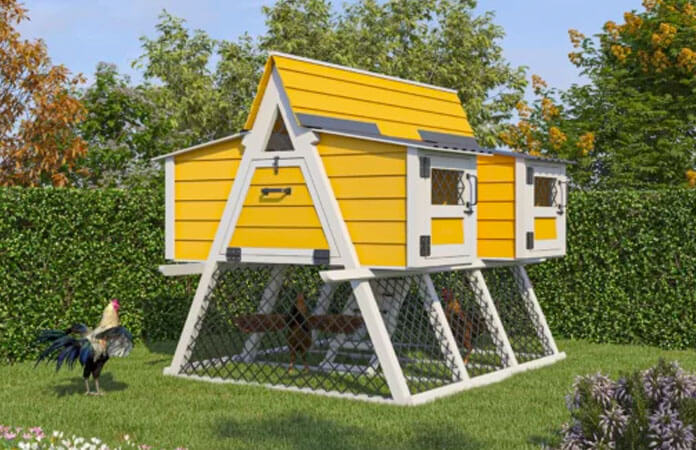 They provide a free plan that is already pretty detailed and a premium plan with a step-by-step guide.