Manna Pro Harris Farms Plastic Feeder: Review (2023)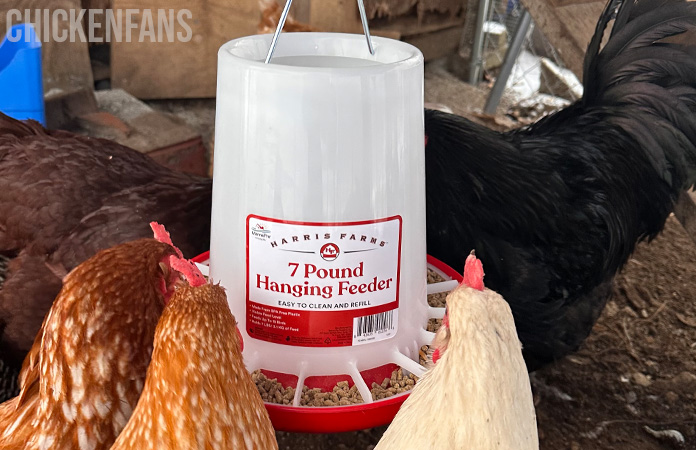 Chicken Fans is reader-supported. When you buy through our links, we may earn a commission. Learn more about our privacy policy and disclaimer.
The cost of chicken-keeping equipment can quickly add up, especially regarding food and high-quality feeders for your flock. Fortunately, plenty of affordable options are available for small-scale chicken keepers who want to keep their costs low without sacrificing too much quality.
One such option is the Manna Pro Harris Farms Feeder, a low-budget plastic feeder perfect for small flocks. Let's take a closer look at this feeder.
Manna Pro Harris Farms Plastic Feeder
Overview
The Manna Pro Harris Farms feeder is a simple plastic feeder with a twist-on lock assembly. It's a feeder that won't cost you hundreds of dollars but still is a quality feeder. It comes in various sizes, but here, we'll address the smallest feeder, the 7 lbs feeder, although the materials and design do not differ in the bigger feeders.
The Manna Pro Harris Farms feeder was voted the 'Best Budget' Feeder in our in-depth comparative review 'Best Chicken Feeders: From Budget to Best Buys'.
With a capacity of 7 lbs, the Harris Farms chicken feeder can provide enough feed for a small flock of 5-15 birds. It's designed with a convenient open top, making it easy to fill quickly, but it also means you have to place it inside as it's not waterproof. The bigger 10 lbs feeder can feed up to 25 chickens.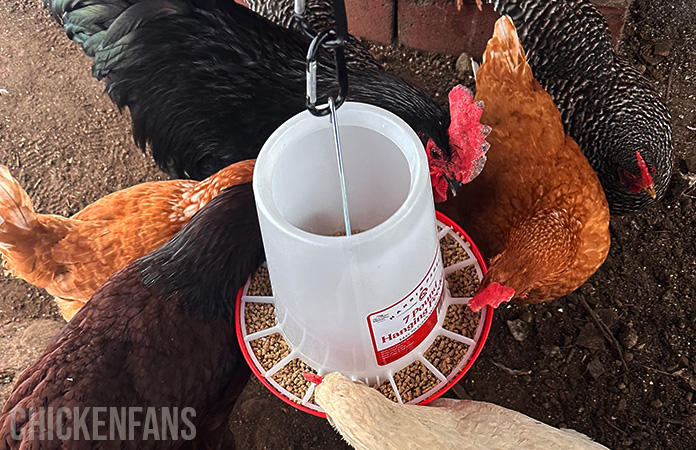 The included metal hanger makes it easy to mount this feeder anywhere you see fit for your chickens. This saves valuable floor space giving your chickens as much room as possible in their coop or run, which is ideal for smaller coops or runs with limited space.
Design
The Harris Farms Chicken Feeder has a 7 lb. feed capacity to feed a small flock of 5-15 chickens and is made of quality plastic. A durable metal hanger is included to mount the feeder anywhere you want. It's available in multiple colors, depending on availability, like green and red.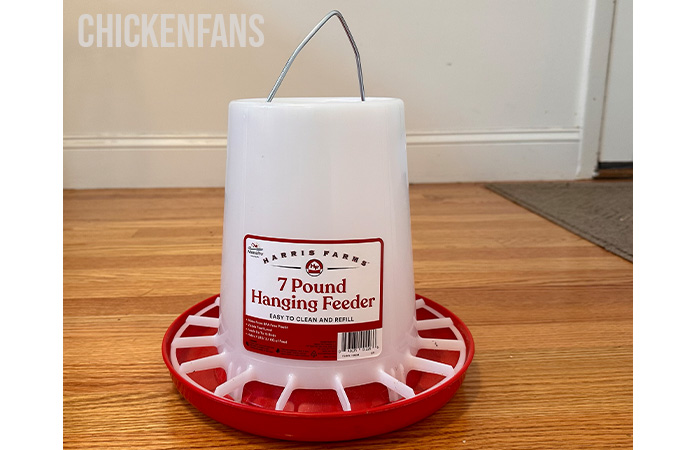 The feeder's base is designed to prevent chicks or full-grown chickens from scratching or tossing feed out. This prevents messes and keeps feed waste to a minimum.
The design is straightforward, twist and lock the base to the top portion and fill it with your chickens' favorite feed.
This is a gravity-fed, top-fill feeder. You can use a large scoop to pour your chicken feed into the top of the feeder. As chickens eat the feed, more feed will slide down into the base for them to access.
New Look
The Manna Pro Harris Farms feeder is sold in different looks: old and new. It doesn't matter which one you purchase; both are the same feeder but have a different brand sticker.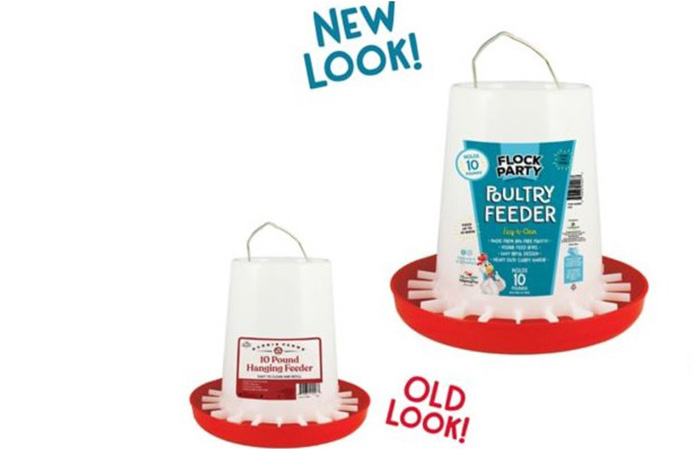 Pros
The Manna Pro Harris Farms Flock Party feeder has several advantages and, on top of that, a great price. This makes is a popular choice among chicken keepers. Let's address some of the pros of this plastic budget feeder.
Suited for all Life Stages
Firstly, this feeder is suitable for all stages of poultry life, from chicks to fully-grown chickens.
Please note that only the small 7 lbs feeder is suited for chicks and pullets.
This design comes in multiple sizes, and only the smallest feeder is okay for adult birds and chicks. If you have purchased the larger 10 lbs feeder, please only use this feeder for adult chickens.
Easy to Clean
Its plastic material is easy to clean, making it a hygienic option. Simply rinse it with water or wipe it with a damp cloth, and you're done. For heavy dirt, you can use detergent but don't forget to rinse it before refilling it with feed.
The easy top-fill design, combined with the translucent plastic body of the feeder, makes it easy to see the feed level, which is also a plus.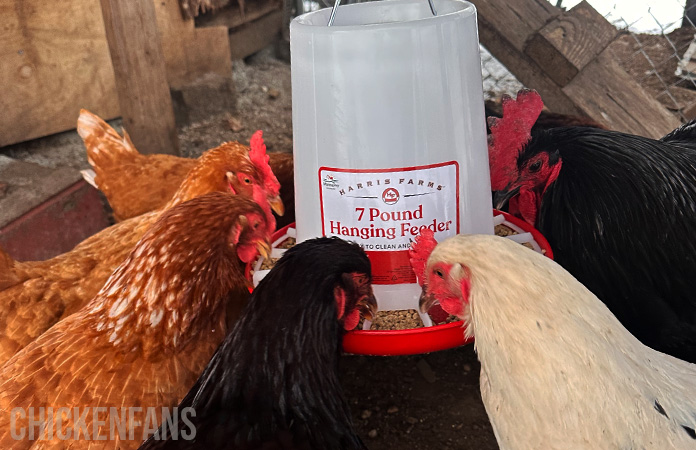 No Assembly
While many chicken feeding systems require assembly, the Manna Pro feeder can be twist-locked and ready to use. This is convenient when you lack the time or skills to assemble a chicken feeder. It requires no skills or tools.
Furthermore, this feeder can be eighter hung in a coop or run or placed on the floor, and it is simple and quick to move around to different locations as needed.
Budget
Lastly, it is affordable for any budget, making it an excellent option for those looking for an economical feeding solution for their poultry. This feeder is sure to be a great bang for your buck.
Check out the price of the Manna Pro Harris Farms feeder:
Manna Pro Harris Farms Plastic Feeder
Cons
While the Manna Pro Harris Farms Chicken Feeder has several advantages, a few downsides should be considered. Let's address the main drawbacks of this product.
Durability
The plastic material of the Manna Pro feeder may not be durable enough to withstand a lot of abuse, and dropping it from a high height can cause the plastic to crack. Plastic is also less durable than galvanised steel, which lasts a lifetime. However, with proper care, the feeder can last for several years.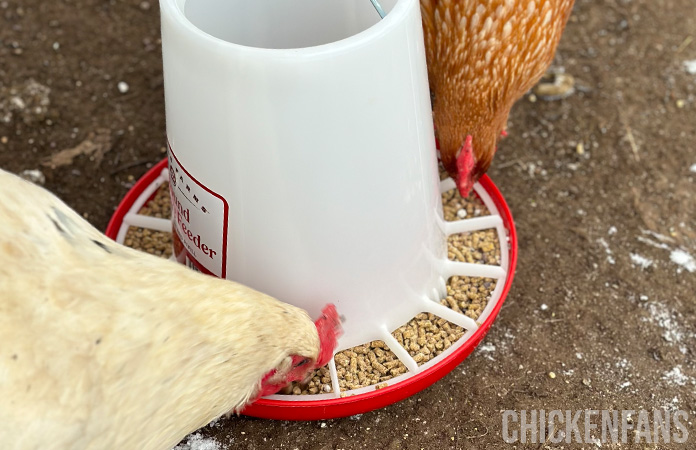 Not Weatherproof
The feeder is not weatherproof, so it must be placed inside a coop or under a covered run to prevent the feed from getting wet and moist. A separate lid can be purchased along with the feeder, but that doesn't make it rainproof.
Additionally, it is not pest-proof, and you would need to empty or bring the feeder into a secure location every night to ensure rodents cannot access the feed.
Manna Pro Harris Farms Plastic Feeder
Conclusion
This feeder is a great choice for new poultry keepers seeking a good product at an affordable price. It can be an ideal feeder for daily use in a small flock. Overall, while this feeder has some limitations, it is still a great option for small flocks with proper care and attention to its limitations.
If you want to compare more chicken feeders, go to our 'Coops' page. The Manna Pro Harris Farms feeder was voted the 'Best Budget' Feeder in our in-depth comparative review 'Best Chicken Feeders: From Budget to Best Buys'.