Best Chicken Feeders: From Budget to Best Buy (Real-Life Testing)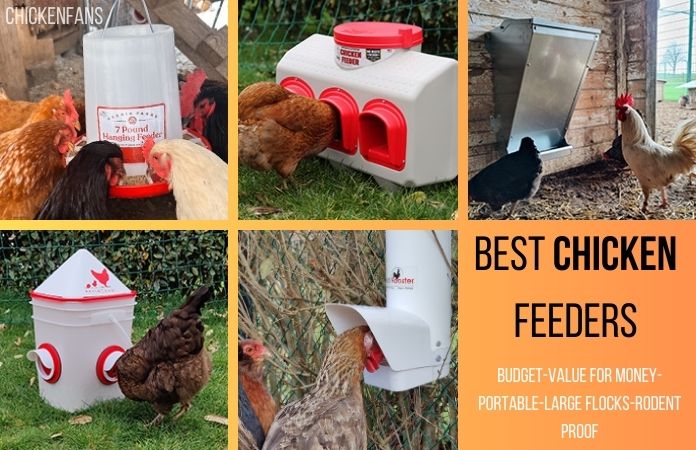 Chicken Fans is reader-supported. When you buy through our links, we may earn a commission. Learn more about our privacy policy and disclaimer.
Every chicken keeper knows how important a reliable feeder system is for their flock. However, it's also true that we all have diverse tastes, budgets, preferences, and flock sizes. We have scoured the market and compiled a comprehensive list of the best chicken feeder options available.
Regardless of whether you're on a tight budget or seeking a large or luxurious feeding system, there is a great feeder out there for everyone.
Let's start addressing our Best Chicken Feeders per category:
BEST CHICKEN FEEDERS
1. Best Value For Money: OverEZ Chicken Feeder
The OverEZ Chicken Feeder was the overall winner of our chicken feeder test. Not only because this is a high-quality feeder but also because of its comparatively lower price than most feeders on this list, thus earning the Best Value for Money title.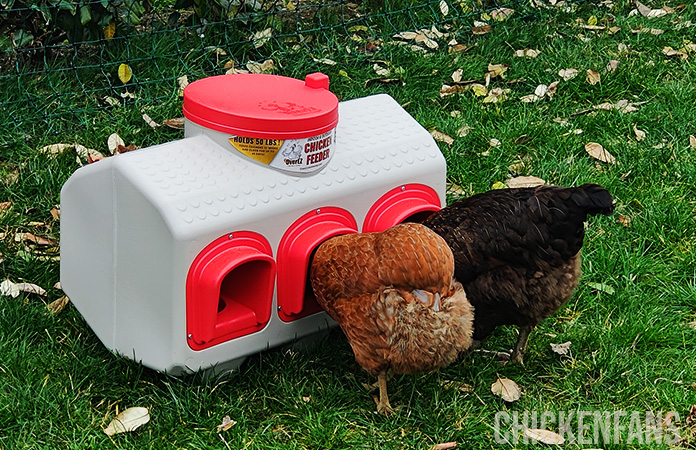 Overview
The OverEZ chicken feeder looks pretty impressive. It's a large feeding system with three feeding ports that promise to keep spillage to a minimum and keeps the feed dry. The feeder is waterproof and can be placed inside or outside the coop. On the upside of the feeder is a large-sized mouth for easy refilling, closed off with a waterproof lid.
With a 50-pound feed capacity, you won't need to refill it frequently, which is ideal for busy flock owners who don't want to spend time refilling the feeder every day and is therefore suited for large flocks.
The feeder arrives fully assembled, eliminating the need for installation. All that's left to do is fill it with your chickens' favorite feed and position it within their coop or run.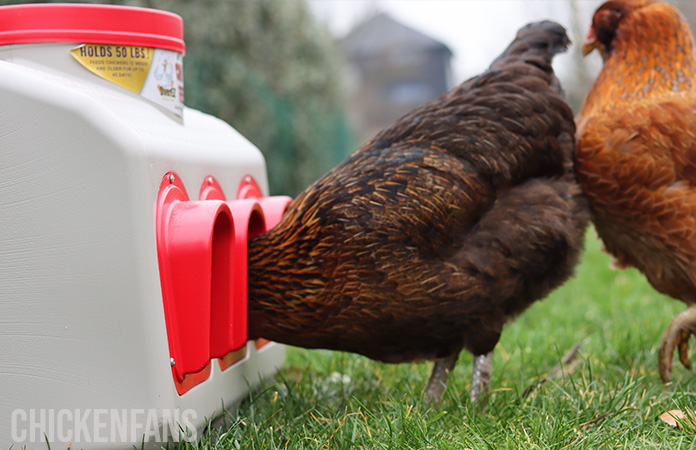 Assembly
None. There is no need to assemble the OverEZ chicken feeder as it comes in one part in the box. This is a big advantage for those who don't have the time or the skills to assemble a big feeding system. The OverEz chicken feeder is a hassle-free experience that will save you time. You only need to take it out of the box, place it inside the run or coop and fill it with feed.
The OverEZ Chicken Feeder is made of UV-protected, food-safe, BPA-free, recyclable plastic.
Best Features
The OverEZ Chicken Feeder has many good qualities, as it is a high-quality feeding system. Let's address the most important features:
Large Capacity: Holds up to 50 lbs of chicken feed
Rainproof: Can be placed inside and outside the coop
No waste design: The intelligent feeding port system is designed to reduce waste and spillage
Three feeder ports: Three chickens can eat at once
No assembly required: The feeder is ready to use
Easy to clean and maintain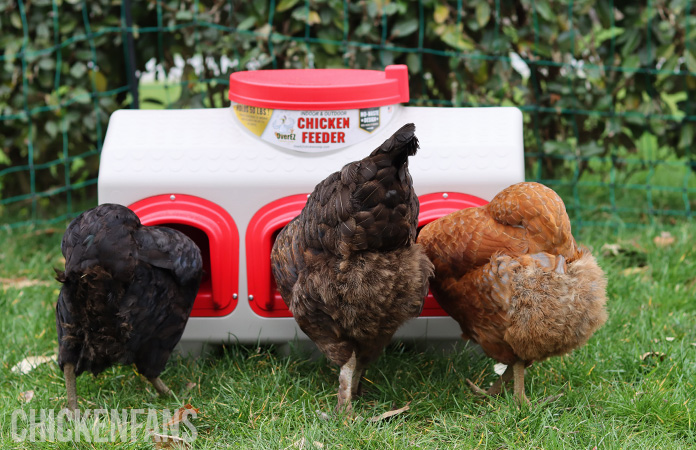 Potential Drawbacks
To ensure that the chicken feeder you select has all the features you require, it's best to check the pros and cons to ensure it has everything you need. Every product has its potential drawbacks, depending on what you are looking for.
Heavy when full: Make sure you put it in the correct spot before filling it
No handles: The feeder is quite large, and the lack of handles make it difficult to pick it up
Bulky design: The OverEZ feeder looks like a giant LEGO block, not everybody will like its design
Bottom Line
The OverEZ Chicken Feeder is voted our 'Best Value For Money' feeding system because of its high quality, waterproofness, and great price. It's less expensive than many feeders on this list, but you'll get great value for money without compromising quality.

→ Read our full review of the OverEZ Chicken Feeder to learn more
2. Best Rodent-Proof: Royal Rooster Feeder
The Royal Rooster Chicken Feeder is our 'Best Rat-Proof Feeder', which may come as a surprise as it is not an automatic chicken feeder like Grandpa's Feeder or other galvanized automatic feeders.
Although these types of feeders do a very good job and are high in quality, no feeder system is 100% rat/rodent/wild birds-proof. This makes most of these automatic feeder systems very expensive, with prices around $200, while you can get a good rat-proof feeder for just a fraction of that price.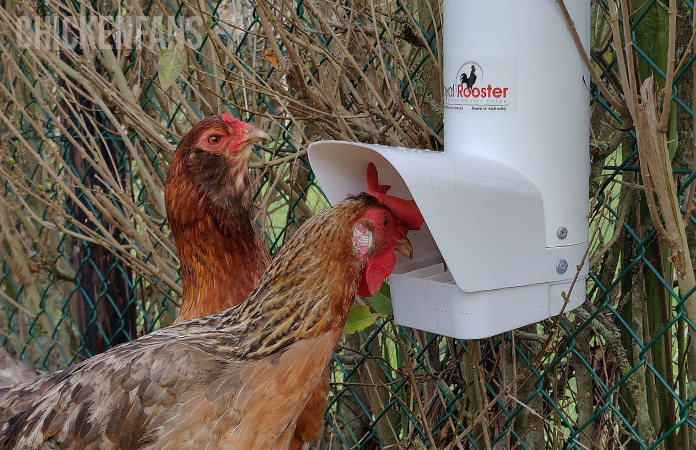 If you want to learn more about preventing rats and other rodents from coming to the chicken coop, read our in-depth article on '7 Ways To Prevent Rats In The Chicken Coop'.
Overview
The Royal Rooster Chicken Feeder is a quality feeder made of durable PVC and ABS plastics. It can hold up to 6.5 lbs of feed and has a feed tray with unique divisions to prevent spillage. It's waterproof and can be used indoors or outdoors.
A great feature of the Royal Rooster Chicken Feeder is its rain cover, allowing you to place the feed outside without fear of the feed getting wet. The added benefit of the rain cover is that it acts as a barrier against wild birds, possums, squirrels, and rodents attempting to eat the feed.
The feeder can be mounted to any mesh wire or wall using the included brackets, making it difficult for rodents to access. Additionally, the hanging feature saves space within the run, which is useful for chicken keepers with limited space.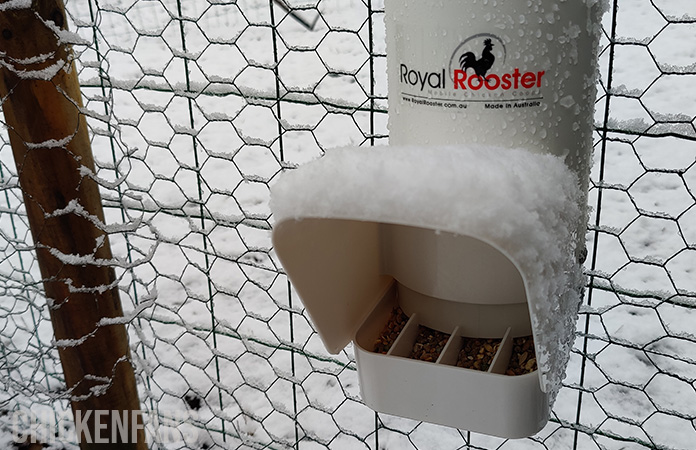 Assembly
The Royal Rooster is a breeze to set up, with only a few components to assemble, and can hold up to 6.5 lbs of feed. The Royal Rooster chicken feeder comes in only four separate parts: the tube, the rain cover, the feeding tray, and a waterproof lid.
Next to these parts, six zinc screws are included to fit the pieces together. All you need is a screwdriver to get the screws into place, and you're done. According to the instructions, using either a manual screwdriver or an electric drill is possible. However, it was not very practical when using a manual screwdriver.
Overall it takes roughly around 10 minutes to get the job done.
Best Features
The Royal Rooster feeder system has many features to talk about. Let's address the features worth mentioning.
Anti-Waste Feed System: the feeder has a uniquely designed feeding tray with divisions that prevent chickens from 'swiping' grains onto the ground
Rain Cover & Waterproof Lid: the rain cover and lid make the feeder rainproof, but the rain cover also acts as a barrier for unwanted guests
Easy Mounting: Hang the feeder to any mesh wire with the attached hooks or attach the included brackets to install the feeder to any wall
Suited for all ages: Both chicks and adult chickens can use the feeder
Minimal Assembly: With only four separate parts, assembly is a breeze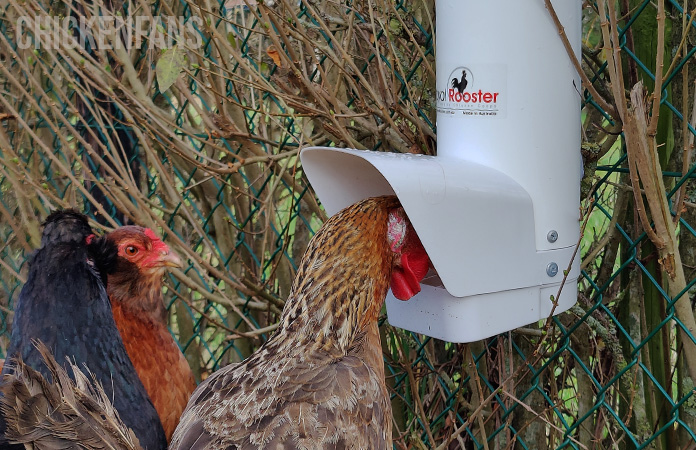 Potential Drawbacks
Let's see if there are any specifics about the Royal Rooster feeder that may be a drawback for some chicken owners.
Small Feed Tray: Feeds only one, maximum two chickens at the same time
Not For Large Flocks: With a 6.5 lbs capacity and only one feeder tray, this feeder is suited for flocks up to six chickens
Bottom Line
The Royal Rooster Chicken Feeder is a durable, easy-to-use feeder for backyard chicken owners. Its waterproof design and no-waste feeder tray make it an ideal option for those looking to keep their coop area clean and free of rodents.
But it's important to remember that this feeder is not the best choice for large flocks, as one feeder is suited to feed up to six chickens. If you own more chickens, look for another option, or purchase multiple Royal Rooster feeders.
ROYAL ROOSTER CHICKEN FEEDER


→ Read our full review of the Royal Rooster Chicken Feeder to learn more
3. Best Budget: Manna Pro Harris Farm Feeder
It's no secret that many high-quality chicken feeders can cost around $100 and more. However, not everyone is willing to pay such a high price, particularly if they have a small flock.
To address this concern, we not only test more expensive feeders but also evaluate more affordable options with positive online reviews. By doing so, we ensure you get good value for money while still receiving a quality product.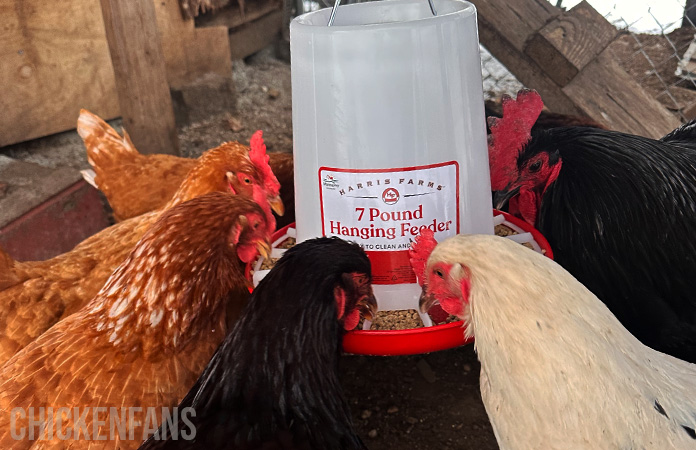 The Manna Pro Harris Farms Chicken Feeder is our 'Best Budget' feeder, which offers both durability and a low price. Despite its affordability, this feeder is built to last, ensuring you will get plenty of use.
Overview
The Manna Pro Harris Farms feeder is a basic plastic feeder with a twist-on lock assembly. It comes in two sizes: 7 lbs and 10 lbs. The smaller feeder can be used for a flock of 5 to 15 birds, while the 10 lbs feeder feeds up to 25 chickens.
It has a user-friendly open top, which makes filling it up a quick process. However, since it's not waterproof, it must be placed indoors.
The included metal hanger allows hanging the feeder anywhere you want inside the coop. This feature helps save valuable floor space, providing extra room for your chickens. The feeder is available in multiple colors, depending on availability, like green and red.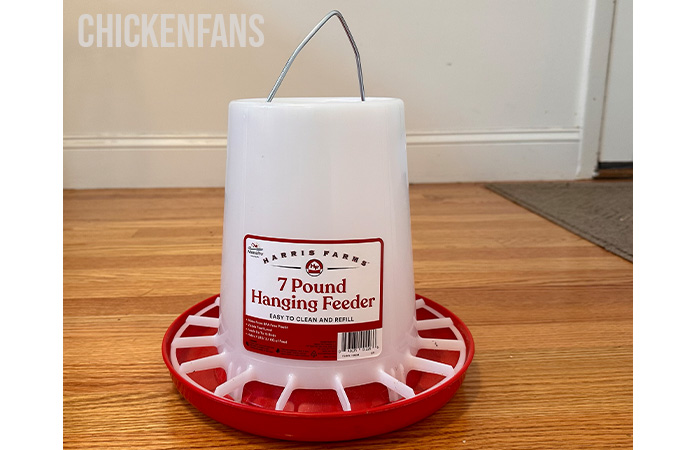 Assembly
While many chicken feeding systems require assembly, the Manna Pro feeder can be twist-locked and ready to use. This is convenient when you lack the time or skills to assemble a chicken feeder. It requires no skills or tools.
The design is as simple as it is straightforward, twist and lock the base to the top portion and fill it with your chickens' favorite feed.
Best Features
The Manna Pro Harris Farms Flock Party feeder has several advantages and, on top of that, a great price. Let's go over it's best features one by one.
No assembly needed: The Manna Pro feeder can be twist-locked and ready to use
Easy to Clean: Simply rinse it with water or wipe it with a damp cloth
Suited for all ages: The 7 lbs feeder is suited for both chicks and adult chickens, the 10 lbs feeder is best used only on adult birds
Budget: It is affordable for any budget, making it an excellent option for those looking for an economical feeding solution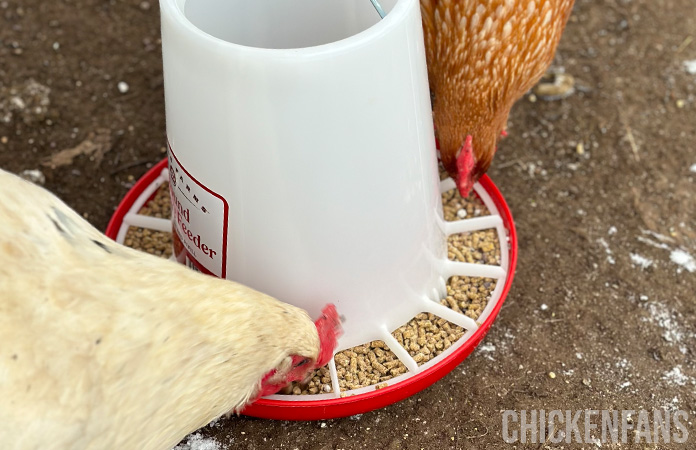 Potential Drawbacks
We also address the potential drawbacks of this budget feeder, so you'll know what to expect.
Durability: The plastic material may not be durable enough to withstand a lot of abuse or harsh weather
Not Waterproof: The feeder does not have a lid and an uncovered feeding tray, making it unsuitable for placing outside.
Not Rodent-proof: The feed is accessible at all times for wild birds and rodents.
Bottom Line
This is a great choice if you're not planning on spending more than $20 on a chicken feeder. It can be an ideal feeder for daily use in a small flock. While this feeder has some limitations, it is still a great option if you pay attention to its limitations.
Manna Pro Harris Farms Plastic Feeder

→ Read our full review of the Manna Pro Harris Farms Chicken Feeder to learn more
4. Best Portable: RentACoop Feeder
RentACoop offers a range of chicken feeders, including their plastic, two feeding ports, 20 lbs chicken feeder. Compared to other feeders in the market, this feeder has a significant advantage as it is high-quality, has a large capacity, and can be easily moved.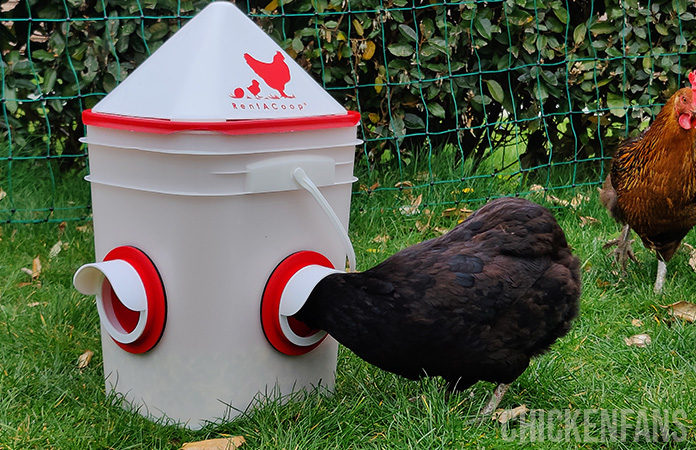 Unlike many other feeders, this bucket-shaped feeder comes with a carrying handle, a crucial feature for moving it around easily, especially when it's filled with feed and heavy.
This is why we consider the RentACoop feeder our best option for those looking for a portable chicken feeder.
Overview
The design of this RentACoop 20-lb feeder is simple and uncomplicated. It looks like a bucket with two feeding ports, a lid, and a no-roost cap. Furthermore, it has a handle for easily moving the feeder wherever you want.
Because of the plastic material, the firm lid, and the rain cover for the feeding ports, this feeder is completely waterproof and can be placed inside or outside the coop. One feeder can feed up to 8 hens during one week or two hens for one month.
This feeder has two types: a corner placement model and a center placement model. The feeding ports will be in different positions depending on the model you chose. The model you see here is the corner model.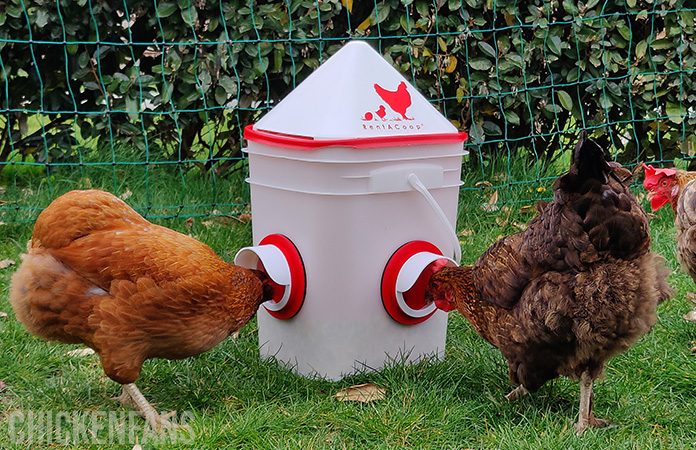 Assembly
The RentACoop 20-lb plastic chicken feeder is pre-assembled and requires no additional assembly. All you have to do is remove it from the box, attach the rain cover to the feeding ports, fill it with feed, and place it wherever you want it to go.
Since no complicated assembly or installation is required, you can use the feeder immediately.
Best Features
No-Waste System: Less spillage will save you money and time, as you won't have to refill the feeder as often.
Waterproof: The firm lid, the plastic material, and the rain cover over the feeding ports make this feeder completely waterproof.
Center or corner placement: You can choose a corner or center model depending on where you want to place the feeder.
No-roost cap: you can place a no-roost cap on top of the feeder, making it impossible for a chicken to sleep or jump on it.
Easy to Clean: Easy to clean, refill and maintain, with no angles or corners where feed can get stuck.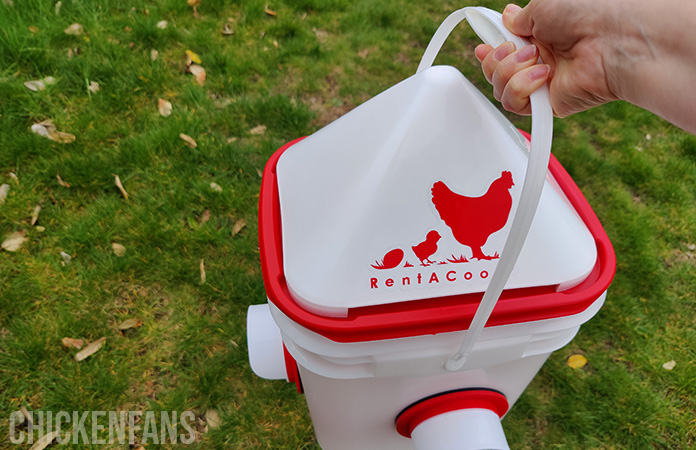 Potential Drawbacks
Let's look at some drawbacks of the RentACoop chicken feeder.
Very tight lid: The tightness of the lid can make opening the feeder a challenge.
Not for small breeds or chicks: the feeding ports go to the bottom of the container, and chicks or miniature breeds are too small to reach the bottom.
Bottom Line
The RentACoop 20-lb feeder is a great chicken feeder that will last a very long time. The major advantage of this feeding system is the carrying handle. This makes it easy to move the feeder around, even when filled with feed, unlike other feeders on the list.

→ Read our full review of the RentACoop feeder to learn more
5. Best for Large Flocks: Free Range Feeder
With a large flock on your hands, you want to ensure your birds from a constant supply of feed without having to refill the feeder three times a day. The Free Range Feeder from Wiker Industries is a 75-pound galvanized feeder with a big feeding trough and the perfect solution for any big flock keeper.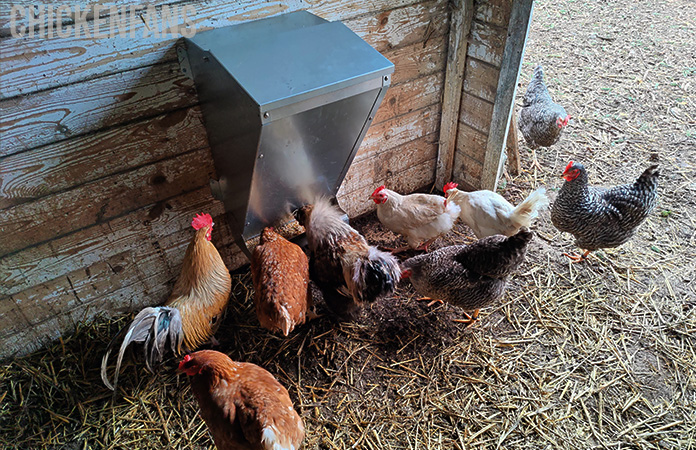 The feeder is made of high-quality galvanized steel, which makes it durable, rust-resistant, and long-lasting. According to the manufacturer, it's built to last a lifetime, saving you money and time.
This is why the Free Range Feeder is picked as our 'Best for Large Flocks' chicken feeder.
Overview
The Free Range Feeder chicken feeder CF-0314 has a sturdy and robust appearance that will impress. Galvanized steel feeders are considered to be a superior option for chicken farmers due to their durability, longevity, and resistance to pests. A simple design like the Free Range Feeder is also easy to clean, making removing old feed easier.
The Free Range Feeder needs to be mounted to a wall and placed inside the coop or under a covered area as it is not waterproof.
The feeder has a capacity of 75 pounds, making it an ideal solution for chicken keepers with large flocks or wanting to minimize the time required to feed their chickens. It can hold enough feed to support up to 15 chickens for a period of 3 weeks.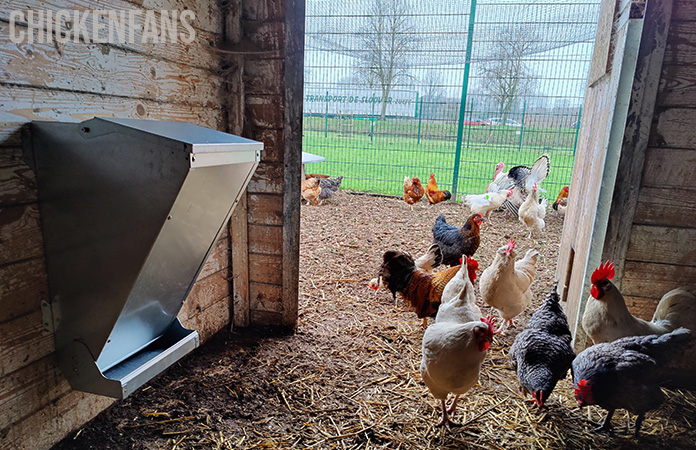 Assembly
This is the only feeder on the list that needs proper assembly. As the feeder is large, it comes in a huge box with all components separate. The installation requires an (electric) screwdriver, and having an extra set of hands would be useful.
The manual provides step-by-step instructions that make it simple for anyone to set up the feeder in their chicken coop. It took us around 40 minutes to install the feeder and mount it to the wall. With only a few components, it is straightforward to put together and requires no special tools.
Best Features
The Free Range Feeder meets all the basic features requirements that a high-quality feeder needs. But there are other features worth mentioning.
Flexible mounting options: You can install the feeder either on the surface or through the wall. This means the feeder can be mounted with the lid facing outwards and the trough facing inwards so that you don't need to enter the coop to fill it.
Space-saving design: The feeder fits between the studs in the wall, optimizing the available space and reducing the floor space inside the coop.
Reversible and height-adjustable feed tray: designed with versatility in mind, the reversible and height-adjustable feed tray can be adjusted to meet your chickens' preferences.
75-pound capacity: With this feeder, you no longer have to worry about storing partial bags of feed.
Easy to Clean: You can easily clean the feeder with a damp cloth.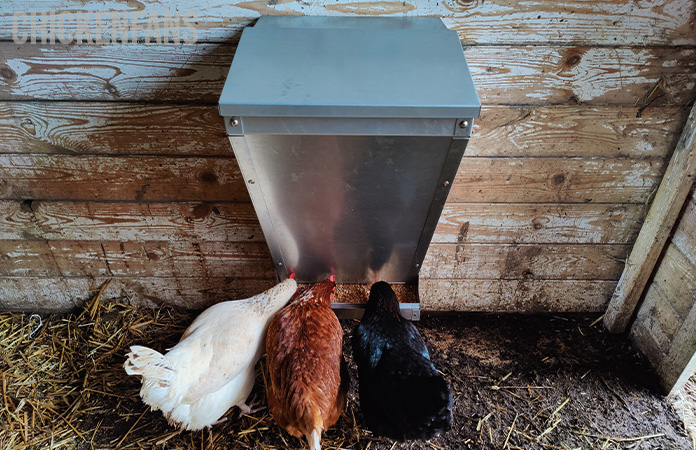 Potential Drawbacks
The Free Range feeder is a high-quality XL feeder but also has some things to remember.
Not waterproof: It can solely be used inside the coop or under a covered run.
High price: The price of this feeder is higher than other feeders in this list. Still, it is important to note that many smaller galvanized feeders on the market cost just as much or more.
Bottom Line
If you are looking for a large high-quality feeder that will last a lifetime, the Free Range Feeder is a very good choice. It is more expensive than the other feeders on this list, but it's bigger and made from galvanized steel instead of plastic. It's a great choice for big flock keepers or homesteaders who lack time to refill their feeders every day.
→ Read our full review of the Free Range Feeder to learn more
How did we Test?
We personally tested all feeders on the list and many more to give an overview of the best feeders at this moment. You can find all feeder reviews on our 'Coops' page, including those not on this list.
As third-generation chicken keepers, we know the value of a quality feeder, but we also understand that not everyone is willing to spend big bucks on it. That's why we ordered dozens of chicken feeders ranging in price, look, and features, to test them thoroughly to give you the most honest review possible.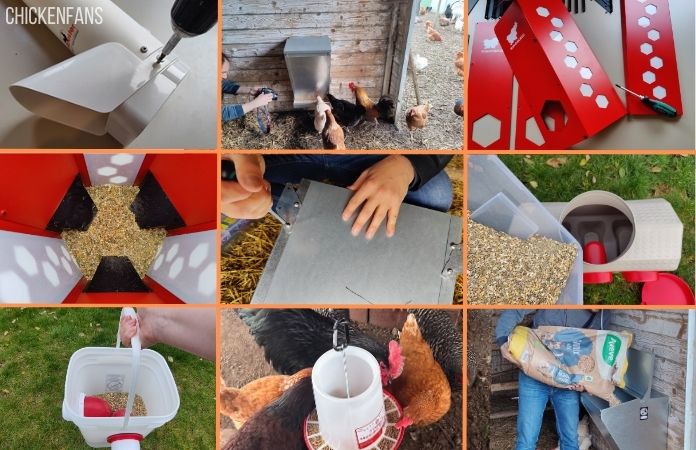 We tested all feeders for several weeks during different weather conditions. If a feeder claims to be waterproof, the feed should stay dry, even during heavy rain. If a feeder claims to have a 'no-waste design' we let our chickens use the feeder for weeks to see if the manufacturer is right.
We tested all feeders in the following categories:
Ease of assembly
Ease of use
Ease of cleaning and refilling
Waterproofness
Spillage
Weight
Handiness
Price
Flexibility
Overall user-friendliness
All our reviews will be frequently updated with new information if necessary. We also would like to add how all feeders will look after using them for many months/years, how the color looks, and if they are still functioning as they should.
If we haven't included your favorite feeder, please reach out to us by using the contact form.
Summary
After carefully testing all feeders on this list and many more, we came to our 'Best Chicken Feeders' list. Because we know every chicken keeper has his own preferences, we divided our top choices into categories.
Here are our best chicken feeders:
If you want to read more feeder and waterer reviews, please visit our 'Coops' page.