Run Chicken Indoor Feeder: Review (2023)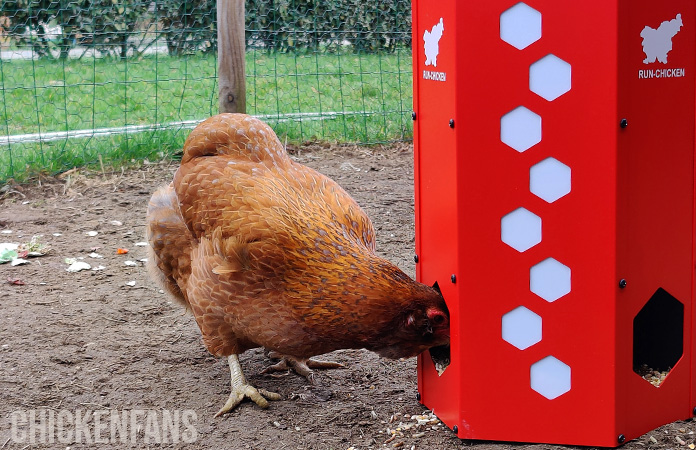 Chicken Fans is reader-supported. When you buy through our links, we may earn a commission. Learn more about our privacy policy and disclaimer.
Chicken feeders are essential for anyone who keeps chickens, whether for eggs, meat, or simply as pets. One of the new options on the market today is the Run-Chicken Feeder, a hexagon-shaped aluminum chicken feeder that can hold up to 20 pounds of feed.
We took their brand-new feeder to the test.
Please note the Run Chicken Feeder is currently sold out due to high demand.
Check the Run Chicken Website for more information about the stock and availability and get 10% off using our discount code!
RUN CHICKEN INDOOR FEEDER
The Run Chicken Indoor Feeder is a brand new product from Run Chicken. The Feeder holds up to 20 lbs of feed, making it a great choice for many backyard flocks. It promises minimal food spillage and the three feeding holes ensure easy food access at all times. It's important to note the Run Chicken Feeder can not be placed outside, as it isn't waterproof.
WHY BUY?
High in quality
Three feeding holes for easy acces
20 lbs feeder
Less food spillage
WHY AVOID?
Installation can be tricky
Rather expensive
Only inside use

Overview
Run Chicken is mainly known for its very popular automatic chicken coop door. In 2023, they launched a new product, the Run Chicken Indoor Feeder, which has a recognizable design and looks similar to other Run Chicken products.
Providing a dependable water source and food to your chickens is an essential part of chicken keeping. Using high-quality and reliable products can help with that. The Run Chicken feeder promises to reduce food spillage with a secure lid and spill-reducing design. Its 20-pound capacity can sustain a flock of 20 chickens for multiple days, making it a long-lasting and effective solution.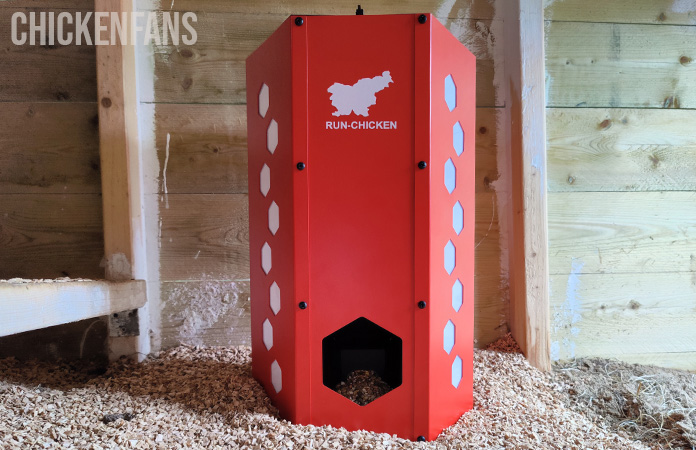 It's essential to remember that the Run Chicken feeder is unsuitable for outdoor use because it isn't waterproof. Despite being made from durable materials and having a secure lid, the feeder isn't designed to withstand heavy rainfall. Putting it inside the coop or under a sheltered area is the best way to keep the food from getting wet.
Design
If you have seen products from Run Chicken before, like their automatic door or nesting boxes, the design of their feeder will probably ring a bell. It's made from the same durable and eco-friendly aluminum that will last a long time and withstands everyday wear and tear.
The hexagonal design of the feeder looks like a honeycomb, which goes well with the Run-Chicken Nesting Box. It can stand on its own and fit anywhere in a chicken coop; no need to attach it to the wall. Its well-thought-out design makes it easy to use, to clean, and it was developed with a chicken keeper's needs in mind.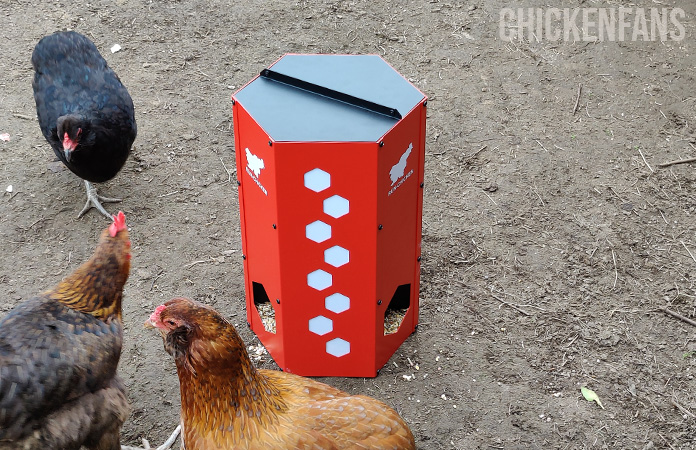 The feeder has a detachable design, so it can be taken apart to wash thoroughly and prevent bacteria growth. Simply rinse it using a damp cloth or soapy water for heavy dirt, and let it dry before reassembling and refilling it with fresh feed. Make sure to use animal-friendly detergents and rinse with water before refilling the feeder.
Specific Features
A high-quality chicken feeder should provide a consistent food supply to your chickens, promoting their health and enhancing the efficiency of chicken keeping. As a chicken keeper, you need a sturdy, dependable, and durable feeder that will last a long time.
These basic characteristics are essential for a high-quality feeder, and the Run Chicken effortlessly meets them. However, there are additional features to mention. Let's go over them one by one.
Three Feeding Holes
The Run Chicken Indoor Feeder has three separate feeding holes. Simply fill the feeder with your chickens' preferred feed, and they'll enjoy dining comfortably in their coop at the same time.
In addition to having three feeding holes, the Run Chicken feeder has three separate feed dispensers. This design ensures that your chickens won't see each other while eating simultaneously, preventing bullying or pecking that can occur in a communal feeding situation. Your chickens can enjoy their food in peace and harmony, promoting a calm and stress-free environment.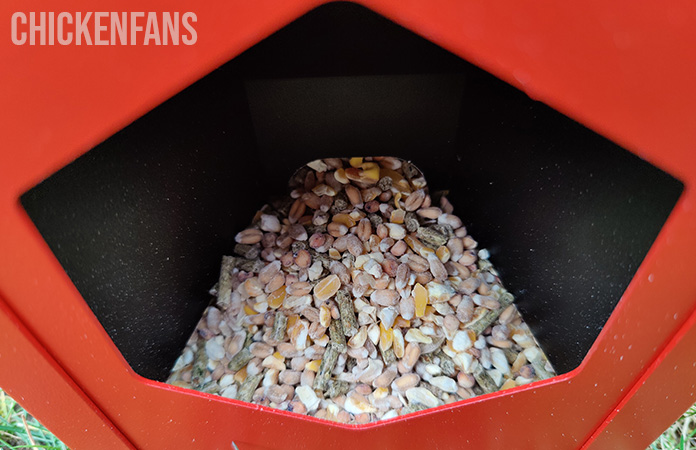 Angled feed dispenser
The Run Chicken feeder is designed with an angled feed dispenser with the appropriate angle to prevent food from getting stuck in the outlet. It operates on a natural gravity supply system, eliminating the need for electricity to power it. As your chickens eat the feed, the remaining food in the dispenser will fall automatically into the feeding holes, ensuring a continuous food supply.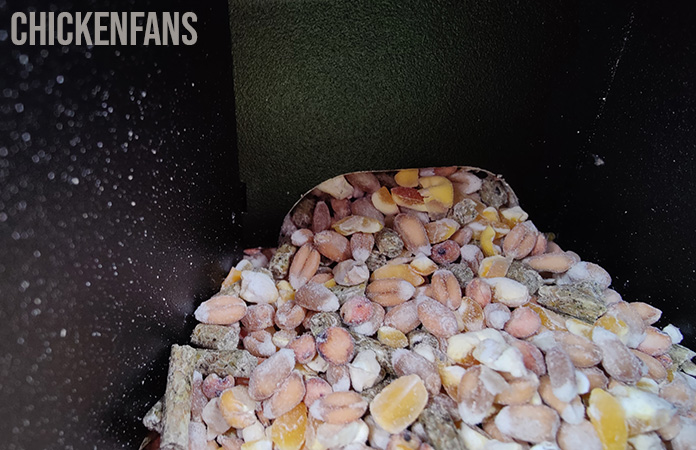 Long Lasting Feeding
The Run-Chicken feeder holds up to 20 lbs (9 kg) of feed, providing a consistent supply for your chickens. This amount is enough to keep 10 chickens well-fed for a week or to feed one chicken for 74 days, based on the average daily consumption of 0.27 lb (122 g) of feed. An average hen will eat between 100 – 150g of feed daily.
You no longer have to wake up early or worry about feeding your chickens when you're away. With this feeder, your chickens will have access to the right amount of food at all times.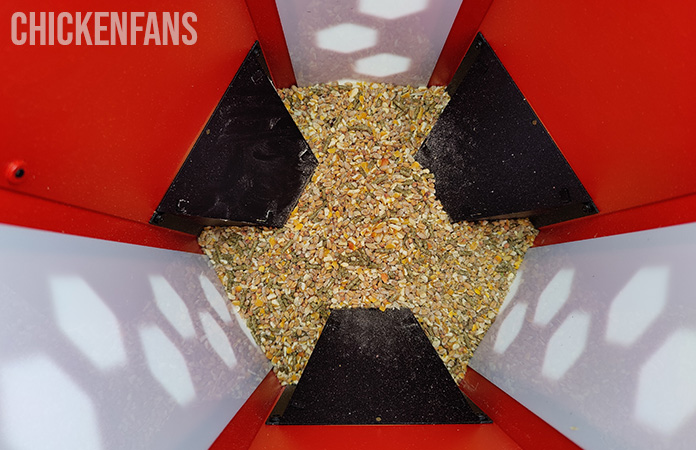 Freestanding and Detachable
With its detachable design, the Run Chicken feeder can be disassembled for a thorough cleaning, which helps to remove stale feed and reduce the growth of bacteria. Simply wash it with a damp cloth or soapy water for heavy dirt, and let it dry before replacing it with fresh feed.
Thanks to its freestanding design, the feeder can be placed anywhere in your chicken coop without needing to attach it to the walls. There's no need for screws or other mounting hardware, and your chickens can easily access it from all sides. Since the feeder is not attached to the wall, it can be easily moved or repositioned.
Ease of Installation
An instruction manual is included with any purchase of a Run Chicken feeder, and there's also an online instruction video available for those who prefer this method. However, setting it up can be a bit challenging even with these helpful resources. Due to the small parts and sometimes delicate installation process, assembling the feeder requires patience, steady hands, or nimble fingers.
With one person trying to get the job done as rapidly (and as correctly) as possible, it took us around an hour to finish assembling the feeder. Installing and assembling the dispensers and the bottom of the feeder required the most effort, as the small flaps and holes can be tricky to fit into each other.
The installation of the feeder does not require special tools, only a steady hand, and a cross screwdriver.
Potential Drawbacks
Although the Run Chicken feeder has many positive attributes and is a high-quality feeder, it's important to be aware of its potential drawbacks. One disadvantage of the feeder is that it is not waterproof, so it can only be used inside the chicken coop or under a covered area.
Additionally, we found that assembling the feeder took more time than expected, unlike the Run Chicken coop door, which comes pre-assembled. Furthermore, we encountered a slight issue with the lid, which did not fit perfectly. We had to loosen and retighten the screws to ensure a proper fit.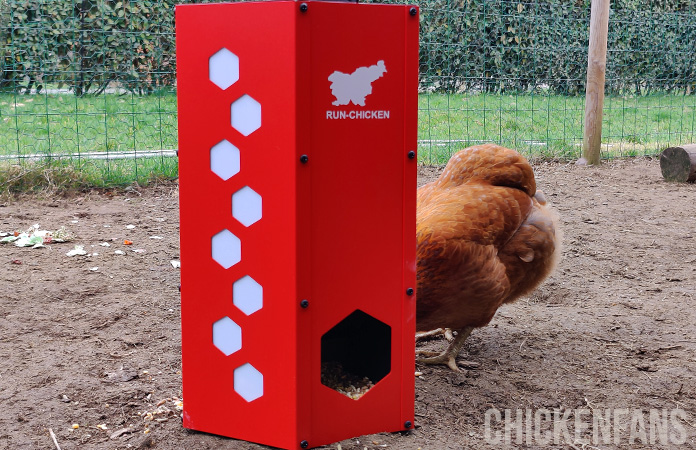 Maintenance and Durability
The Run Chicken feeder is built to last, designed with durability and longevity in mind. Its aluminum construction and quality screws ensure its robustness. It can be cleaned with ease using a damp cloth.
It's important to remember that the feeder is not waterproof and thus should only be installed inside the chicken coop. This feeder can offer your chickens a dependable food supply for many years with regular upkeep and care.
What is Inside the Box?
The Run Chicken Feeder is, unlike the Run Chicken automatic chicken coop door, NOT pre-assembled. The package is a flat box containing many separate parts to assemble and install the feeder yourself. The separate parts include 3 plates with a feeding hole, 3 plates with feed indicator (see-trough), 2 lid plates, 3 bottom plates, 9 plates to assemble the feed dispenser, 3 lid holders, and all screws needed to get the job done. The parcel also holds a complete instruction manual.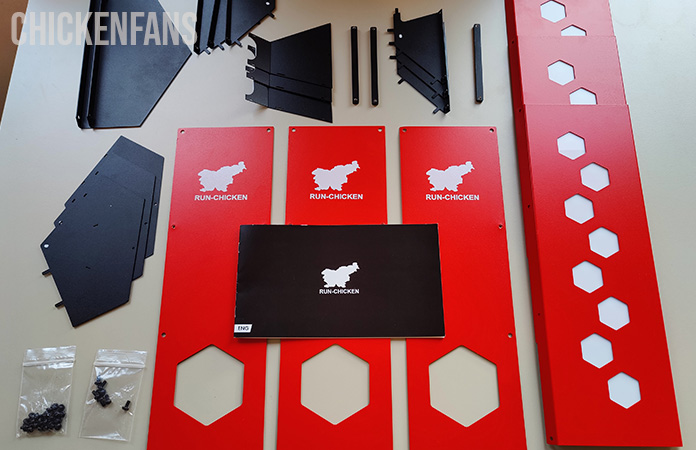 The feeder weighs 4 pounds (1.8 kg), is 17 inches high (43.5 cm), and is 9 to 10.6 inches wide (hexagonal shape). It's packed in a firm box so its protected from any damage during shipping. All necessary items are included, the only thing you need is a cross screwdriver.
Availability
The Run Chicken feeder is available for purchase on the Run Chicken Website at 10% off using the Chickenfans discount link. They ship from the USA to any state, and currently, shipping is free, but this can change at any time. Make sure to check any additional costs before completing your purchase.
RUN CHICKEN INDOOR FEEDER

Run Chicken is a company based in Slovenia, EU, and exports its products worldwide. The company logo features a chicken outline that also incorporates the map of Slovenia. To minimize shipping times, the company ships its products from within the USA to customers in the US.
The product comes with a one-year warranty. Visit their website for additional information on the warranty and details. If you encounter any problems with the Run Chicken feeder, the company provides 24/7 customer support.
The founder of Run Chicken, Jure Markic, takes pride in his young but rapidly expanding business. The Run Chicken feeder is the latest product created by him and his team. The Run Chicken logo looks like a simplistic chicken silhouette, but it's actually a map of Slovenia, the location of the company's headquarters.
Summary
The Run Chicken feeder is a durable and long-lasting feeder designed for chicken owners who want to provide their birds with a consistent food supply. It can hold up to 20 lbs of feed and has three separate feeder dispensers. However, the feeder isn't waterproof and should be installed inside the coop or under a covered run.
If you want to read more about chicken feeders, go to our 'Coops' page. We tested many chicken feeders and made a comparative list of the best chicken feeders on the market. Join us at 'Best Chicken Feeders: From Budget to Best Buys.'