OverEZ Chicken Feeder: Review (2023)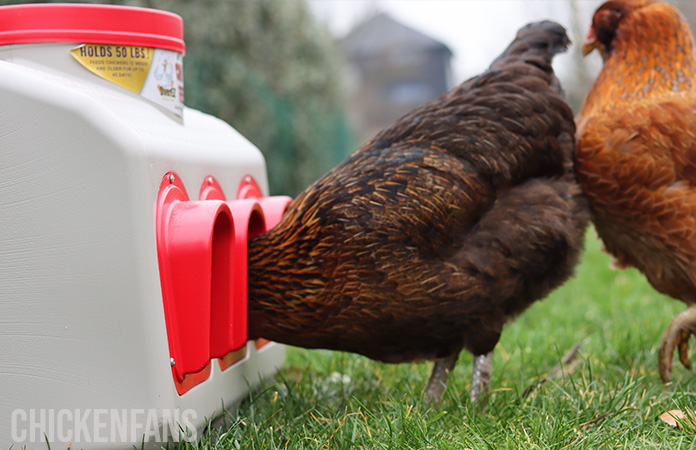 Chicken Fans is reader-supported. When you buy through our links, we may earn a commission. Learn more about our privacy policy and disclaimer.
Ensuring a continuous source of food and water is crucial when raising chickens. As a farmer or homesteader, you can save time and effort using a large, reliable feeder that doesn't require frequent refills. The OverEZ chicken feeder, which can hold up to 50 pounds of feed, is designed to meet this need and promises to save you time and money.
We took the OverEZ 50 Pounds Chicken Feeder to the test.
The OverEZ Chicken Feeder is a high-quality feeder made of UV-protected, food-safe, BPA-free, recyclable plastic. It can hold up to 50 lbs of feed and has three smart feeding ports to prevent spilling or soiling. It's rainproof and can be used indoors or outdoors.
WHY BUY?
High in quality
Rainproof
Large capacity
WHY AVOID?
Heavy when full
No handles for picking up
Overview
The OverEZ chicken feeder is a large, pre-assembled feeding system built to withstand wear and tear while keeping the feed dry. As the feeder comes in one piece, there is no need for any assembly or installation. The only thing you need to do is fill it with your chicken's favorite feed and place it inside the run or coop.
The OverEZ chicken feeder was voted our 'Best Value for Money' feeder in our in-depth comparative article on 'Best Chicken Feeders: From Budget to Best Buys'.
It has three no-waste feeding ports, a wide-mouth opening for effortless refilling, and a stay-dry design to ensure your chickens are fed clean, dry food, giving you peace of mind. The feeder holds up to 50 pounds of feed, which is enough to feed your flock for several weeks without having to refill it.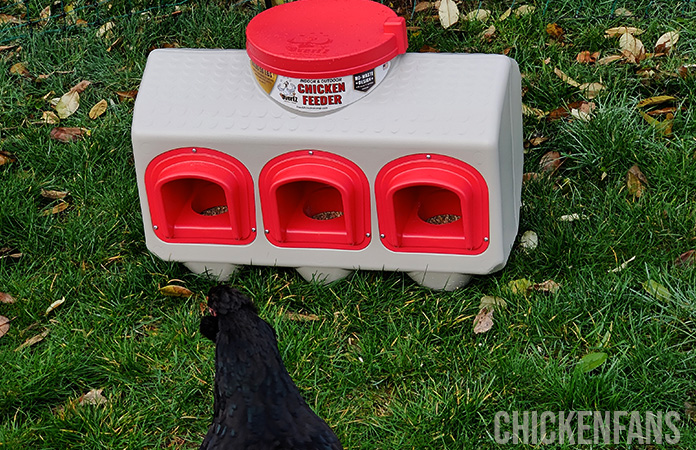 Designed for chickens 12 weeks and older, the OverEZ Chicken Feeder can be used both inside and outside of the coop. This feeder is waterproof, ensuring the feed remains dry even in rainy weather. It features a port overhang and hidden recessed channel, preventing water from leaking into the feeder and spoiling the feed.
Design
The OverEZ Chicken Feeder is made from recycled, BPA-free plastic and looks sturdy and impressive. At first glance, the feeder even resembles a giant Lego block. It does not require assembly or mounting and is best suited for ground placement. The feeder's height can be adjusted by placing blocks or bricks underneath to meet your chickens' preferences.
Recycled plastic is a smart choice to use for poultry feeders and waterers. It's easy to clean, low in maintenance, and because the feeder is food-safe and UV protected, it's safe for your chickens while keeping its color over time.
The OverEZ feeder has an impressive look. It has a grey and red color with three feeding ports and a large opening to refill the feed without any spillage. While unpacking the box, we were impressed by the size of the feeder, measuring 22.75″L x 12.5″W x 16.25″H, but also surprised by the weight. It is not an overly heavy feeder, which is handy as you can relocate it, but it does get a bit heavy when filled with feed.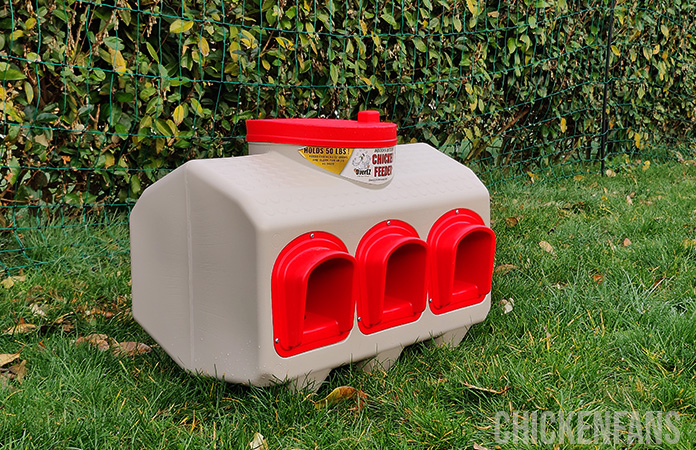 Specific Features
There are certain features that a high-quality chicken feeder must have. This includes being reliable, hygienic, durable, and safe for your chickens to use. The OverEZ chicken feeder meets these standards without any issues, making it a great value for money and a top-quality chicken feeder.
But there are several other specific features worth mentioning about this feeding system. Let's have a closer look.
No Waste Design
The OverEZ feeder has an intelligent feeding port design that contributes to feeding your flock efficiently. These ports are specifically designed to reduce waste and spillage and prevent your chickens from spilling or soiling the feed.
The system promises to keep your coop and run area clean, which minimizes the risk of rats or wild birds eating from the feed. Less spillage will save you money and time, as you won't have to refill the feeder as often, and the run area stays cleaner.
This feeder can accommodate up to three birds feeding at once, making it ideal for any flock.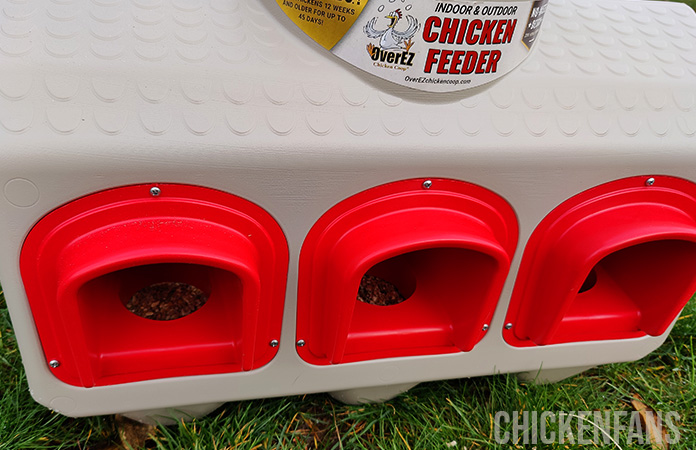 Waterproof
Compared to many of its competitors, the OverEZ Chicken Feeder is rainproof and suitable for indoor and outdoor use. This feature is especially beneficial for chicken keepers with limited space. Smaller coops may not have enough room to stall a feeder inside without causing a mess and taking up valuable space for your animals.
During rainy weather, the port overhang and recessed channel work together to keep the feed dry, preventing runoff water from ruining the feed for your chickens.
Angled Gravity-Fed Design
The angled design of the OverEZ Chicken Feeder allows for a steady feed flow to the feeding ports. This design ensures that the feed is evenly distributed to the ports, so all of your chickens can access it without any trouble.
Moreover, the feeder's low profile allows chickens to reach the bottom of the feeder easily, even as the feed level decreases. The angled design of the OverEZ Chicken Feeder ensures that your chickens have easy access to their food, regardless of how much feed remains in the feeder.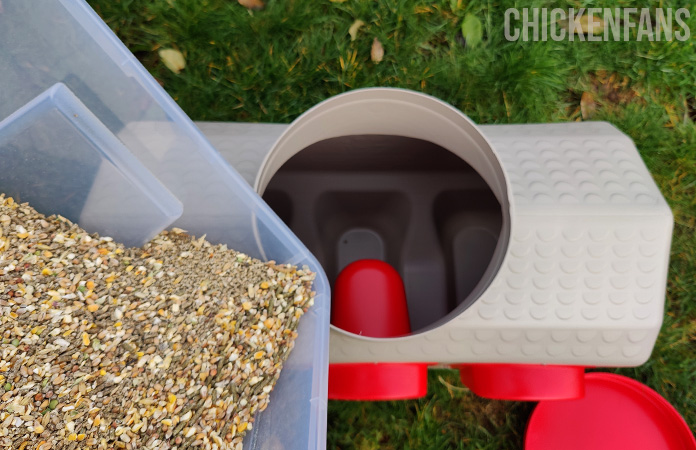 Three Feeder Ports
With its three smart-feeding ports, the OverEZ Chicken Feeder allows up to three birds to feed at once, reducing crowding and preventing your birds from waiting in line for their turn to eat.
In addition, the feeder has a capacity of up to 50 pounds of feed, which means less frequent refilling and reduced maintenance for you as a chicken keeper. The large capacity of the feeder assures your chickens of a constant supply of food for longer periods.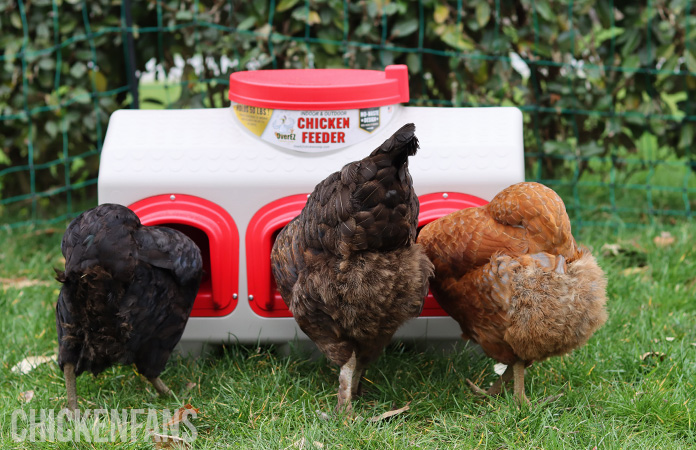 Ease of Installation
The OverEZ chicken feeder is a pre-assembled feeder that requires no additional assembly. You don't need to do anything more than take it out of the box, place it inside the chicken run and fill it with feed. With no complicated assembly or installation, you can immediately start using the feeder.
This feature is mainly beneficial for those new to chicken keeping or lacking the skills or time to dedicate to these tasks. You can rest assured the OverEZ chicken feeder is a hassle-free experience that will save you time and effort.
Potential Drawbacks
The OverEZ chicken feeder has many great qualities, making it a long-lasting, high-quality feeding system. But every product has strengths and limitations.
One mentionable matter is that the feeder does not have handles, so picking it up while full is not easy. The feeder does not need to be hanged or attached to a wall; it can be placed directly on the ground. This can make you believe it's easy to relocate or to pick up for cleaning.
However, the feeder's 50-pound capacity means that it can become quite heavy when filled with feed. This would not be a major concern if there were handles on the sides, but there aren't any. The lack of this feature makes it difficult to pick up the feeder once it's filled.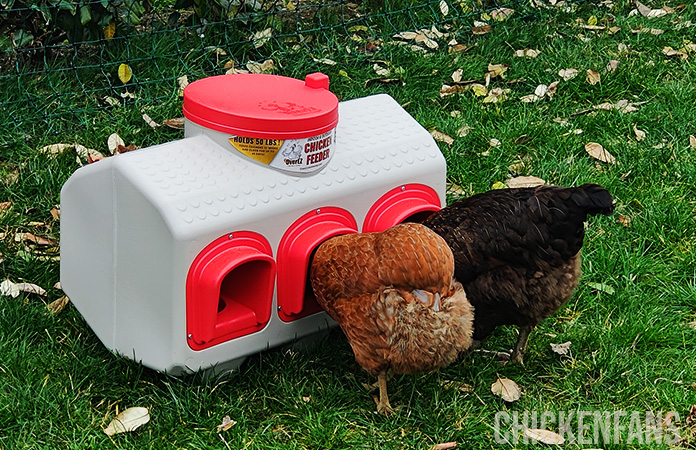 Keep this in mind before filling the feeder, so you won't have to relocate it when it's full.
Advantages over Competitors
When it comes to choosing a chicken feeder, one of the key factors to consider is whether it is rainproof or not. The OverEZ Chicken feeder has a clear benefit over its competitors like the Run Chicken indoor feeder and the Free range feeder, which are not rainproof and must be placed inside the chicken coop.
OverEZ feeder can be placed outside without worrying about rain spoiling the feed. Not only does this make feeding your chickens more convenient, but it also ensures that the feed remains fresh and dry, reducing the risk of mold or bacterial growth.
Another advantage of the OverEZ feeder is that it's a bit cheaper than many of its competitors but is still a large feeder that's high in quality.
Maintenance & Durability
The OverEZ chicken feeder is made from recycled UV-protected, BPA-free, and food-safe plastic. You can easily clean the feeder with a damp cloth, making it low maintenance and convenient to use. Proper care and maintenance will provide a reliable source of food for your chickens for many years to come.
One of the main advantages of this poultry feeder is that it can be easily cleaned and refilled on the ground without the need for hanging or mounting. The wide-mouth opening allows you to easily fill the chicken coop feeder and replace the lid to keep water out.
What's Inside the Box?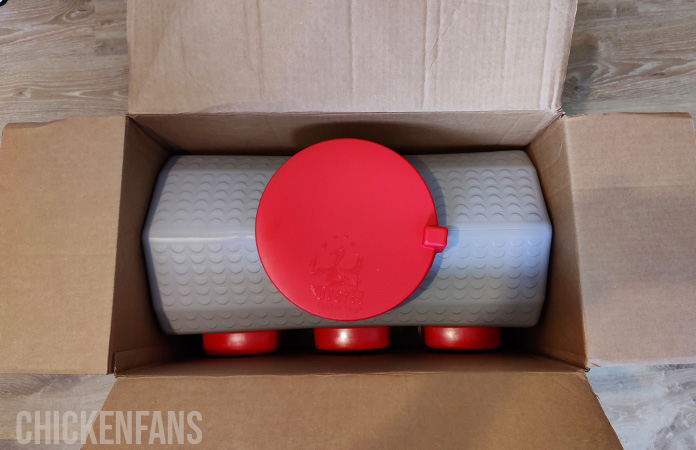 The OverEZ chicken feeder arrives completely pre-assembled in a large package containing only the feeder and a warranty card. This particularly benefits those with limited time or lacking the necessary skills to assemble the feeder. However, it is important to note that the box is relatively large, measuring 22.5 by 16.5 inches.
How did we Test?
We tested the OverEZ chicken feeder with a flock of four backyard chickens. Placed the feeder outside, luring the chickens to their brand-new feeder with some tasty snacks. We wanted to see how easy it would be for them to find out how to eat from the feeder. The chickens from this flock aren't used to eating from feeder ports.
The first attempt was unsuccessful, as they didn't trust the new giant thing in their run. But after returning after one hour and trying again, all trust issues were gone. They had no trouble using the feeder and easily figured out the port system.
Secondly, we tested the feeder during heavy rainfall to see whether the feed would stay dry, as promised. The lid does not leak, and the feeder port system prevents water from entering the feeder. It's completely waterproof, so place it anywhere you want. No need to cover it or place it inside.
Thirdly, we used the feeder for several weeks to test its no-waste design. Even after days of staying outside and four chickens eating out of it, the area around the feeder stayed clean. The feeder ports prevent feed from falling out of the container and keep your coop area clean.
If you want to see how the feeder and spillage look after more than one month of use, here is a picture of the feeder after using it for 6 weeks: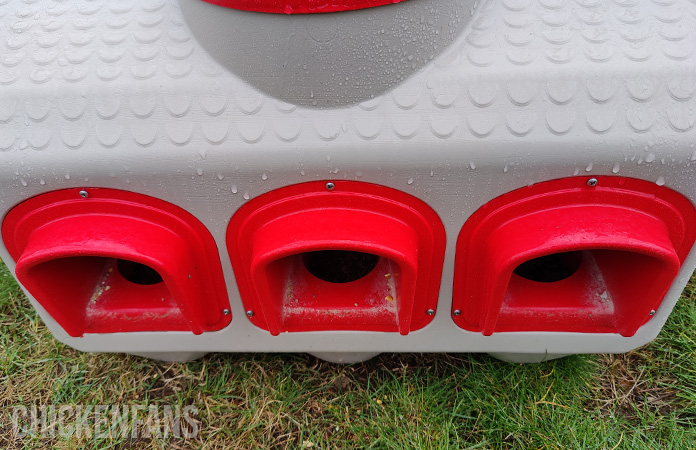 About OverEZ
OverEZ is a small business located in Manheim, PA, that initially started selling hand-crafted chicken coops. Their coops are built by Amish craftsmen in Pennsylvania and Amish-trained craftsmen in Georgia. Working with Amish-trained craftsmen ensures that OverEZ products meet the highest quality standards. Amish trained craftsmen are masters at building quality products, and that's why the OverEZ Chicken Coops meet higher quality standards than custom-built coops.
Click here to check out the OverEZ chicken coops.
In addition to chicken coops, OverEZ offers a range of chicken-keeping accessories, like feeders, waterers, electrical heat packages, and coop doors. OverEZ has been awarded the 2020 Retailers' Choice Award by the North American Retail Hardware Association (NRHA), demonstrating its commitment to producing top-quality products.
All products of OverEz are available at many local dealerships all over the US, on their website, and most major webshops. The OverEZ feeder has a 3-year warranty if you fill in the warranty card included with every purchase.
Summary
The OverEZ Chicken Feeder is a high-quality feeder made of UV-protected, food-safe, BPA-free, recyclable plastic. It can hold up to 50 lbs of feed and has three smart feeding ports to prevent spilling or soiling. It's rainproof and can be used indoors or outdoors. While heavy when filled, it can be easily cleaned and refilled on the ground with a wide-mouth opening.
To learn more about different chicken feeders types, check out our 'Coops' page. Or check out our comparative review article 'Best Chicken Feeders: From Budget to Best Buys'.