RentACoop Chicken Feeder: Review (2023)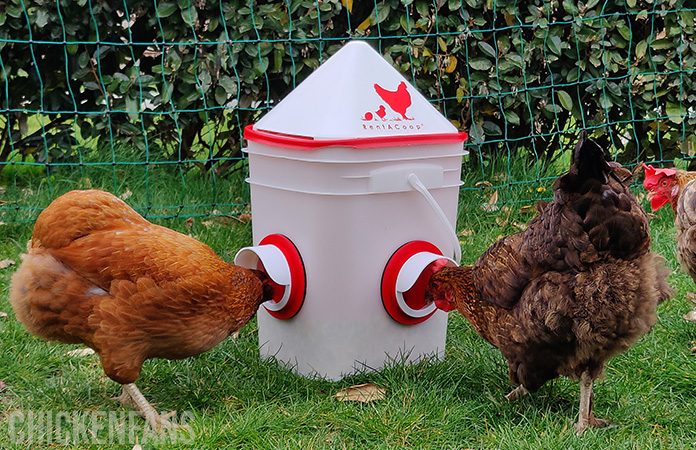 Chicken Fans is reader-supported. When you buy through our links, we may earn a commission. Learn more about our privacy policy and disclaimer.
RentACoop is a well-known brand in the chicken-keeping business. They offer a large variety of feeders, waterers, bedding materials, and brooding plates. We took one of their chicken feeders to the test to see if it is worth the money and lives up to its promises.
The RentACoop Feeder is a high-quality feeder made of food-safe, BPA-free plastic. It can hold up to 20 lbs of feed and has two feeding ports to prevent spillage. It's completely rainproof and can be used indoors or outdoors.
WHY BUY?
High in quality
Rainproof
Portable: carrying handle
WHY AVOID?
Lid is very tight
Not for small breeds & chicks


Overview
RentACoop has many chicken feeding systems on the market, including their plastic, two feeding ports, 20 lbs chicken feeder. You can purchase all feeders and waterers in one piece, or go for a DIY project, as all pieces can be purchased separately.
This review will focus on the plastic, 2 feeding ports, 20-lb chicken feeder.
This RentACoop feeder is, like most RentACoop feeding systems they sell, a breeze to set up. The feeder is completely pre-assembled. You only need to put the rain covers for the feeder ports into place, fill it with chicken feed, and you're ready.
One feeder can feed up to 8 hens during one week or two hens for one month. Refill the feeder only when necessary, and you'll save much time as a chicken keeper.
Design
The design and look of this RentACoop plastic 20-lb feeder is simple and uncomplicated. It looks like a big bucket with two feeding ports, a lid, and a no-roost cap. Furthermore, it is equipped with a handle for easily moving the feeder wherever you want.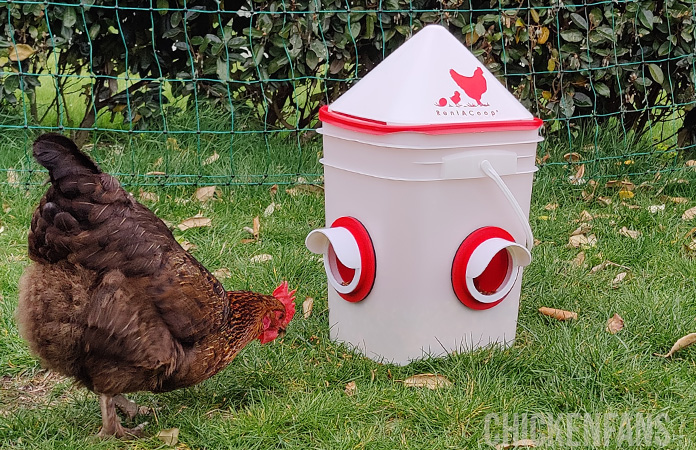 Because of the plastic material, the firm lid, and the rain cover for the feeding ports, this feeder is completely waterproof and can be placed inside or outside the coop. The feeder is made from food-grade and BPA-free plastic.
There are two types of this feeder: a corner placement model and a center placement model. Depending on which model you choose, the feeding ports will be in different positions. This allows you to position the feeder either against a wall or in a corner, or in the middle of the run or coop.
The cornered feeder is particularly beneficial when space is limited inside the run.
Specific Features
There are a couple of features a high-quality chicken feeder must have, like reliability, hygiene, durability and safe for your chickens. The RentACoop feeder system meets those requirements without any problems, but there are other specific features worth mentioning.
Let's dive deeper into the characteristics that make this feeder stand out from its competitors.
No-Waste System
Chickens are known for scraping out their feed to search for their favorite grain. This can make the surroundings of the feeding area a mess, but it will also attract wild birds and rodents to join in on the feast.
Because chickens have to stick their head inside the feeding ports to reach the feed, they cannot scratch any feed out. And even if they try, every feeding port has a ridge, making it almost impossible for feed to fall out. It will remain in the feeding port, not on the ground.
Less spillage will save you money and time, as you won't have to refill the feeder as often, and the run area stays cleaner.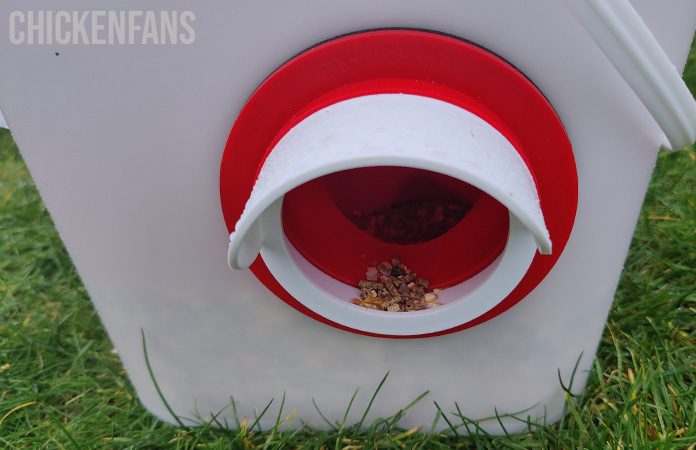 This feeder can accommodate two chickens at once. RentACoop also sells feeders with more than two feeding ports for those with a larger flock.
Waterproof
Not all types of chicken feeders, even quality ones, are waterproof. This can be quite a disadvantage, especially if you don't have a large coop to place the feeder indoors. The RentACoop feeder promises to keep 99% of the chicken feed dry, even when placed outside.
Multiple features make this feeder weatherproof, such as the firm lid, the plastic material, and the rain cover over the feeding ports. The added benefit of the rain cover is that it acts as a barrier against wild birds, squirrels, and rodents from eating from this feeder.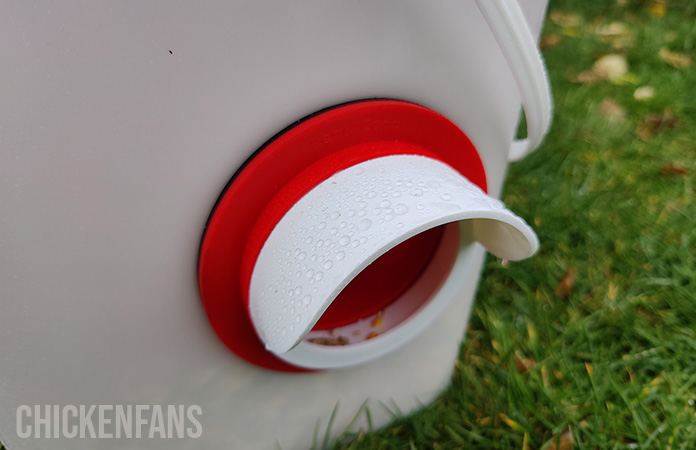 Your chickens will always have access to dry food, even during heavy rain or winter conditions.
Center or Corner Placement
The RentACoop 20-lb plastic feeder is available in two setups. One for corner placement and one for center placement. It doesn't matter whether you have sufficient space inside or outside the coop to position the feeder in the center. The corner model enables you to place the feeder against a wall or in a corner without blocking the feeding ports.
The price of these two feeding systems is the same, but ensure you have purchased the correct feeding system before checkout.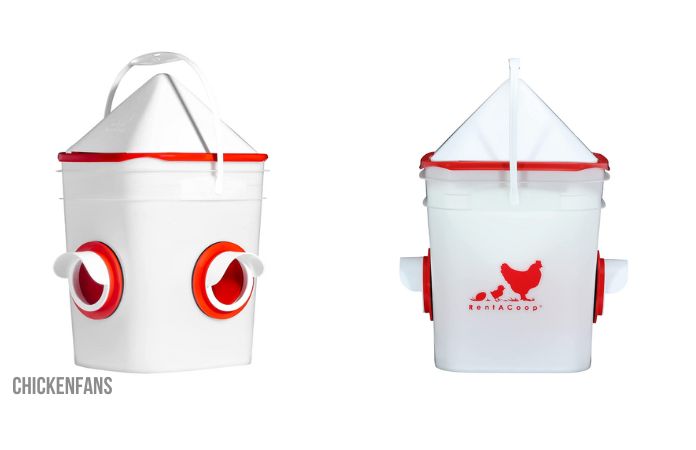 Carrying Handle
You might think it's reasonable to expect large chicken feeders to come with carrying handles, but you'd be surprised how many of them don't. The lack of this feature makes it almost impossible to move the items when filled.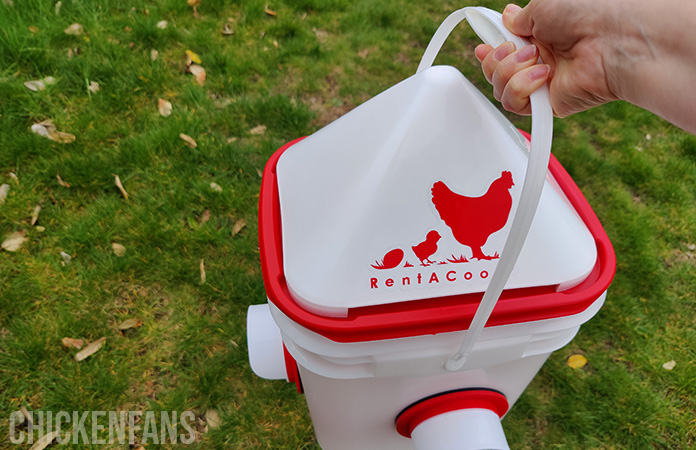 Fortunately, the RentACoop feeder has a bucket-like design, a large container with a lid, and a useful carrying handle, making the feeder portable. Even if the feeder is completely full, it can be easily relocated to another spot within the chicken run.
This is why we chose the RentACoop feeder the best portable feeder in our 'Best Chicken Feeder' list.
No-Roost Cap
Although chickens typically sleep on their roosting perches, it's important to know that some chickens tend to roost in peculiar places. They sleep inside the nesting box, on the ground, or even on a feeder. As chickens poop where they sleep, this will make their resting area immediately unsanitary, with the feeder covered in chicken poop.
RentACoop has a smart solution to solve that problem. While the lid of the container is flat, you can place the no-roost cap on top, making it impossible for a chicken to sleep or jump onto the feeder.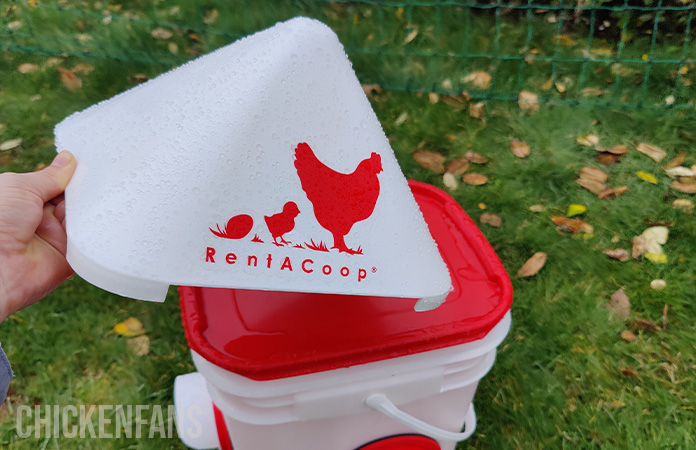 Using the no-roost cap effectively prevents your chickens from soiling their feeder by perching, sleeping, or standing on top of it.
You may not need the no-roost cap if your chickens don't tend to jump onto things. In this case, you can use the RentACoop feeder without the cap; it will function perfectly without it.
Ease of Installation
The RentACoop 20-lb plastic chicken feeder is pre-assembled and requires no additional assembly. All you have to do is remove it from the box, attach the rain covers to the feeding ports, fill it with feed, and place it wherever you want it to go.
Since no complicated assembly or installation is required, you can use the feeder immediately.
This feature is especially helpful for those new to chicken keeping or lacking the necessary skills or time to spend on such tasks. With the RentACoop chicken feeder, you can rest assured that you'll have a hassle-free experience that will save you time and effort.
No paper instruction manual is included when purchasing the RentACoop feeder, but you can scan the QR code on the lid to view online instructions and tutorials.
After placing your feeder in the coop, your hens can try it out immediately!
Potential Drawbacks
It's important to note that every product has its potential drawbacks. These features may not be a disadvantage for all chicken keepers, but they are worth mentioning.
Very Tight Lid
When the feeder arrived in the box, the loose components were securely tucked in the container, with the lid tightly holding everything in place. In fact, the lid was so tight that it took us several attempts to open it for the first time. We were hesitant to close it again, afraid we couldn't reopen it.
After reading online reviews, we discovered we are not the only ones who experienced this issue. The tightness of the lid can make opening the feeder a challenge, which is something that we hope will improve over time. This little drawback makes refilling the feeder a bit of an unpleasant task.
Another minor concern regarding the lid is that water remains on the lid after rainfall. It results in a puddle of water on top of your feeder, and standing water during summer months is not that hygienic.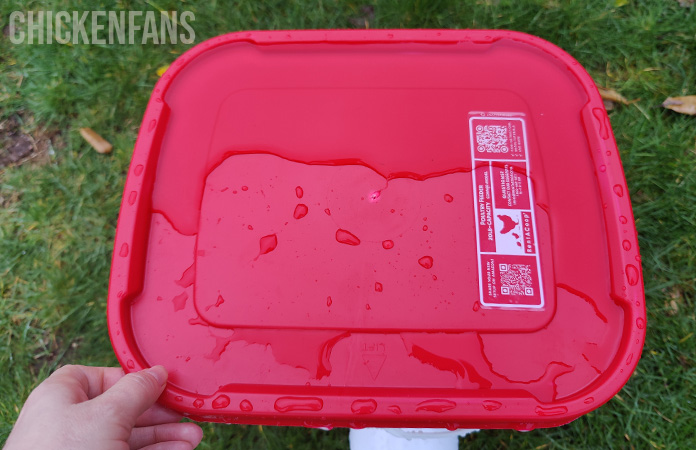 Not for Small Breeds or Chicks
The RentACoop feeder should only be used by chickens of 12 weeks and older. The feeding ports go to the bottom of the container, and chicks are too small to reach the bottom.
That said, we believe it's best not to use this feeder with very small chicken breeds, such as small-breed or true bantams. The chicken needs to be able to dive into the feeding port all the way down to the bottom of the feeder, which is around 4-6 inches deep, depending on how much feed is left in the feeder.
If you're unsure your chickens can use this feeder, watch them closely for the first few days.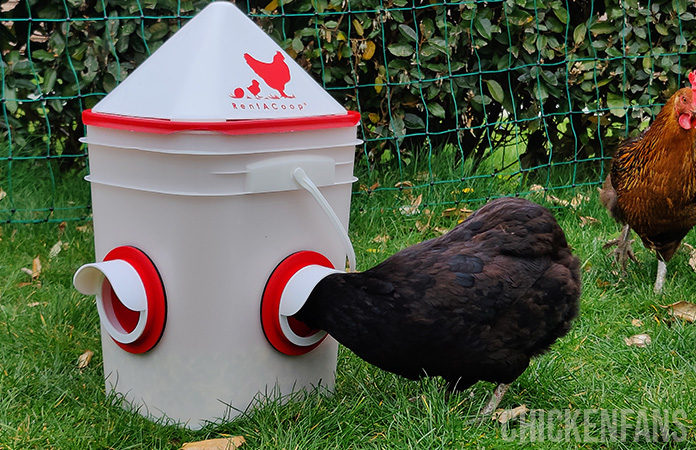 Maintenance and Durability
The RentACoop chicken feeder is easy to clean, refill and maintain, with no angles or corners where feed can get stuck. This model is made from BPA-free and food-safe plastic.
With just a damp cloth, you can quickly wipe it down and keep it in good condition. This makes it a low-maintenance and convenient choice for you as a chicken owner. And because the RentACoop feeder is easy to pick up and handle, it can easily be taken outside the chicken coop to give it a thorough scrubbing when needed.
By taking proper care of the feeder, you can ensure that it will provide a reliable food source for your chickens for many years.
What's Inside the Box?
The feeder arrives in one big part, the container with the lid, with four loose components inside the container.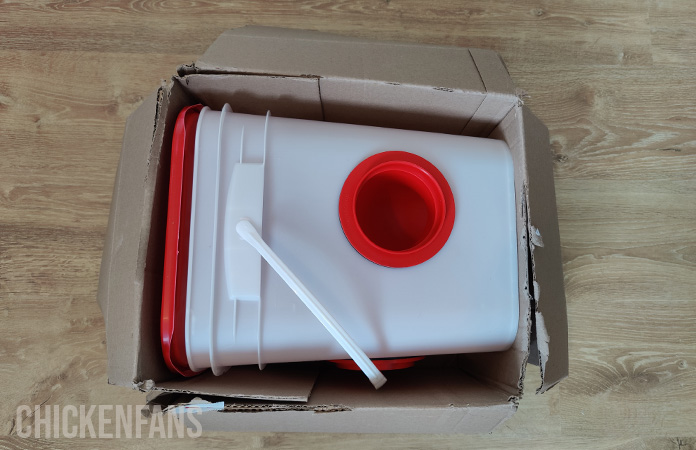 What you see inside the box:
One 20 lbs feed container
One lid
One no-roost lid
Two rain covers for the feeding ports
One RentACoop sticker
There is no instruction manual inside the box. You'll find a QR code on top of the lid to scan and view the manual and tutorials.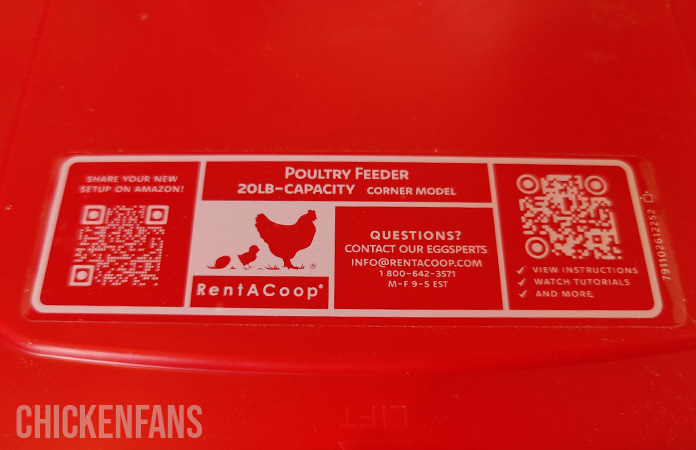 How Did we Test?
We tested the RentACoop feeder on a group of backyard chickens for multiple weeks. We wanted to test how easy it was for the chickens to get used to the feeding ports and if the no-waste system did what it promised.
Next to the feeding ports, we wanted to test how dry the feed stays during heavy rain. We placed the feeder outside for a couple of weeks during periods of rain and stormy weather to test how it would perform under these weather circumstances.
We tested the RentACoop feeder in the following categories:
Ease of assembly
Ease of use
Ease of cleaning and refilling
Waterproofness
Spillage
Weight
Handiness
Price
Flexibility
Overall user-friendliness
About RentACoop
RentAcoop started as a chicken coop rental business in 2012. The founders claim to be passionate about introducing people to the joy of chicken keeping and wanted to create solutions for common design problems in chicken products.
With their products, RentACoop wants to reduce waste, keep the run area clean, protect your flock against predators, and minimize your work in and around the chicken coop. All RentACoop products are made in the USA.
All RentACoop products can be returned within 30 days if the item hasn't been opened or used. This does not include shipping costs. Always contact the RentACoop team to initiate a return.
RentACoop offers lifelong support for your product, so don't hesitate to contact their support team if something is wrong with your product. RentACoop is known for its great customer support team.
The company sells a large range of chicken feeders: plastic, metal, galvanized steel, 10-lb or 65-lb, all rainproof and with a handle for easy mobility. Take a look at all their feeders; you'll find one that matches your needs.



Summary
The RentACoop 20 lbs plastic chicken feeder is a quality feeder that requires no additional assembly. It comes with a rain cover to protect the feeding ports and a no-roost cap to prevent chickens from soiling the feeder. Furthermore, it has a handle for easily moving the feeder wherever you want.
The feeder is completely waterproof, meaning you can place it anywhere you want inside or outside the coop. It will keep your chickens' feed 99% dry, and the rain caps on the feeding ports prevent wild birds and rodents from eating the feed.
To learn more about different chicken feeders types, check out our 'Coops' page. We voted the RentACoop feeder our number 1 portable feeder in our in-depth review of 'Best Chicken Feeders: From Budget to Best Buys', check it out!