Eaton Pet and Pasture Nesting Box Pads: Review (2023)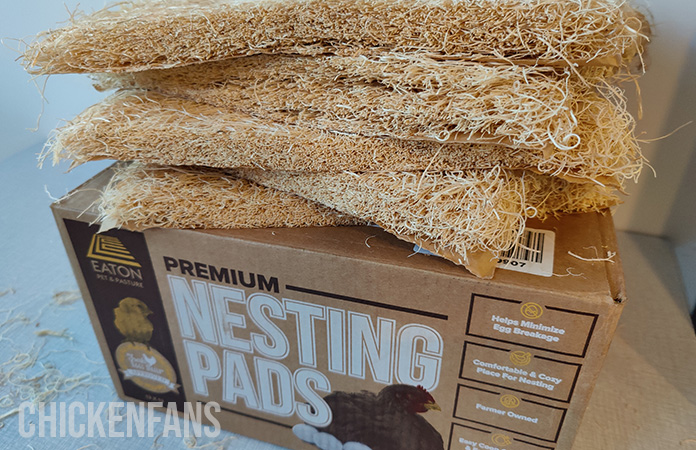 Eaton Pet and Pasture is a well-known brand of pet bedding and high-quality nesting box pads. Located in upstate NY, their sustainable farm produces hemp and other naturally grown renewable materials. We took their Premium nesting box pads to the test and took a closer look at the features and benefits of their product.
Let's start by addressing some key takeaways:
Eaton Pet and Pasture Premium
Eaton Pet and Pasture focuses on selling one type of nesting box pads, suited for all breeds of laying hens. Their Premium Laying Hen nesting box pads are made with 100% sustainably harvested Aspen excelsior. The company takes big pride in their products, which are all USA made, farmer-ownded, without additives or plastics and sustainable.
REASONS TO BUY
High-quality & durable
Sustainable brand
Soft & comfortable
REASONS TO AVOID
Loose materials in the box
More expensive than hay
Durability
As you're planning to spend your money on nesting box pads, which are more expensive than hay or wood shavings, you want to know how long they will last. This can be a tricky question, as it depends on the number of chickens you own, the popularity of certain nesting boxes, or the frequency your birds lay. On average, Eaton Pet and Pasture's nesting box pads will last weeks to months before you have to replace them.
Chickens have an instinct to make a bowl-shaped nest in the nesting boxes. They'll scratch their feet around until they are comfortable and happy with the result. High-quality nesting box pads, like the Eaton Pet and Pasture pads, have no problem enduring this behavior for several weeks.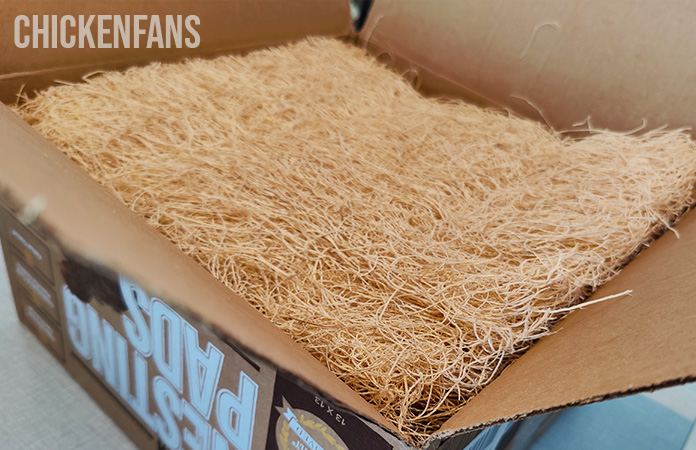 Additionally, aspen is a sustainable and renewable resource, making these nesting pads an eco-friendly option. They are also biodegradable, which means they can be safely disposed of once they have reached the end of their lifespan.
Chicken keepers can expect the Eaton Pet and Pasture nesting pads to last a long time and provide a comfortable and hygienic environment for their birds.
Comfort
Nesting boxes are essential to any chicken coop, providing a safe and comfortable place for birds to lay their eggs. However, these boxes can quickly become soiled and uncomfortable without proper protection. Nesting box pads are designed to address this issue, offering a soft and cushioned surface for birds to lay their eggs on or sit on their eggs while broody.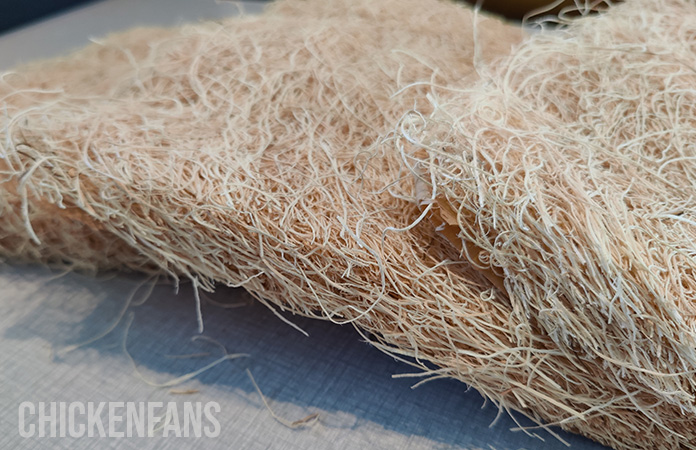 One of the most important features of high-quality nesting box pads is comfort. If nesting box pads are made with high-quality materials built to last, they provide a sturdy but soft surface for your chickens to lay their eggs on. It'll also provide them with a comfortable and private place inside the coop.
Made from organic aspen shavings, Eaton nesting box pads offer a soft and cushiony surface that is gentle on the birds' feet and soft on the eggs. There will be less chance of broken eggs as the nesting pad is 1 inch thick, providing a fluffy feeling.
Thickness
The thickness of nesting box pads is an essential factor to consider because it affects the pads' comfort, absorbency, durability, and longevity. Eaton Pet and Pasture nesting pads are up to 1 inch thick and made of high-quality aspen excelsior, affecting comfort and overall performance.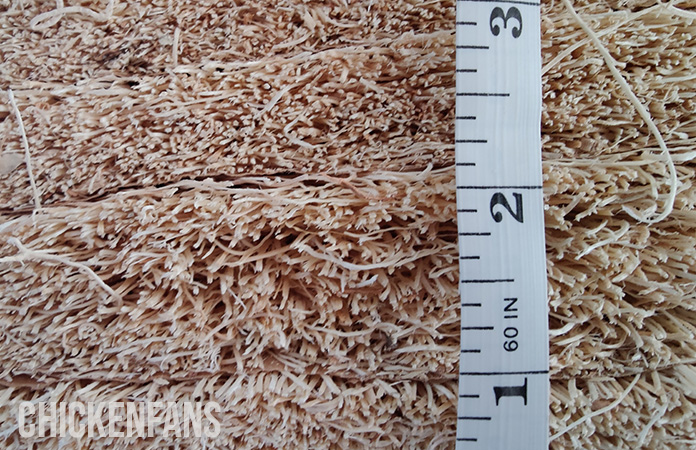 Thicker pads provide more cushioning for the chickens, making them feel more comfortable and reducing the risk of foot injuries, like sprawl legs in new egg layers. Denser pads can also absorb more moisture and are less likely to become misshapen or tear over time, improving their overall durability and longevity.
Affordable
Nesting box pads are typically more expensive than traditional bedding materials like hay or straw, and Eaton Pet and Pasture is no exception. Chicken keepers should therefore weigh the long-term benefits of nesting box pads against their upfront cost.
However, because Eaton Pet and Pasture nesting box pads last up to several weeks and even months, they are not overly expensive, especially if you don't own a massive flock. Eaton Pet and Pasture nesting box pads typically cost around $3 per pad, which is not bad for a nesting pad that lasts at least a couple of weeks.
Eaton Pet and Pasture Premium
Always check the current prices before making a purchase, and check if shipping costs are included.
Whether you want to spend the money on them or not is up to you. Investing in high-quality nesting box pads is a good choice, but it may depend on your needs as a chicken keeper.
What's in the Box?
When ordering the Eaton Pet and Pasture nesting box pads, you'll receive a sturdy box with ten nesting pads. All nesting pads measure 13 x 13 inches and with kraft paper at the bottom. The company states no plastic packaging is involved, and they are right; the box only contains the nesting pads, nothing else.
You'll notice many loose materials falling off the nesting pads when unpacking the box. This may be the only disadvantage of these aspen pads; they are pretty messy when unpacking. Better to unpack the box outside, near the chicken coop, instead of inside if you don't want to clean up afterward.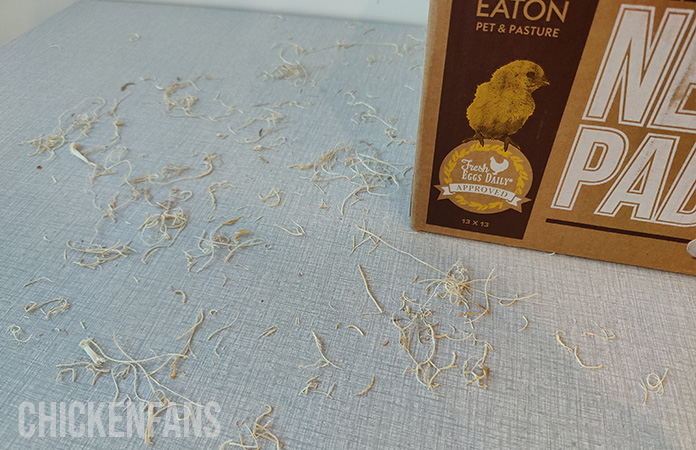 Summary
Easton Pet and Pasture Nesting Box Pads are specifically designed for laying hens. These pads provide a comfortable and safe place to lay eggs. Made with high-quality materials, these pads are built to last, offering a soft and comfortable surface for your chickens.
To learn more about nesting box pads and compare different types and brands, go to our 'Best Nesting Pads' article, including My Favorite Chicken and Cackle Hatchery.
Or check out our 'Best bedding for nesting boxes' to see what other materials you can use besides nesting box pads.
If you want to read more Chicken Fans product reviews, please go to our in-depth review articles.
Further Reads:
Best Automatic Chicken Coop Door – Real Life Testing (2023)
Best 3 Portable Chicken Coops (+Free DIY Plan)
Best Chicken Feeders: From Budget to Best Buy
Omlet Eglu: Is it Worth the Money?