My Favorite Chicken Nesting Box Pads: Review (2023)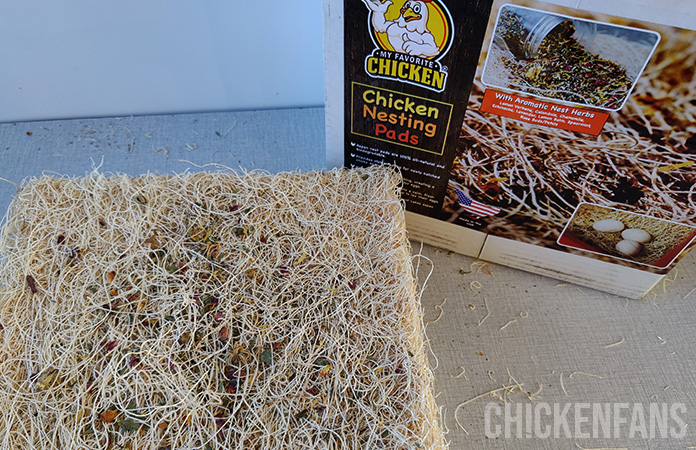 My Favorite Chicken is a well-known company selling chicken products, including their own brand of nesting box pads. They make a difference with the aspen excelsior nesting pads because of the addition of aromatic nest herbs and edible flowers. We took their 'Chicken Nesting Pads' to the test and took a closer look at the features and benefits of their product.
Let's start by addressing the main features:
My Favorite Chicken sells natural and biodegradable excelsior aspen nest pads, added with aromatic nest herbs. Excelsior nest pads help to provide cleaner, fresher, better quality, and the added herbs give your hens a full aromatherapy-treatment!
My Favorite Chickens is US-based and the pads are manufactured from Great Lakes aspen excelsior fibers and brown kraft paper.
REASONS TO BUY
High-quality & durable
Sustainable brand
Soft & comfortable
REASONS TO AVOID
Loose materials in the box
More Expensive than loose bedding

Durability
When considering nesting box pads, you must realize they will be pricier than loose alternatives such as hay or wood shavings, so it's natural to wonder about their longevity. The lifespan of these pads can vary based on several factors, including the number of chickens you have, which nesting boxes are most frequently used, and the rate at which your birds lay eggs.
Generally, the nesting box pads from My Favorite Chicken have an average lifespan of several weeks to a few months before needing to be replaced.
Chickens have an innate drive to create a bowl-shaped nest in the boxes provided for them. They will continue to scuff and arrange the bedding until they feel comfortable and satisfied with the result. Durable nesting box pads, such as My Favorite Chicken's, can withstand this routine for several weeks without showing signs of wear or tear.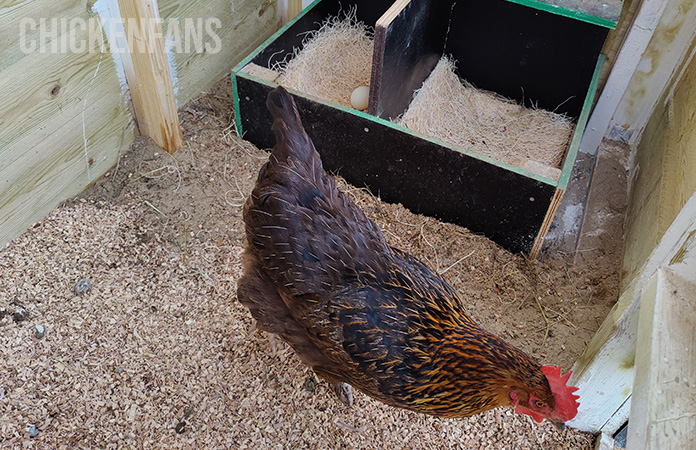 Furthermore, My Favorite Chicken uses aspen as a material for nesting pads. This material is both environmentally responsible and sustainable. The pads are also biodegradable, which allows for a safe and eco-friendly disposal method when they have reached the end of their lifespan.
Chicken owners can anticipate that the My Favorite Chicken nesting pads will offer a long-lasting, hygienic, and comfortable environment for their chickens.
Comfort
Nesting boxes are crucial in a chicken coop as they offer a secure and cozy place for hens to lay their eggs. However, these nest boxes can quickly become unsanitary and uncomfortable for the birds without proper protection. That's where nesting box pads come in – they provide a soft and cushioned surface for the birds to lay their eggs or sit on while they are brooding, ensuring a comfortable and hygienic environment.
Comfort is a crucial aspect of any good-quality nesting box pad. These pads should be constructed from durable materials that provide a secure and soft surface for chickens to lay their eggs on. Additionally, the pads should offer privacy and comfort inside the coop.
My Favorite Chicken organic aspen nesting pads offer a plush and cushioned surface that is kind to chickens' feet and gentle on eggs. With a thickness of 1 inch, the nesting pads also offer added cushioning to reduce the risk of broken eggs.
Nest Box Herbs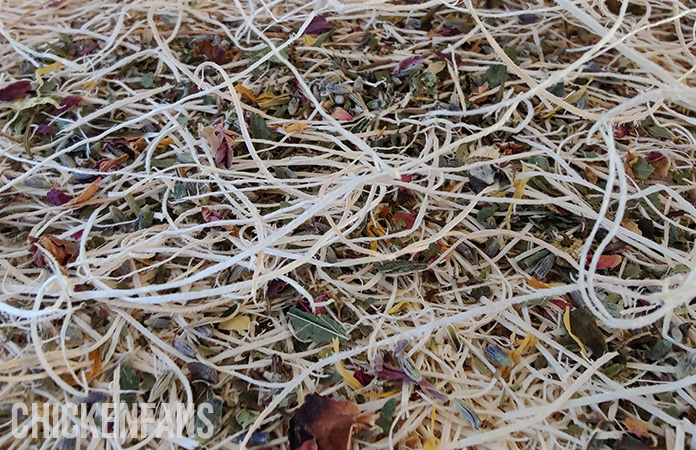 My Favorite Chicken nesting box pads differ from its competitors by adding aromatic herbs and table flowers to the bedding material. These herbs are a unique and special addition to the typical chicken nesting box pads. Unlike other pads, the My Favorite Chicken product offers comfort and a sensory experience for your chickens.
Their blend contains lemon verbena, calendula, chamomile, echinacea, lavender, lemon balm, organic spearmint, and rose buds/petals. All ingredients are organic and non-GMO and made in the U.S.A.
The colorful bouquet of aromatic, organic herbs and edible flowers creates a calm, fresh-smelling, and restful place for your chickens to lay eggs. The addition of pleasant aromatic herbs in various botanicals makes this product truly stand out.
Additionally, the My Favorite Chicken herb blend can be purchased separately. Whether you're looking to create a more restful environment for your birds or simply to spoil your flock, these nesting box herbs are an excellent option.
Thickness
The thickness of a nesting box pad plays a crucial role in its functionality. It determines the pad's comfort level, absorbency, durability, and lifespan. The My Favorite Chicken nesting box pads are designed with an ideal thickness of 1 inch, made from premium aspen excelsior. This ensures the birds' comfort and contributes to the overall success of the pad in the nesting box.
By offering a thicker and denser surface, the chickens experience more cushioning, reducing the possibility of broken eggs and foot injuries, like sprawl legs, and maintaining a comfortable environment. Additionally, a thicker pad can absorb more moisture and retains its shape, making it less likely to tear or become misshapen, thereby enhancing its durability.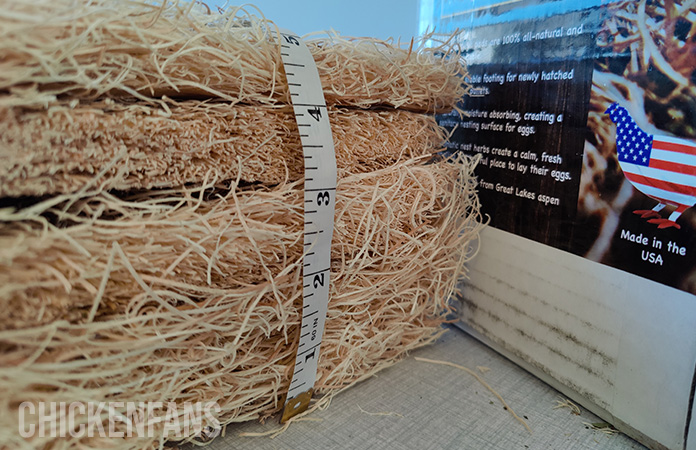 A thick nesting box pad provides a cushioning effect that helps reduce the risk of eggs breaking while the hens lay them. The thickness of the pad helps absorb the impact of the eggs, providing a soft landing surface that minimizes the chances of breakage. Broken eggs can lead to egg-eating hens, a habit very hard to unlearn, so the softer the nesting box surface, the better.
Affordable
When deciding whether to invest in nesting box pads, it's important to consider the cost difference between them and traditional bedding materials like hay or straw. While My Favorite Chicken nesting box pads may be pricier initially, the long-term benefits can outweigh the upfront cost, especially for smaller flocks.
My Favorite Chicken with Aromatic Herbs

On average, My Favorite Chicken nesting box pads cost about $3,5 per pad and have a lifespan of several weeks to months, making them a cost-effective option in the long run.
Before making a purchase, it's important always to check current prices and shipping costs. The decision to invest in high-quality nesting box pads, such as My Favorite Chicken, is a personal one and depends on the specific needs and budget of the chicken keeper.
What's in the Box?
One box of My Favorite Chicken nesting pads with herbs includes ten shapable nest pads, all measuring 13-13 inches. Every nesting pad is generously sprinkled with a colorful bouquet of aromatic, organic herbs and edible flowers. The blend includes organic lemon verbena, calendula, chamomile, echinacea, lavender, lemon balm, spearmint, and rose buds/petals.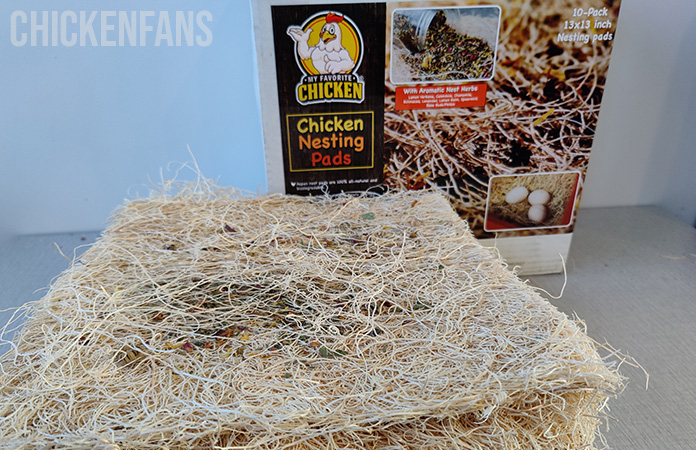 When you open the box containing the aspen nesting pads, you may find a good amount of loose material that has fallen off the pads. This could be considered the only downside of these pads, as they can be quite messy to handle when unpacking. To avoid cleaning up later, it's best to unpack the box near the chicken coop rather than indoors.
Summary
The My Favorite Chicken nesting box pads are made from organic aspen shavings, providing a soft and cushioned surface that is gentle on the birds' feet and soft on the eggs. The pads are up to 1 inch thick, making them extra comfortable with less chance of broken eggs. One unique feature of these nesting box pads is the aromatic herbs sprinkled on them. The herbs create a calm, fresh-smelling, and restful environment for the birds.
To learn more about nesting box pads and compare different types and brands, go to our 'Best Nesting Pads' article, including other brands such as Cackle Hatchery and Eaton Pet & Pasture.
Or check out our 'Best bedding for nesting boxes' to see what other materials you can use besides nesting box pads.
If you want to read more Chicken Fans product reviews, please go to our in-depth review articles.
Further Reads:
Best Automatic Chicken Coop Door – Real Life Testing (2023)
Best 3 Portable Chicken Coops (+Free DIY Plan)
Best Chicken Feeders: From Budget to Best Buy
Omlet Eglu: Is it Worth the Money?