Royal Rooster Feeder: Review (2023)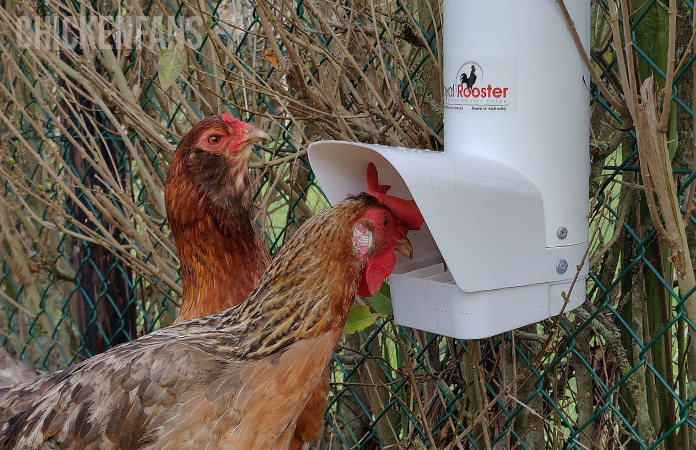 Chicken Fans is reader-supported. When you buy through our links, we may earn a commission. Learn more about our privacy policy and disclaimer.
As a chicken owner, you know the importance of a high-quality and reliable chicken feeder. With so many options available, you want to be sure to buy the right one for your flock. That's where the Royal Rooster chicken feeder comes in.
In this review, we'll look closer at the Royal Rooster chicken feeder, see if it lives up to its promises, and test how it performs in practice.
ROYAL ROOSTER CHICKEN FEEDER
The Royal Rooster Chicken Feeder is a high-quality feeder made of durable PVC and ABS plastics. It can hold up to 6.5 lbs of feed and has a feed tray with special divisions to prevent spillage. It's rainproof and can be used indoors or outdoors.
WHY BUY?
High in quality
Rainproof
Mounting on wall or mesh
WHY AVOID?
Only one feed tray
Not for large flocks


Overview
The Royal Rooster is a breeze to set up, with only a few components to assemble, and can hold up to 6.5 lbs of feed. Thanks to its waterproof and anti-spillage design, you won't have to worry about any mess caused by rain, dirt, or chicken waste. You can position the feeder inside or outside the coop.
One of the main advantages of the Royal Rooster Feeder is it has an anti-waste design, and a rain cap and is mounted to any mesh wire instead of placed on the ground. This adds the benefit that it doesn't attract wild birds and rodents.
Therefore, the Royal Rooster Feeder was voted our Best Rodent-Proof feeder, in our in-depth comparative review 'Best Chicken Feeders: From Budget to Best Buys'.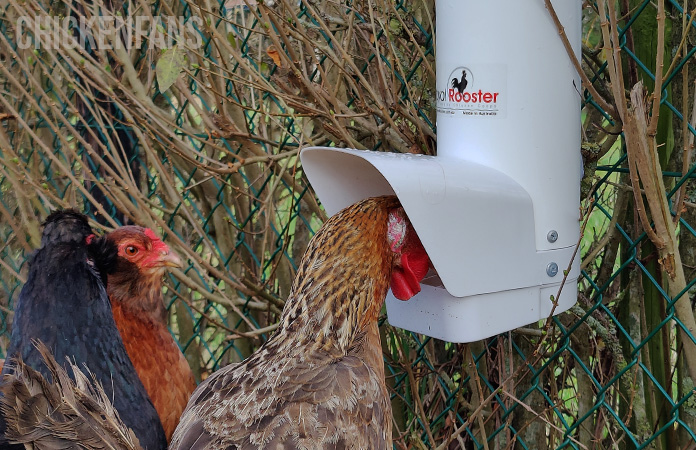 All feeders are 20" tall, 5" wide, and 5" deep (or 9" inc. rain cover) and hold approx. 6.5 lbs of feed. One feeder feeds up to 6 chickens. These feeders simply hook onto the mesh of your coop, making cleaning and filling much easier than hanging feeders. On top of that, Royal Rooster feeders are made of durable PVC and ABS plastics, which are known for their toughness and long-lasting performance.
Regarding smaller coops, space optimization is crucial, and the good news is that these Royal Rooster feeders take up very little room. This is a significant benefit for chicken owners who want to maximize their limited coop space.
Design
Royal Rooster feeders are made of durable PVC and ABS plastics; a common thermoplastic polymer known for its strength, structural stability, and excellent thermal, corrosion, and abrasion resistance.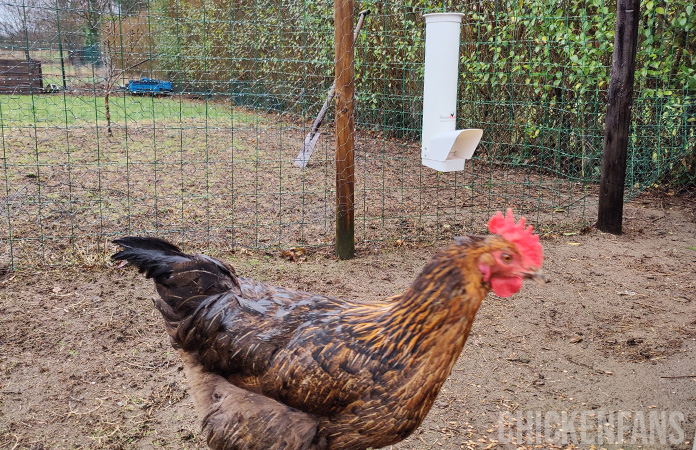 The feeder comes in four main parts and assembly equipment, such as screws. The installation process is quick and easy and should take very little time to secure the parts together using the six self-tapping screws. The only thing you need to do next is mounting it to the preferred height, so your chickens can use the feeder without having to lean down.
For those who want to mount the feeder to a solid wall, the set-up also includes four aluminum brackets and eight zinc screws to easily install the feeder to any wall you have inside the run or coop.
Specific Features
When it comes to selecting a quality chicken feeder, there are typical features that it must have, such as reliability, hygiene, durability, and safety for your chickens. The Royal Rooster chicken feeder easily meets these standards, making it an excellent value for money and a highly dependable feeder.
Apart from this, several other noteworthy aspects of this feeding system are worth exploring. Let's dive into them and take a closer look.
Anti Feed-Waste System
Chickens are notorious for scratching their feed onto the ground in search of their favorite grain, resulting in significant feed wastage. The Royal Rooster feeder tries to address this problem with their uniquely designed tray with divisions that prevent the chickens from 'swiping' the grain onto the ground.
This anti-feed waste system has proven highly effective in discouraging chickens from scratching out feed and thus can save a significant amount of money in the long run.
Each feeder has a capacity of approximately 6.5 lbs (3kg) of feed and is 20″ (50cm) tall.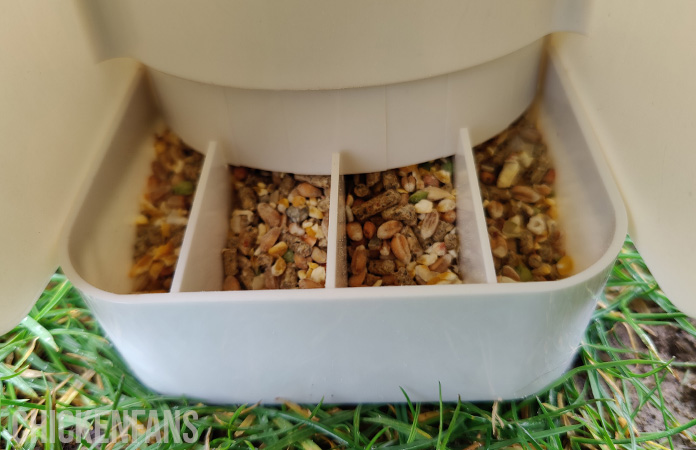 Rain Cover
A big advantage of a quality feeder is that it can be placed both inside or outside the coop. Placing the feeder inside can lead to a mess for those with smaller coops, with chickens often scratching and spilling their feed on the ground.
With the Royal Rooster feeder's waterproof design and included rain cover, you can confidently place it outside without worrying about rain, moisture, or any type of weather conditions. The added benefit of the rain cover is that it acts as a barrier against wild birds such as sparrows and pigeons and possums, squirrels, and rodents from eating from your feeder.
The added rain cover ensures that your chickens can always access clean, dry feed.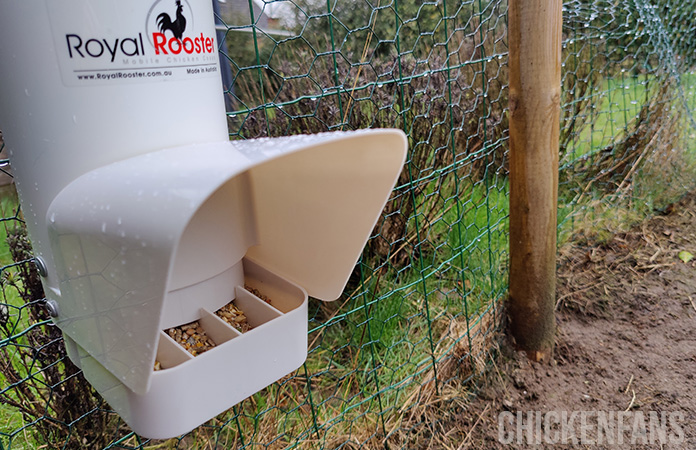 Mount to Mesh or Solid Wall
Another specific feature of the Royal Rooster is that it can be mounted to any wall or mesh wire. Unlike traditional hanging feeders, this feeder simply hook onto the mesh of your run or can be screwed onto the coop wall. This feature makes cleaning and filling the feeder much easier.
The hooks located on the back of the feeder are designed to hook onto 25mm x 25mm mesh. But for those with smaller mesh, attach the four included solid wall brackets with wire or zip ties for a proper fit.
The wall brackets can be used to mount the feeder to any kind of wall.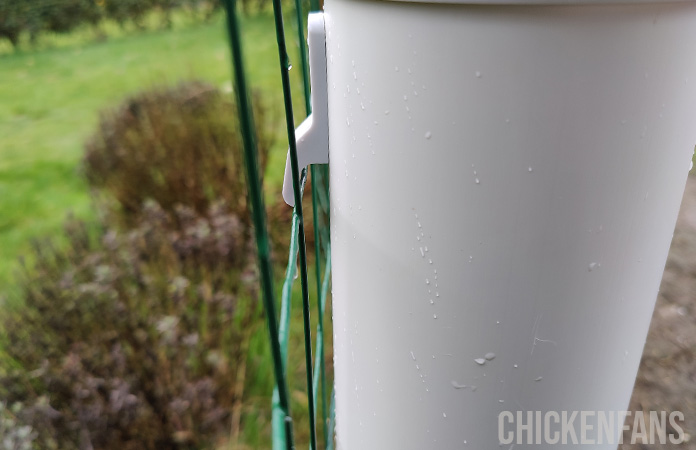 Suited for Chickens of All Ages
Unlike many of its competitors, the Royal Rooster feeder is not limited to adult chickens. It can also be used for chicks and pullets. Even when your chicks have just hatched, they can use this feeder. It is, however, recommended to hang the feeder low enough for the chicks to reach.
Ease of Installation
The Royal Rooster chicken feeder comes in only four separate parts:
The tube
A waterproof lid
A rain cover
A feed tray with divisions
Next to these parts, six zinc screws are included to fit the pieces together. All you need is a screwdriver to get the screws into place, and you're done. Attach the rain cover to the tube with three screws and attach the tray to the tube afterward. Put the lid on top, and the assembly is complete.
According to the instructions, using either a manual screwdriver or an electric drill is possible. However, it was not very practical when attempting to use a manual screwdriver. Therefore, it is recommended to use an electric screwdriver to ensure the task is completed successfully.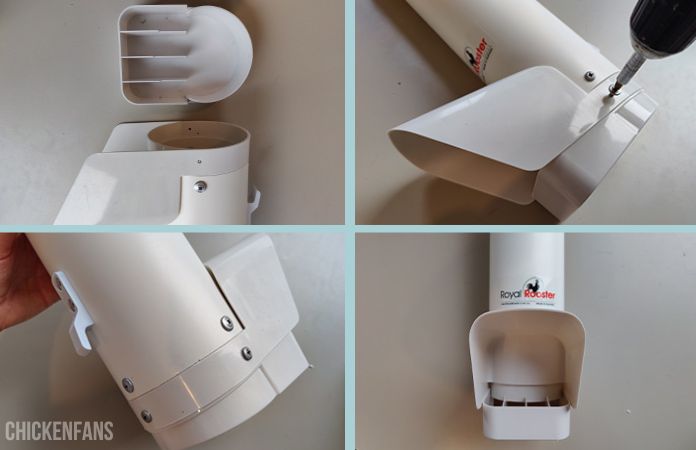 The hooks to mount the feeder to the mesh wire are already in place and do not need further assembly. Simply hook the feeder onto the mesh and fill it with feed.
If you want to mount the feeder onto a wall, you'll find four aluminum brackets and eight extra zinc screws to get the job done. Once the brackets are in place, hook the feeder hooks over the brackets.
It will take you up to 15 minutes to completely assemble and install the Royal Rooster feeder. You won't need any special skills or tools except for a screwdriver.
Potential Drawback
It's important to note that even high-quality products like the Royal Rooster feeder may have some drawbacks. Especially if you're looking for specific features or characteristics, this may or may not be the feeder you are looking for.
Determining whether this potential drawback outweighs the benefits is up to you, so let's review our findings.
Only One Feeder Tray
The Royal Rooster chicken feeder is a medium-capacity feeding system that can feed a flock of up to six chickens. It will provide a reliable amount of feed without wild birds or rodents joining in on the fun.
That being said, only one, maximum two, chickens at a time can eat out of this feeder. For most of the day, that won't be a problem. But it can get annoying if you only have one Royal Rooster feeder inside the run and five hungry chickens running to the feeder in the morning after opening the coop door.
The chickens will have to take turns, which may cause frustration, particularly for those lower in the pecking order. Although it appears that two chickens can eat from the feeder at once, most chickens prefer not to stand too close to each other, but this depends from bird to bird.
Here is a video of chickens using the Royal Rooster feeder, so you'll see how it works in real-life situations.
Advantages over Competitors
One crucial aspect to consider when choosing a chicken feeder is its ability to withstand rain. Unlike its counterparts, such as the Manna Pro Feeder or the Free range feeder, the Royal Rooster feeder is waterproof and can be placed outside the coop without the risk of the feed getting ruined by rain or snow.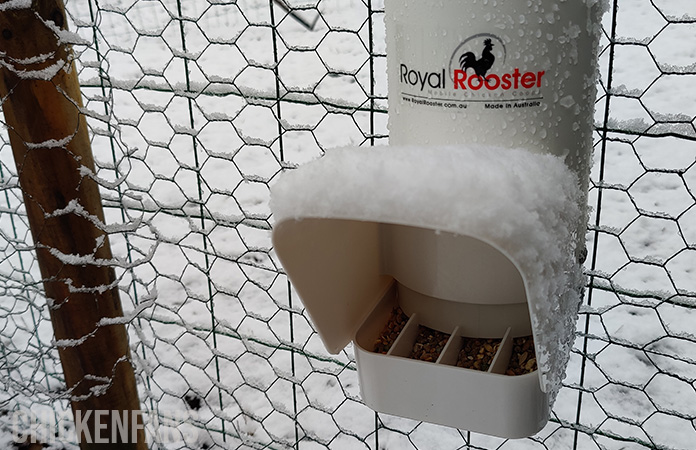 This feature keeps the feed dry, reducing the likelihood of mold and bacterial growth.
Furthermore, this feeder is simple to set up and can be effortlessly mounted on any surface, allowing you to save valuable space inside the coop. Unlike the OverEZ chicken feeder, which is quite bulky and can only be placed on the ground, the Royal Rooster feeder allows for more flexible placement options.
Anti-Rodent
We voted the Royal Rooster feeder our number 1 anti-rodent feeder in our in-depth review of 'Best Chicken Feeders: From Budget to Best Buys'.
This may be a surprise as it is not an automatic chicken feeder like Grandpa's Feeder or other galvanized automatic feeders.
Although automatic feeders do a very good job and are high in quality, no feeder system is 100% rat/rodent/wild birds-proof. This makes most of these automatic feeder systems very expensive, with prices around $200, while you can get a good rat-proof feeder for just a fraction of that price.
If you want to learn more about preventing rats inside the chicken coop, take a look at our article '7 Ways to Prevent Rats in the Chicken Coop'.
Maintenance and Durability
The Royal Rooster chicken feeder is made from UV-protected and durable PVC and ABS plastics. Cleaning the feeder is easy; you only need a damp cloth to wipe it down. This makes it a low-maintenance option that's hassle-free to use.
Taking good care of it through regular cleaning and maintenance will ensure that you have a dependable food source for your chickens for many years to come.
A significant benefit of the Royal Rooster feeder is its simple removal from the mesh wire or wall by unhooking the back hooks. This allows easy cleaning and ensures your chickens' feeder is always in good condition.
What Feed to Use?
To prevent feed blockages in the Royal Rooster feeder, it's important to use chicken feed that is appropriate for gravity feeders. Most grain mixes and pellets work great, but crumbles or feed high in molasses may not flow easily into the tray, especially in damp conditions.
If you notice your feed isn't falling into the tray, mixing it with looser feed can help achieve the proper flow.
What's Inside the Box?
The feeder arrives in four separate parts, with screws for assembly in a separate bag. We received both the feeder and waterer, but it's very easy to separate the parts for the feeder and waterer.
What's inside the box for the feeder:
The tube
A waterproof lid
A rain cover
A feed tray with divisions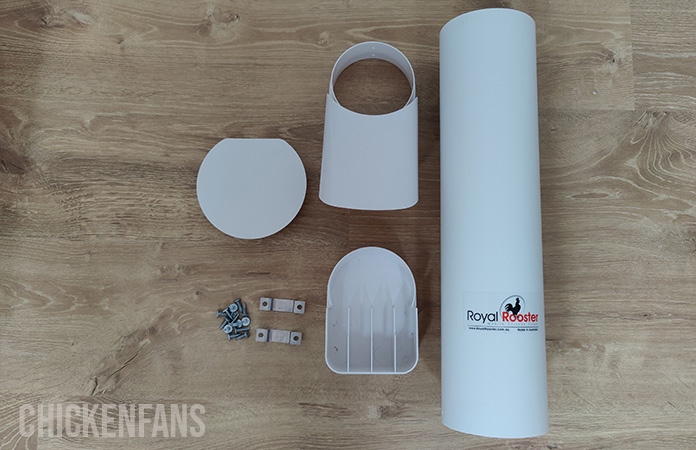 What's inside the box for the waterer:
The tube
A waterproof lid
Drinking cups
The package is relatively small measuring 18 to 13 inches. An instruction manual for both the feeder and waterer is included.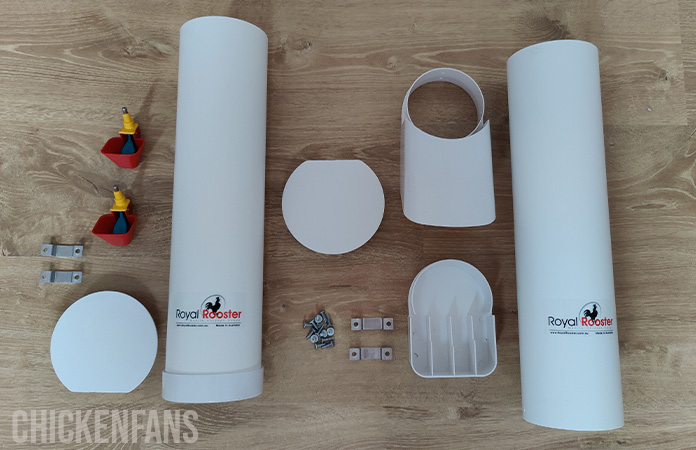 How Did we Test?
We tested the Royal Rooster chicken feeder using a group of backyard chickens. The feeder was placed outside during rainy weather so we could also test its waterproofness. Also, since this flock is not accustomed to this type of feeding system, we wanted to observe how easily they adapt to the new feeder.
Initially, the chickens were hesitant and didn't trust the new feeder. So we made another attempt after one hour, and the chickens had no problem using the feeder and quickly learned how where the feed was located.
Secondly, we tested it during heavy rainfall and snowy weather to see if it kept up its promise as a waterproof design. The feed stayed dry even during heavy showers thanks to the waterproof lid and rain cover.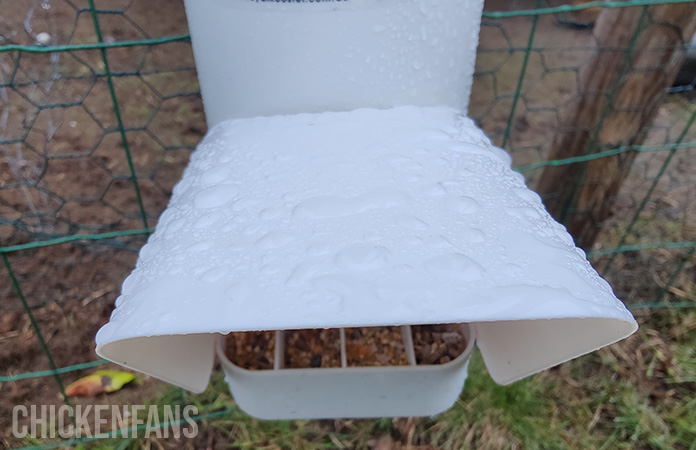 After using the feeder for several weeks, we found that there was minimal spilled feed, making it an ideal choice for those who want to prevent rodents and rats from being attracted to their chicken coop.
About Royal Rooster
The people behind Royal Rooster are an Australian couple, Brad and Kerry Mundt, who firmly believe that raising chickens in your backyard is a must-have experience. They describe their story on the Royal Rooster website.
ROYAL ROOSTER CHICKEN FEEDER

In 2008, they founded Royal Rooster in Williamstown, South Australia, despite the challenges of starting a business during the financial crisis and juggling family responsibilities. In 2017, the couple expanded their range to cat enclosures, rabbit hutches, dog pens, and bird aviaries.
Royal Rooster's feeders and drinkers are made in Australia. The drinker cups, which are professional "lubing" cups, are produced in Germany.
Summary
The Royal Rooster Chicken Feeder is a durable, easy-to-use feeder for backyard chicken owners. Its waterproof design and no-waste feeder tray make it an ideal option for those looking to keep their coop area clean and free of rodents.
The feeder can be easily mounted on any surface and is low-maintenance, making it a convenient choice for busy chicken owners.
To learn more about different chicken feeders types, check out our 'Coops' page. We voted the Royal Rooster feeder our number 1 anti-rodent feeder in our in-depth review of 'Best Chicken Feeders: From Budget to Best Buys', check it out!