Chicken Name Generator – Find the Perfect Name for your Chicken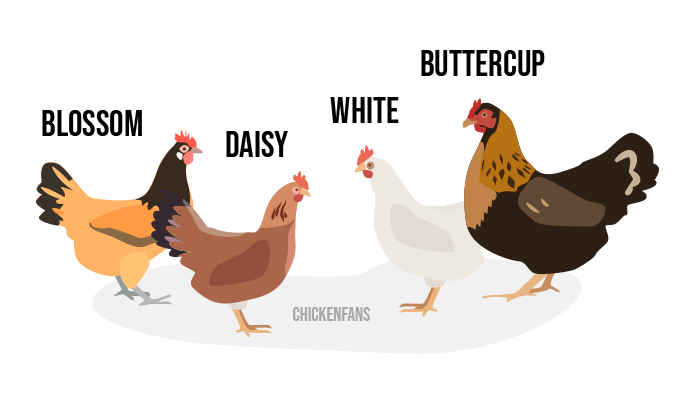 Naming the chickens in your flock is fun, but finding the perfect name for the birds can be challenging. You can use the chicken name generator to spike your inspiration.
Results
How to find a good chicken name?
Finding a good name for your bird can be challenging. Some people use traditional names, like Matilda, Berta, Cupcake, or Curry. Other people try to do the opposite and use clever, fun, or modern names.
We went through thousands of names and compiled some top 100 names in several categories.
Our top 100 charts of chicken names:
We also compiled a couple of top chicken names in several categories:
If you want to find your own name, here are some things to consider.
Characteristics of a chicken
Not all chickens are the same. Naming them after one of their characteristics can give them some personality.
Here are some things to think about:
Is your chicken a hen or a rooster?
What's the size of your chicken? Is your chicken on the list of giant breeds, or are you naming a bantam-sized chicken?
What's the color of your chicken? Some people like to name their chicken White or Chocolate.
What color pattern does she have? A mottled chicken can be Dotty
What's the personality of your chicken? A frolic bird can be named Happy.
Name References
Some people name their birds after famous people or something prevalent in their hobbies. If you are into music, you could go for Mozart.
Some other options:
If you are into books, you could go for the name of a writer
People that are into sports name their chickens after their favorite players
Wine lovers can go for Bordeau, Merlot, or Pinot
Cheese lovers can go for Stilton or Gouda
If you are into coffee, you could go for Cappuccino or Latte
Country References
Where is your chicken coming from?
An Italian Leghorn can be Bella or Fabio
A North Holland Blue could be Gouda
A Belgian d'Uccle could be Lisa, Lotte, or Tom
A German Vorwerk could be Klaus or Jürgen
Considerations
Some things to take into consideration:
pick a name that you like, as you will use it a lot
if you give one of your chickens the same name as a family member, they might not really like that
Good luck picking names for the chickens in your flock!